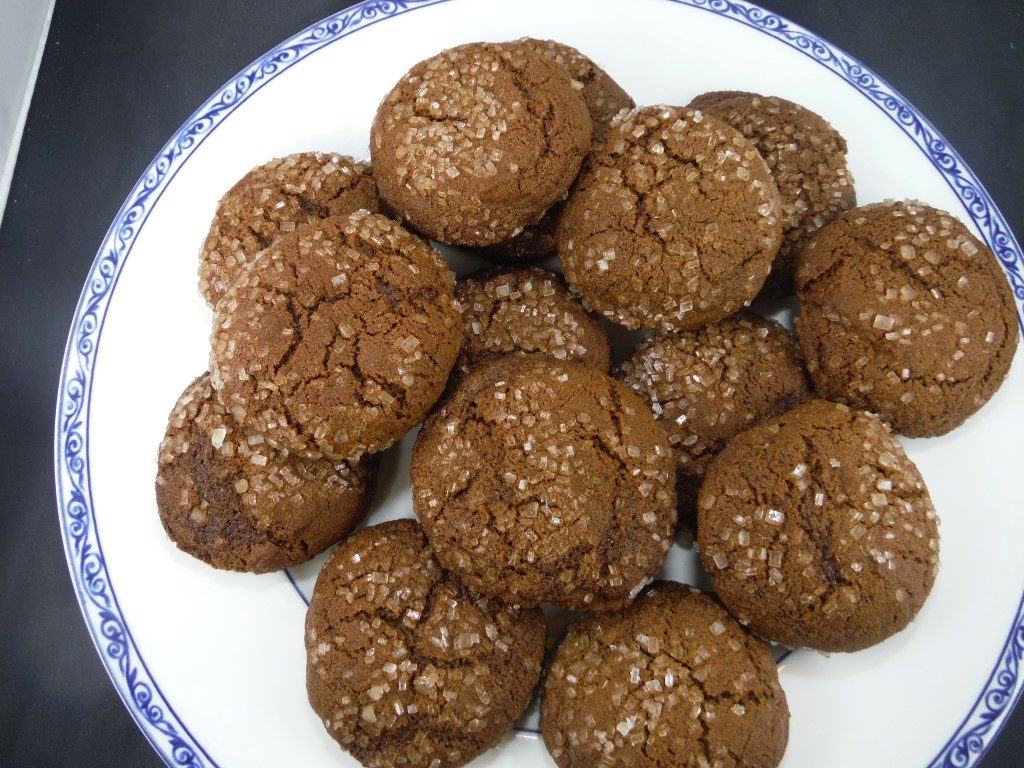 I am very fond of gingersnaps. These are an adaptation from a recipe in Serious Eats, and were both tasty and crunchy. It uses two kinds of ginger (ground and fresh) and whole wheat flour, which is unusual. The recipe made 36 cookies each using about a tablespoon of dough.
I previously made this accidentally with half the butter (6 Tbs. of butter, rather than 6 oz. of butter.)  They tasted fine, but were very hard.
1 cup sugar
1-3/4 tsp. baking soda
½ tsp. cinnamon
2 Tbs. ground ginger
2 Tbs. freshly grated ginger
1 Tbs. vanilla extract
A few grinds of black pepper
6 oz. butter, cut into pats
¼ cup molasses
1 egg. Chilled
12 oz. whole wheat flour
Raw or granulated sugar for rolling.
Preheat the oven to 350 degrees.
In the mixing bowl of a stand mixer, add the sugar, baking soda, cinnamon, gingers, vanilla, black pepper, butter, and molasses. Mix on low to roughly mix, and then mix on medium to cream the butter with the sugar and spices, about 5 minutes. Add the egg and mix until smooth. Add the flour gradually and mix until a soft dough forms. Scrape down the side of the bowl periodically to make sure everything is mixed well.
Line two cookie sheets with parchment or silicon mats. Using a tablespoon or a baller, take tablespoon sized bits of dough and then roll them into a ball. Dampen the ball with water and roll in a small bowl with the granulated or raw sugar. Place on the cookie sheet 2 inches apart. Bake for 22 minutes, shifting the pans halfway through the baking. Allow to cool completely on the cookie sheets to crisp them up fully. Store in an airtight container.