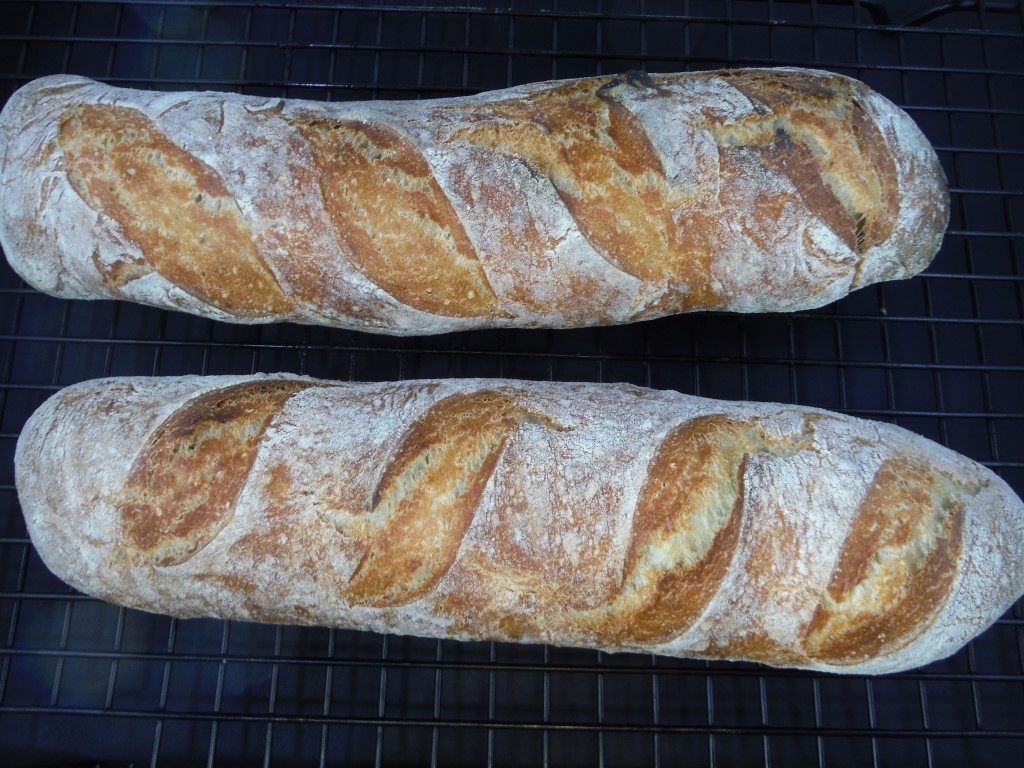 Pain a l'Ancienne is essentially a baguette made using cold water and a slow fermentation in a refrigerator to develop additional flavors vs. a shorter fermentation using warm water. This is an adaptation from Peter Reinhart's The Bread Baker's Apprentice, which is an excellent book. I baked it in a Fourneau oven, which is a cast iron insert in the oven which provides intense heat to the dough and provides a moist atmosphere for the initial phase of the bake to aid expansion of the bread. (The second phase of the bake is on a baking steel to help develop a nice crust, and to allow the Fourneau oven to be used for a second loaf.) I made half as much as in Peter Reinhart's original recipe so that I could make two small baguettes which would fit into the Fourneau oven in two batches.
3 cups (13.5 oz.) bread flour
1-1/8 tsp. salt
7/8 tsp. yeast (a little less than half a packet – I use bulk yeast)
10 oz. ice water
Mix together the flour, salt, and yeast in the bowl of a stand mixer. Add the ice water and mix at low speed using the paddle attachment for about 2 minutes. Switch to the dough hook and mix for about 5 minutes at medium speed until the mixture forms a smooth dough. Add a little more ice water or a little more flour if the dough seems too stiff or two wet. Put the dough in an oiled doubling container, coating all the surfaces with the oil. Immediately put the dough into the refrigerator to ferment slowly overnight. The objective is not to allow the dough to warm up since we are looking for a slow fermentation.
The next day check to see if the dough has doubled. If yes, it is ready to be shaped and baked. If not, let it warm up on the counter and continue to rise until it has doubled.
Preheat the oven, including the Fourneau oven insert, to 475 degrees.
On a floured surface, take the risen dough and divide it into two pieces using a dough knife. Working one at a time, pat each piece into a rectangle about 10 inches long and about 6 inches wide, trying not to degas the dough. Roll each rectangle into a tight 10 inch long cylinder, placing the seam on the bottom, and slash the top three or four times with a sharp knife. Bake inside the Fourneau oven for 15 minutes, and then transfer the partly baked baguette to a baking steel to finish baking for 10-15 minutes. Bake the second baguette in the Fourneau oven while the first baguette is finishing up on the Fourneau oven. Allow the breads to cool on a rack for at least 10 minutes before serving them.