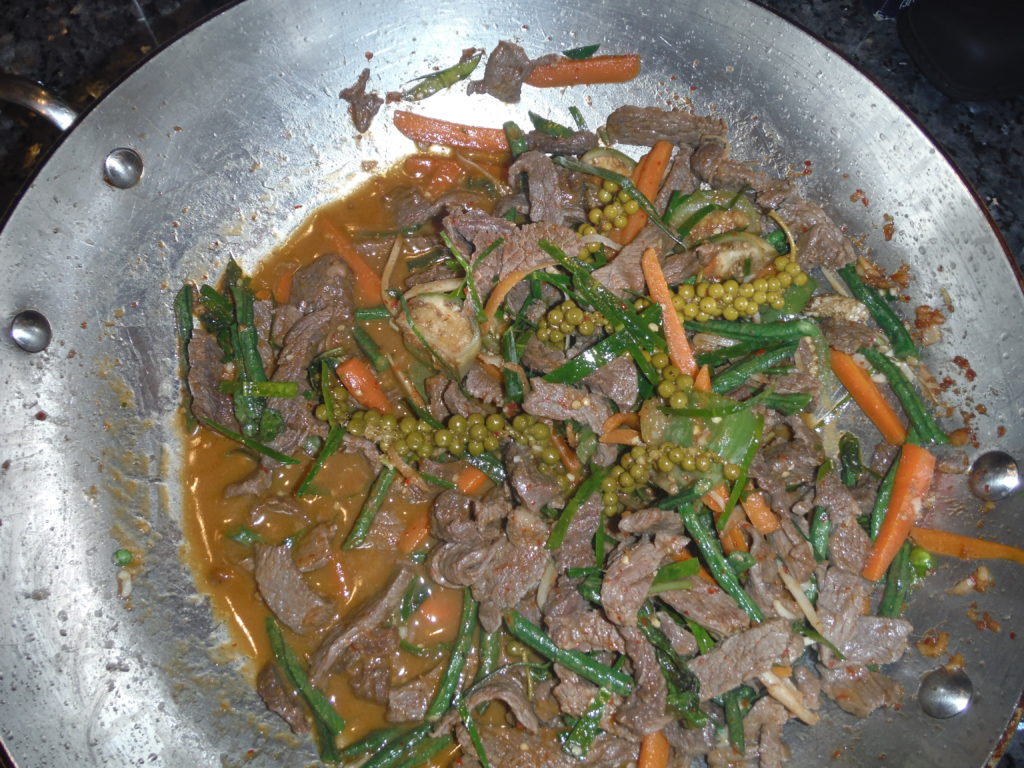 This is a curry from the Northeast of Thailand (Isan) and is different from most Thai curries since it does not use coconut milk. (Coconuts do not grow in that part of the country.) Kaffir lime leaves are a big part of the flavor of this dish. Fortunately we are currently hosting Nick's kaffir lime tree. I also found fresh kaffir limes at the New Grand supermarket. Green peppercorns were available at the New Grand in a jar. The New Grand also had Krachai, which was in a jar labeled "Pickled Rhizome. This recipe was adapted from Vatcharin Bhumichitr's "Vatch's Thai Street Food". This will serve 4 as part of a multi-dish meal. Last night we had this with Thai fish cakes (Tod man pla).
I don't believe that we ever met Vatcharin, but we were good friends of his brother Chirapong, who went to high school and college in the US and who we knew when we were in Bangkok in the early 1980s
Like a lot of Asian cooking, this is a dish in which everything should be "mise en place" before starting the actual cooking, which will go very quickly.
¼ cup vegetable oil
2 cloves garlic, finely chopped
2 Tbs. red curry paste
1 lb. beef steak, thinly sliced
2 Tbs. fish sauce
1 tsp. sugar
2 Tbs. srhedded krachai
8 oz. mixed vegetables, such as 12 cut green beans, 2 slivered carrots, 4 small quartered eggplants
25 Thai basil leaves
4 stems whole green peppercorns (or 30 dried black peppercorns)
6 kaffir lime leaves, finely cut into slivers
In a small bowl mix together the fish sauce, sugar, krachai and ¼ cup of water. In a second bowl mix together the vegetables, basil, peppercorns, and lime leaves.
Heat the oil in a wok or frying pan. Fry the garlic until golden. Add the curry paste and fry until fragrant. Add the beef, and fry until it is mostly browned, a couple of minutes. Add the first bowl, stir and cook for another minute. Add the second bowl and another 1/4 cup of water, stir and cook until the vegetables are crisp tender. Serve with steamed rice.