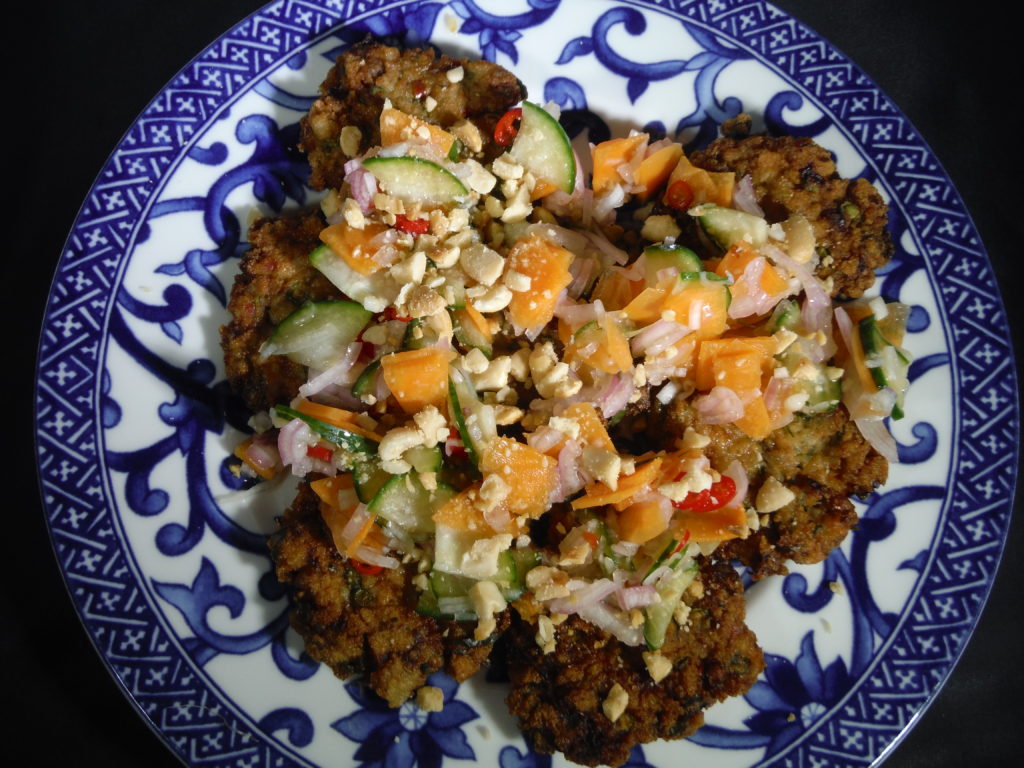 This is one of my favorite Thai dishes. In the past we have tried to make it at home with rather disappointing results, but we decided to try again, and this batch turned out well. The trick is to get the right consistency in the patties. The final product should be rubbery, in the best possible sense. The next time we do this we will make the patties bigger and thicker so that they will be less crispy. This recipe is adapted from Vatcharin Bhumichitr's "Vatch's Thai Street Food´ This will serve 4-6 as part of a multi-dish meal.
Kaffir lime leaves and galangal (Thai ginger) were both available at the New Grand supermarket.
Fresh pickle
½ cup rice (or white wine) vinegar
2 Tbs. sugar
2 inch piece of English cucumber, unpeeled, quartered and thinly sliced
1 small carrot, halved lengthwise and thinly sliced
1 large shallot, thinly sliced
1 medium fresh red chili, finely sliced
1 Tbs. chopped roasted peanuts, as a garnish
Fish Cakes
5 dried red chilies, split in half and seeded
1 shallot, finely sliced
2 cloves garlic, finely chopped
2 coriander roots, roughly shopped (or 2 Tbs. coriander stems)
1 Tbs. finely chopped galangal
6 kaffir lime leaves, finely chopped
½ tsp. salt
1 lb. white fish fillet (cod, haddock, etc.), chopped for a few seconds in a food processor
1 Tbs. fish sauce
2 oz. long bean (or green beans) sliced very finely
Oil for deep frying
To make the pickle, start by putting the vinegar and sugar in a small saucepan, mixing well, and boiling for about 6 minutes until a thin syrup forms. Pour the syrup into a small bowl to cool. When cool, mix with the cut vegetables and set aside.
To make the fishcakes, pound together the chilies, garlic, shallot, coriander, galangal, kaffir lime leaves, and salt in a mortar to form a paste. Put the paste in a bowl with the minced fish and combine thoroughly with your fingers. Add the fish sauce and sliced bean, and mix again. Divide the mixture into 10 balls and then form each ball into a disk about ½ inch thick.
Heat the oil in a deep fryer until 400 degrees, and fry the fish cakes in batches until golden brown, about 2-3 minutes. Drain on paper towels.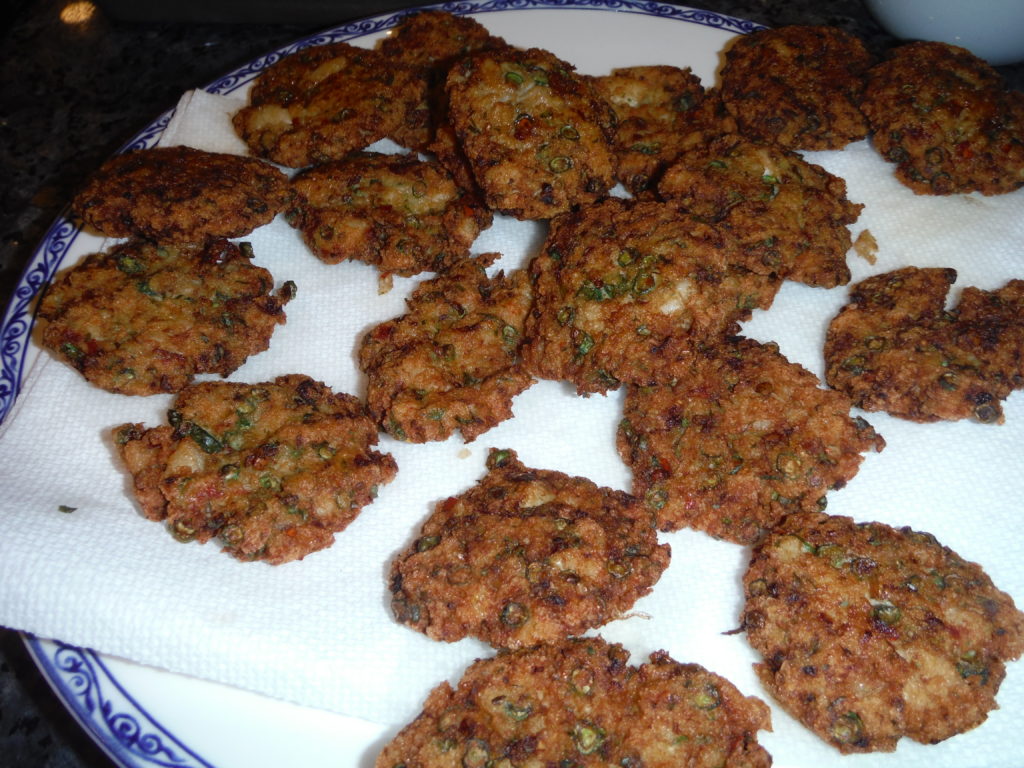 Serve hot on a plate with the fresh pickle and a garnish of chopped peanuts.