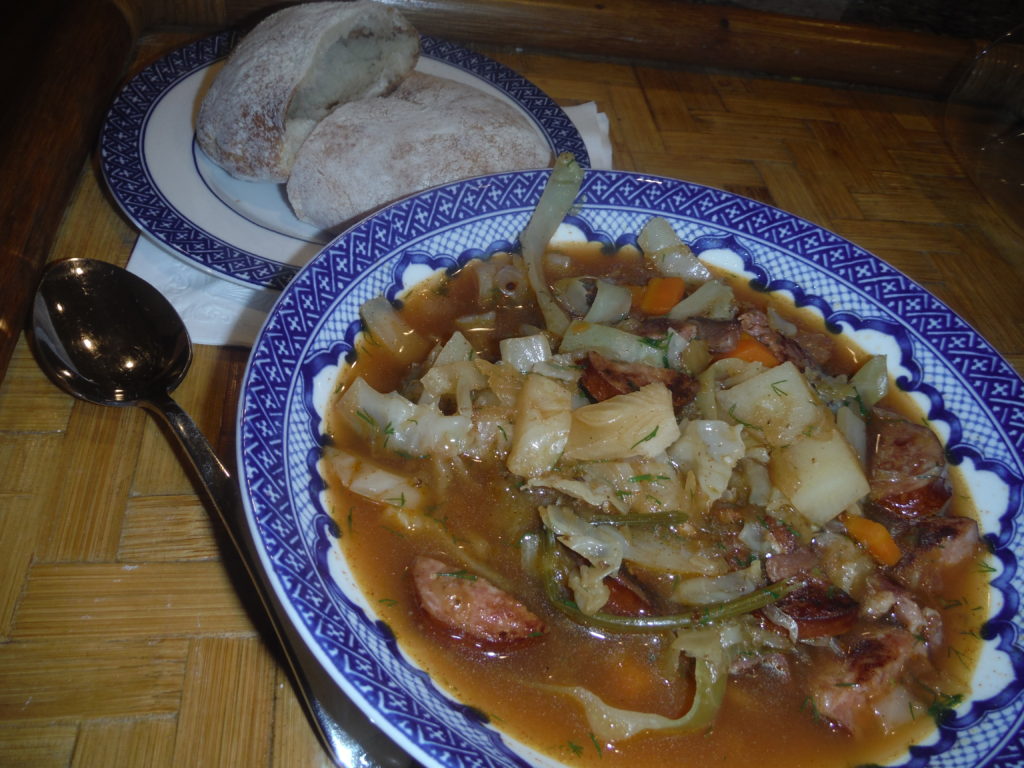 This is the kind of warming flavorful dish which is the definition of comfort food, and which makes the whole house smell great while it cooks.
A few years ago, the daughter of our choir director took a trip to Europe visiting Poland and Barcelona, and she commented when she returned s on how much more enjoyable the food was in Poland. That was a surprise, since I am very fond of Mediterranean cooking. This dish is an example of what she must have been talking about. This is adapted from a recipe in Serious Eats. This would be a good dish for winter camping, since it is only requires one pot.
1Tbs. cooking oil
6 oz. good quality bacon, in ½ inch pieces
12 oz. kielbasa (Polish smoked sausage), split in half and cut in ½ inch pieces
1 medium onion, thinly sliced
1 medium carrot, peeled, split lengthwise in 4 pieces, and then in ½ inch slices
12 oz. green cabbage, cut into ¼ to ½ inch threads (~1/2 a head)
1 cup sauerkraut with juice
8 cups low sodium chicken broth
¼ cup chopped fresh dill, stems and frons separate
1 large russet potato, peeled and cut in ½ cubes
2 bay leaves
Salt to taste
1 Tbs. cornstarch
2 tsp. pakrika
½ tsp. freshly ground pepper
Crusty bread for serving
Heat the oil in a Dutch oven. Add the bacon and kielbasa and cook, stirring, until browned, about 5 minutes. Tilt the pan, and spoon off most of the rendered fat. Add the onion and carrots, and cook until softened, but not browned, about 4 minutes. Stir well to remove the frond from the bottom of the pan. Add the cabbage and cook until slightly wilted, another 3 minutes. Add the sauerkraut, chicken stock, bay leaves, dill stems, and potatoes. Check seasoning.
Bring to a boil, reduce to a simmer, and cook until the potato is tender, 10-20 minutes.
In a small bowl, mix together the cornstarch, paprika, and pepper and then mix in 1 Tbs. of cold water, and stir until well dissolved. Pour the slurry into the soup and mix well. Cook until the soup is slightly thickened. Check seasoning again. Stir in the chopped dill fronds.
Serve in bowls with crusty bread.