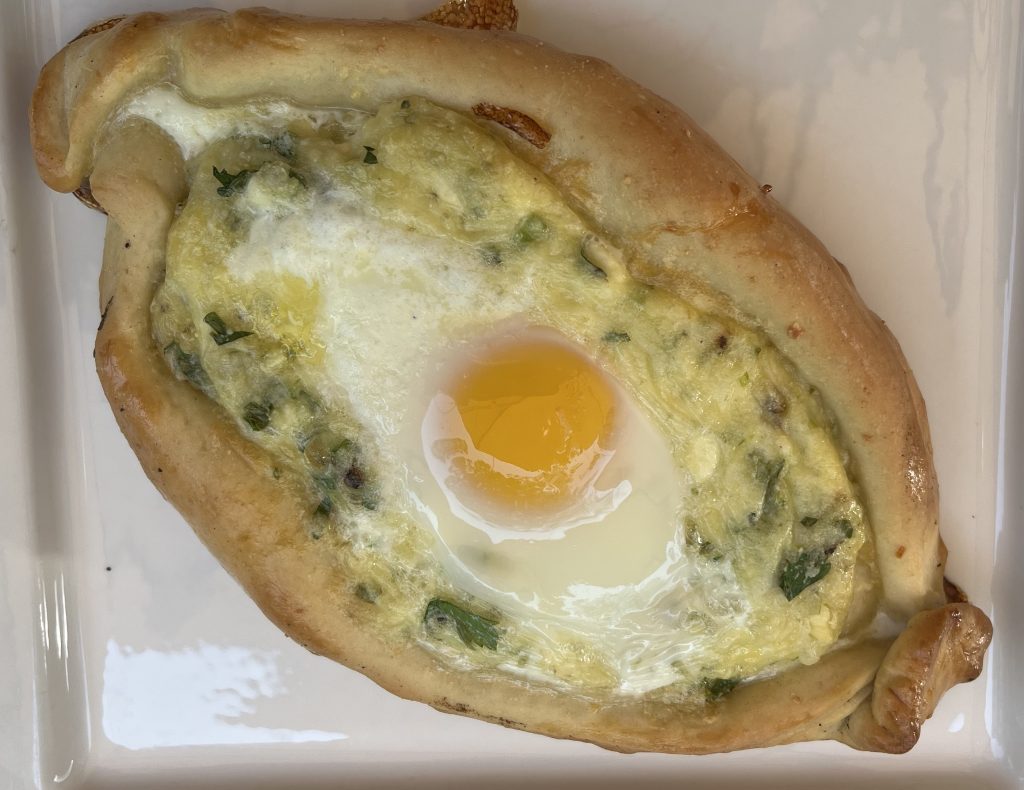 Khachapuri is a very popular dish in the Republic of Georgia. Anna suggested it for lunch, and I made it based on a recipe in kingarthurflour.com. It takes a total of about 2 hours, including about 30 minutes in the oven. (I made a double recipe of the dough and used one of them to make 4 griddled flatbreads, which were very good.) This recipe will make 4 cheese breads, each of which is a very filling breakfast or lunch, and a filling dinner with a salad.
Dough
3 Tbs. unsalted butter
1 cup milk
1.5 tsp. sugar
½ tsp. ground coriander
1.5 tsp. salt
2 tsp. yeast
330 g. (2.75 cups) bread flour
Filling
2 cups (227 g.) shredded mozzarella or Muenster cheese
½ cup ricotta cheese
½ cup crumbled feta cheese
1 large egg
2 Tbs. bread flour
½ tsp salt
½-1 tsp. freshly ground black pepper
2 Tbs. finely chopped Italian parsley
2 Tbs. finely chopped green onions
Egg Wash
1 large egg beaten with 1 tsp. of water
Garnish
4 large eggs, cold from the refrigerator
4 tsp. butter
Heat the butter and milk together in a bowl in the microwave until the butter is melted. Pour into the bowl of a stand mixer and add the sugar, coriander, and salt. Stir to mix well, and cool to 110 degrees. Add the yeast and flour and mix with a dough whisk to form a dough. Cover and allow to rest for 10 minutes. Knead with a dough hook until a smooth dough is formed, a few minutes on low speed. Coat with a little olive oil, cover, and allow to rise for 1-1.5 hours, until it has risen by at least a third.
Line 2 cookie sheets with baking parchment or a silicon baking mat. Divide the dough into 4 pieces, each of which will weigh about 150 g. On a floured surface roll each piece into a 10 x 6 inch oval. Cover with plastic wrap and allow to rest for 15 minutes.
Preheat the oven to 375 degrees with 2 racks near the middle of the oven.
Put a quarter of the filling on each of the ovals, spreading it out to cover all but the outer inch of the oval. Fold up the sides to cup the filling and twist the 2 ends together so that the dough acts like a shallow boat for the filling. Cover and allow to rest for 20 minutes.
Brush the edges of the breads with the egg wash. Put in the oven for 16 minutes, reversing the sheets at the halfway point.
Remove the sheets from the oven. Use a spoon to scoop a depression in the center of each boat. Crack an egg into each depression and top the egg with the butter. Return the sheets to the oven, and cook until the egg is set to your preference, about 8-10 minutes for soft-set eggs, or about 12-15 minutes for firmer eggs.
Remove from the oven and serve warm.