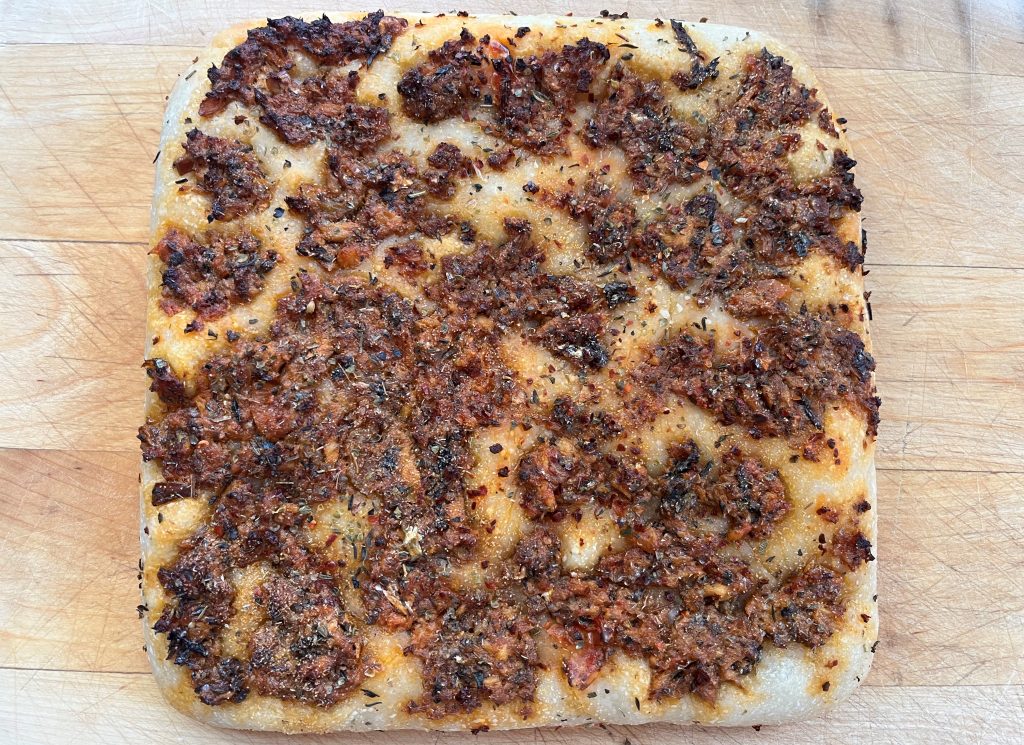 I have a large number of cans of high-end canned sardines in my pantry and decided to make a sardine focaccia to accompany a large salad. This will make 4 servings and should be started the night before.
11 oz. bread flour
1 tsp. salt
1 tsp. yeast
1 cup warm water
1 Tbs. olive oil, plus oil for coating the dough
4.4 oz. can Nuri Spiced Sardines in Tomato Sauce (or equivalent)
Italian seasoning
Garlic powder
The night before, mix together the bread flour and salt in the bowl of a stand mixer. Add the yeast and the water and mix with a dough whisk into a rough dough. Cover and allow to rest for 30 minutes. Using the dough hook, mix at the lowest speed until a smooth dough is formed, about 3 minutes. Put the dough in a doubling container and lightly coat with olive oil. Cover and allow to ferment in the refrigerator overnight.
About 3 hours before baking, remove the dough from the refrigerator. Put a Tbs. of olive oil in a 9 x 9 inch cake pan. Put the dough on top of the olive oil and press it into the pan to cover the surface, coated by the oil. Cover and allow to proof on the counter. About an hour before baking, preheat the oven with a baking stone or baking steel at 400 degrees.
Empty the can of sardines including the sauce into a medium bowl and mash with a fork.
When ready to bake, drop little spoonfuls of the mashed sardines on top of the dough and sprinkle with Italian seasoning and garlic powder. Bake for 20 minutes. Cut into squares to serve.