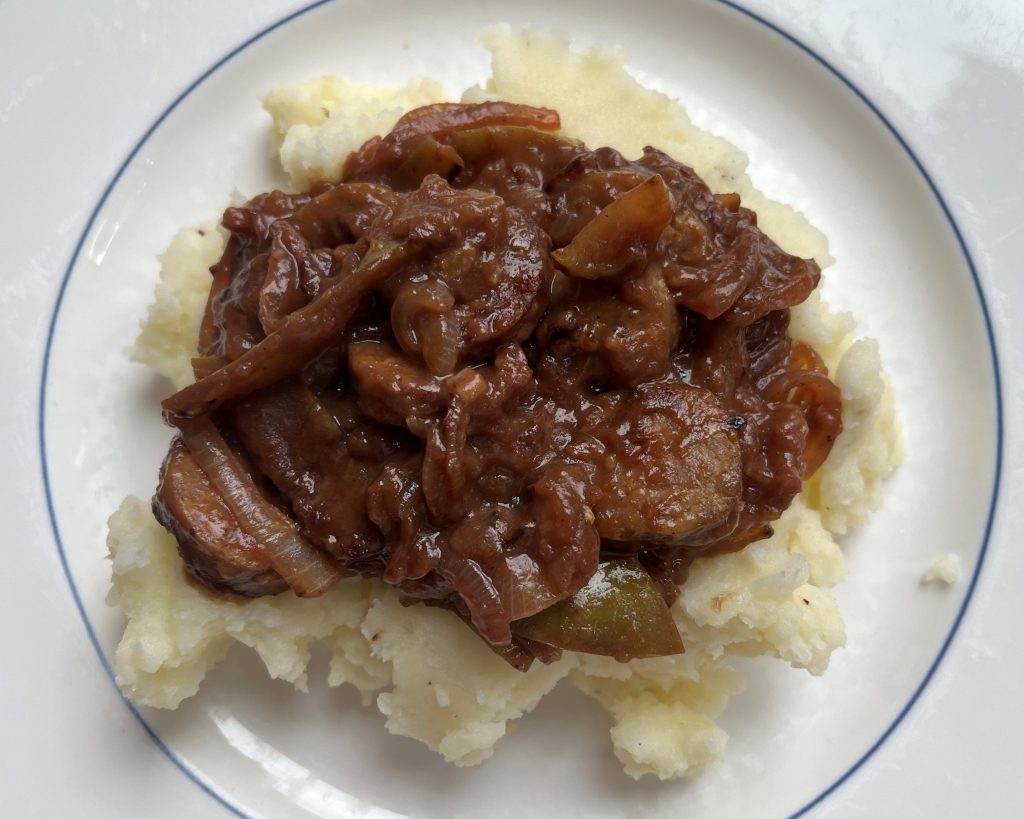 The NZ Herald had a few recipes from Philippa Cameron's new book Winter Warmers: Recipes and stories from a New Zealand high country station.   One of them involved pork sausages, and I decided to make it since I had 2 leftover Italian sausages in the refrigerator.  (It would normally be made with bratwurst or Cumberland sausage.   I think 2 servings of American breakfast sausage would also be good this way.)  This has been sized for 2 servings and is done in less than an hour.  I served it with mashed potatoes.
2 pork sausages, sliced
2 Tbs. butter
½ apple, thinly sliced
1 small onion, thinly sliced
1 clove garlic, chopped
¼ cup white wine
1 Tbs. flour
½ cup vegetable stock
Salt and pepper to taste
In a medium skillet, cook the sausages in 1 Tbs. of butter over medium heat. Remove to a plate when browned. Add the remaining Tbs. of butter and the apple, onion, and garlic. Cook over medium heat until softened. Add the wine and cook until nearly evaporated. Sprinkle in the flour and mix with the vegetables. Mix in the vegetable stock and stir well. Add back the sausages. Cook until a gravy has formed. Check for seasoning and serve on mashed potatoes.