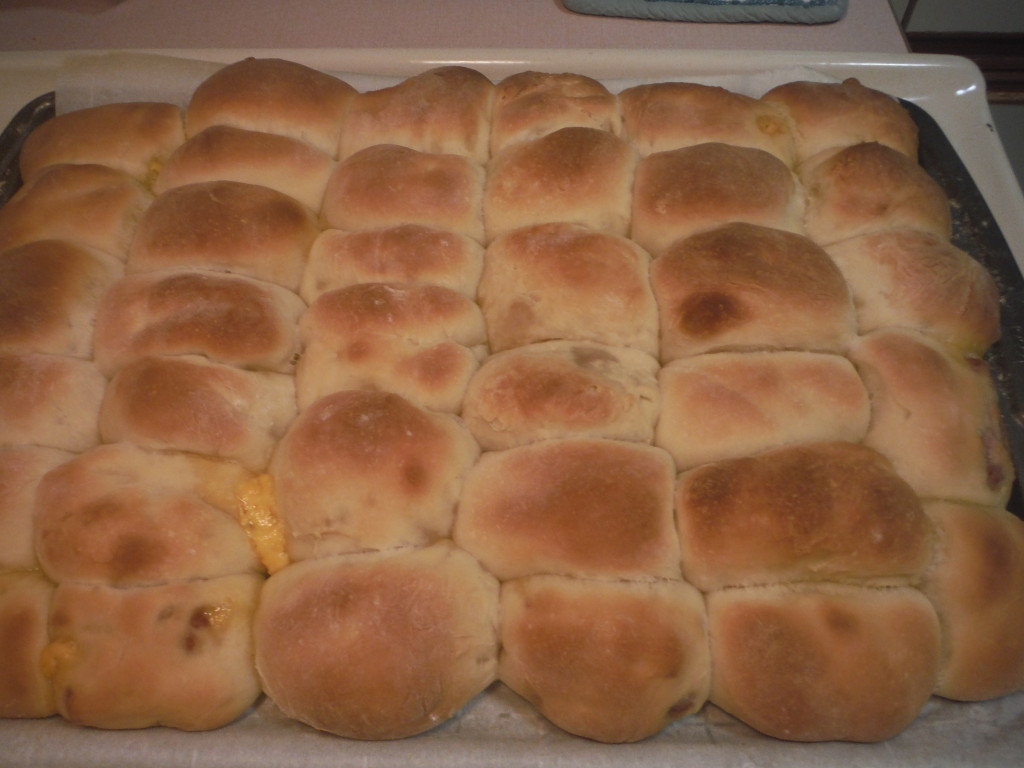 One of the strangest multicultural experiences I ever had was during a visit to Prague to teach an accounting course.  I had lunch at a Thai restaurant with the Italian Payables manager and one of his senior Czech staff.  During lunch I mentioned that a food of Czech origin, kolaches, is  very popular in Texas.  The Czech woman smiled broadly and corrected my pronunciation.  (It is more like "ko lot shki" in Czech.)  She stopped smiling and reacted in horror when I mentioned that the most popular type of kolaches in Texas were made with sausage and cheese.  It was as if a Japanese person said to an American how much Japanese people like ice cream, especially with seaweed.  She told me in no uncertain terms that in the Czech Republic, kolaches are filled with jams, such as apricot, and not with meat and cheese.  (I have had Texans of Czech descent tell me the same thing.)  My response is that this is fusion cuisine, the process of taking a food from one country and adopting it to a different group's preferences.  I think kolaches filled with meat and cheese are very tasty, and that is what is covered by this recipe.
2023 Update:  We were in Prague walking along Celetna St. between the Old Town Square and the Powder Tower when we spotted a shop (No. 27) advertising Czech and Texas kolaches.  The owner had visited a kolache festival in Dallas and incorporated the Texan idea of sausage and cheese into the more traditional open-faced kolaches.
1/2 cup warm water
1 package (2-1/2 tsp.) yeast
1-1/4 cup buttermilk
1/4 cup butter, softened
1 tsp. salt
2 Tbs. and 1 tsp. sugar
1 egg
3-3/4 cups (16.25 oz.) all purpose flour
Cooking spray
Filling No. 1 – Sausage and Cheese
36 Little Smokies sausages or large smoked sausage cut into 1-1/2 inch slices and each slice quartered into 4 pieces
1/2 pound cheese (pepper jack or cheddar) cut into 36 pieces the same size as the sausage
Filling No. 2 – Ham and Cheese – Mix together and compress a Tbs. sized piece into a ball for each kolache
1/2 lb. ham, finely chopped
1/2 lb. cheddar cheese, grated
Filling No. 3 – Cream Cheese and Preserves
8 oz. cream cheese
Jar of good quality preserves
 Dissolve the yeast and 1 tsp. of sugar in the warm water. Let stand 5 minutes. Add the buttermilk, butter, sugar, salt, and egg and ¾ cup of flour and mix until it forms a smooth batter. Add the flour 1 cup at a time until it forms a slightly sticky dough. Knead until smooth. It will be a soft and sticky dough.   Let rise in a warm spot until doubled. Punch down and cut into 36 pieces.
Flouring your hands to keep the dough from sticking to them, flatten each piece and form into a disk. If using Filling No. 1, the disk should be elongated and a Little Smokie and a piece of cheese should be put along the axis.  If using Filling No. 2, the disk can be circular, and the filling can be put in the middle of the disk.  Stretch the dough to cover the filling and seal all over, placing the seam side down on a cookie sheet which has been lined with kitchen parchment.
Detailed photographs on how to handle the dough and fill this kind of roll are included in the posting for Lithuanian Bacon Buns
Here is what the filled kolaches will look like.  These are Filling No. 1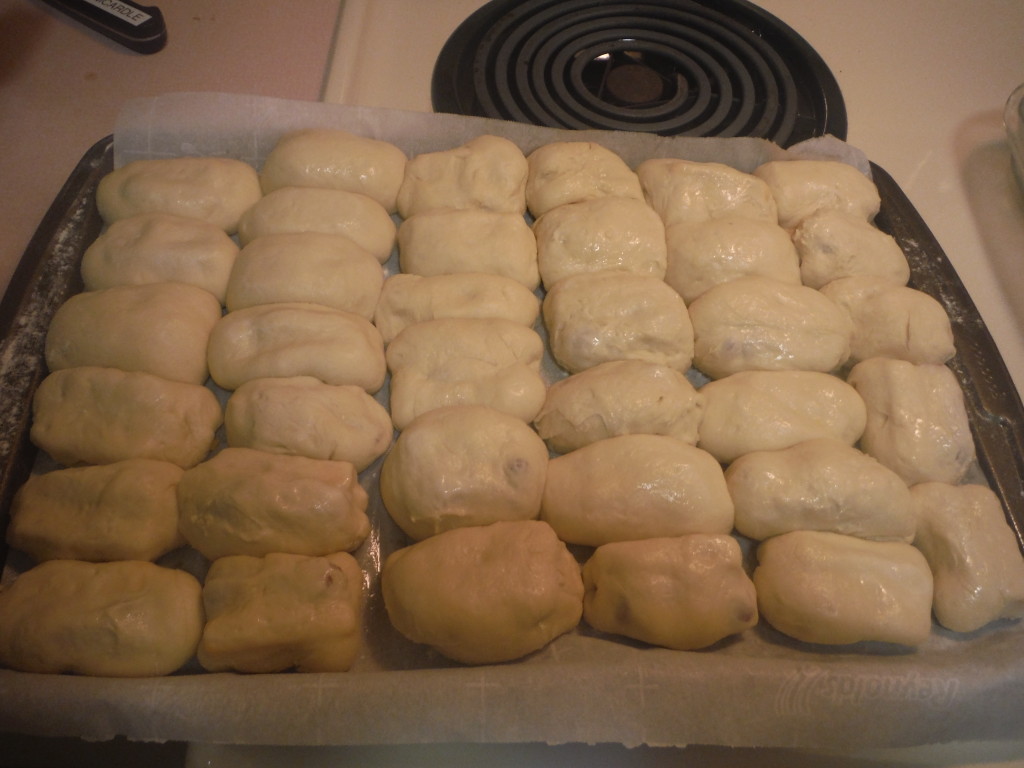 These (which are more rounded) are Filling No. 2
For filling no. 3, form the dough into balls, and then flatten them in the center so that there is a solid rim around a cup in the center.  Put a spoonful of cream cheese in the depression and  another spoonful of preserves.  These open-topped kolaches are much more like the traditional Czech ones.
Spray the tops of the kolaches with the cooking spray and cover with plastic wrap. Allow to rest 30 minutes, or overnight in a refrigerator. Bake in a 350 degree oven until golden, about 25 minutes.