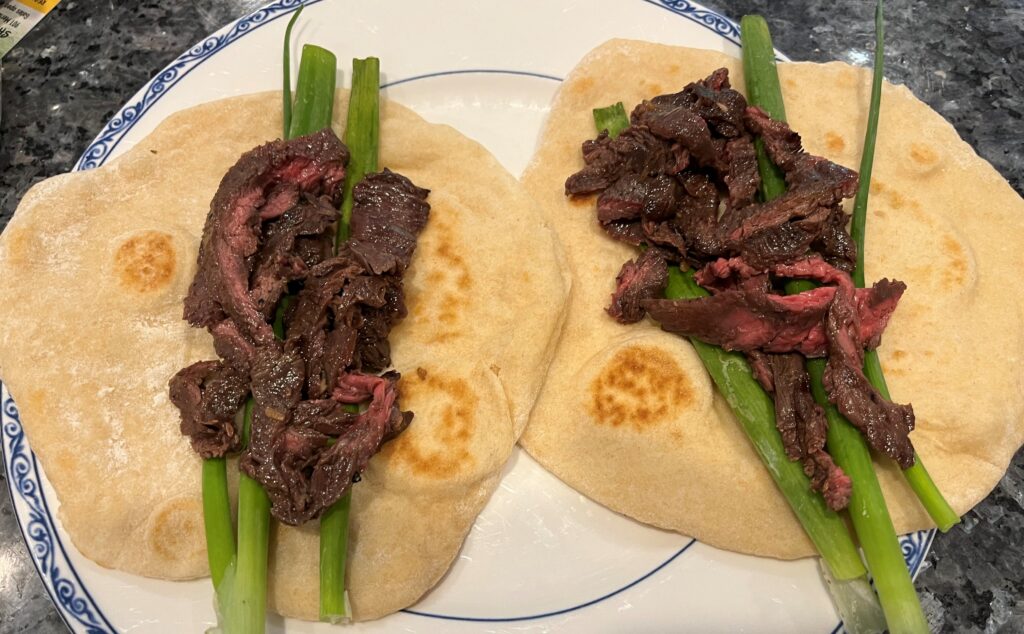 This quick, easy, and tasty taco is adapted from a Bobby Flay recipe which was printed in the Richmond Times Dispatch. A good source of skirt steaks in Richmond is the New Grand Mart. This will make 4 servings and takes a minimum of an hour.
I spotted the Korean steak sauce at New Grand Mart and thought it would make a nice addition to the tacos, and it did.
1 Tbs. sugar
3 Tbs. soy sauce
1 Tbs. sake or dry sherry
4 large cloves garlic, finely chopped
3 scallions, white parts chopped, green parts left whole
2 tsp. finely chopped ginger
2 tsp. toasted sesame oil
1 lb. skirt steaks
Flour tortillas
Grated cheese
Korean steak sauce (optional)
Mix together in a gallon ziplock baggie the sugar, soy sauce, sake, garlic, chopped white scallions, ginger, and sesame oil. Mix well. Add in the skirt steaks and mix and massage the meat until all surfaces are coated in the marinade. Place in refrigerator for 30 minutes to 4 hours.
Heat the grill. Cook the skirt steaks and slice against the grain.
Put the sliced steak on warmed flour tortillas and top with the green scallions, cheese, and optional steak sauce.