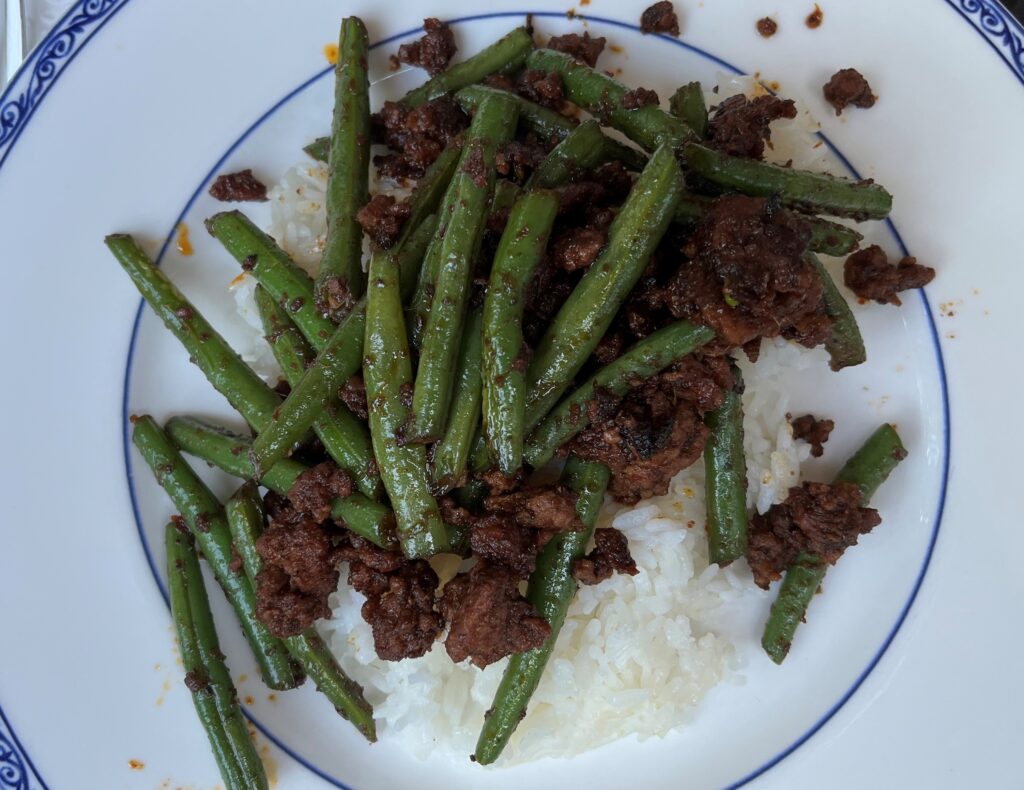 This is an adaptation of a Thai recipe published at 177milkstreet.com. It is a good midweek dish since it takes only about 30 minutes to prepare. It makes 4 servings with steamed rice.
177milkstreak cut up pork shoulder or similar cuts into small cubes. I used some coarsely ground pork which we had in the freezer. The key thing is that the pork should have some fat on it.
1 lb. not too lean pork, cut into small cubes or coarsely ground
1 tsp. + 1 Tbs. neutral oil, divided
4 tsp. fish sauce, divided
Kosher salt
4 Tbs. red curry paste
12 oz. green beans, trimmed and cut into bit-sized pieces
½ cup low sodium chicken broth
2 Tbs. brown sugar, packed
Zest from 1 lime, with the zested lime cut into quarters
Put the cut or ground pork in a bowl. Mix with 1 tsp. of oil, 2 tsp. fish sauce, and ¼ tsp. kosher salt.
Put 1 Tbs. of oil in a 12 inch skillet. Heat over medium-high heat until rippling. Add the pork in a single later and cook about 3 minutes, stirring only once or twice, so that the pork gets a good browned surface.
Add the curry paste, mix well, and cook for about 2 minutes, until fragrant, and until any liquid in the pan has evaporated.
Add the green beans, chicken broth and brown sugar. Deglaze the pan and cook, stirring and mixing the green beans and pork frequently, until the green beans are tender-crisp. Add small amounts of water from time to time if the pan gets to dry.
Mix in the zest, and taste for seasoning. Serve with lime wedges and steamed rice.