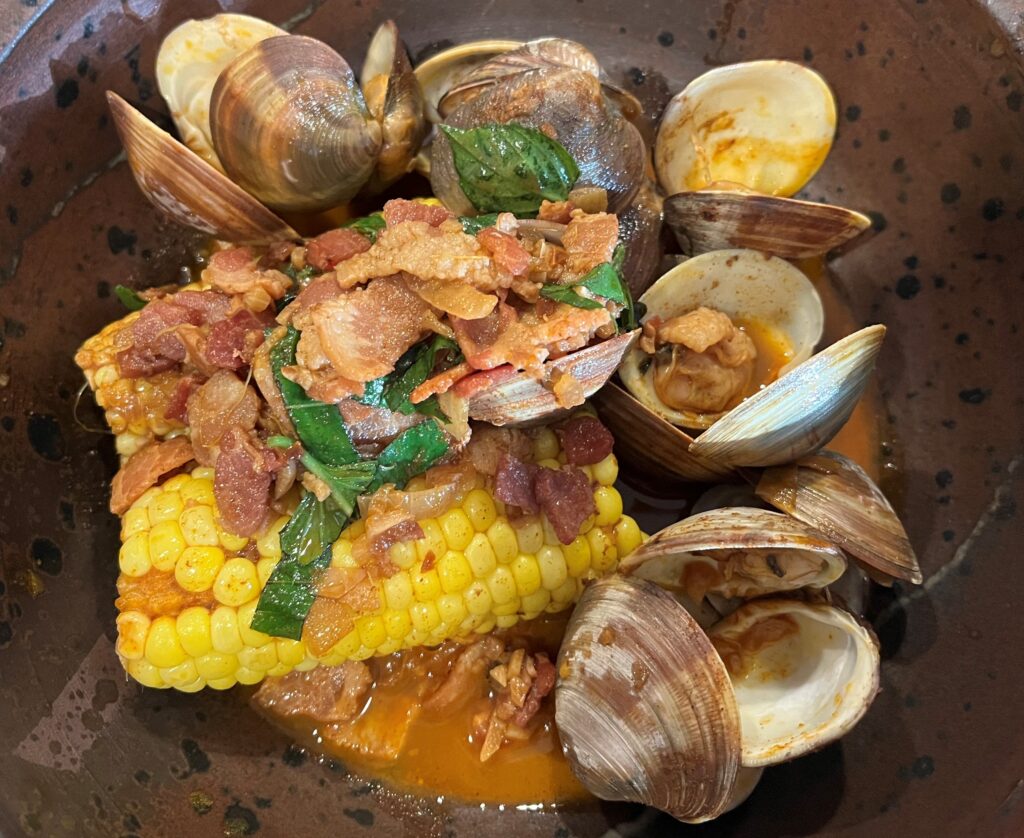 This is a 2 servings adaptation of a recipe in the New York Times, which is very much like an American version of a Portuguese classic, Portuguese Clams (Ameijoas na Cataplana) .  (The main difference is the addition of corn on the cob, which is a popular addition to summer-time seafood meals.)  This is a quick meal, which will take less than 30 minutes.
3 slices lean bacon cut into lardons
2 Tbs. olive oil
3 large cloves garlic, chopped
¼ medium onion, chopped
2 tsp. paprika
¼ tsp. hot red pepper flakes
2 ears of corn, cleans and broken in half
25 small clams, cleaned
6 oz. dry white wine
6 fresh basil leaves, cut into strips
In a large pot with a lid, saute the bacon in the olive oil over medium heat. After the bacon starts to render its fat, add the garlic and onion and cook until the onion is translucent. Add the paprika and hot pepper flakes and cook for about a minute. Add the corn, clams, and wine. Deglaze the bottom of the pot with the wine and then cover. Cook for 8-10 minutes until the clams are open and the corn is cooked. Mix in the basil leaves. Serve in bowls with some good bread on the side.