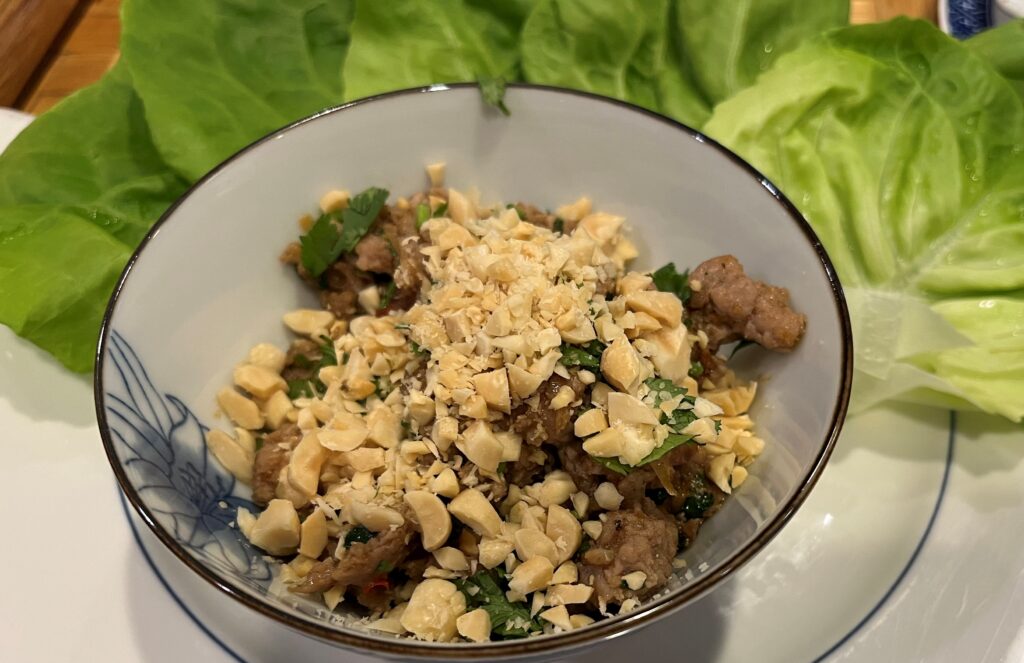 This Thai-influenced dish makes a quick and easy light meal with something starchy on the side, such as vegetable sushi rolls or dumplings from the supermarket. This recipe is adapted from Five Marys Ranch Raised Cookbook and will serve 4 people. It is mildly flavored, and I added some hot sauce to my wraps. (Carol enjoyed them unadulterated).
Flexible lettuce for wraps, washed and dried
2 Tbs. vegetable oil
1 lb. ground pork
3 cloves garlic, finely chopped
2 tsp. grated fresh ginger
2 Tbs. fresh lime juice
1-1/2 Tbs. fish sauce
1 Tbs. packed light brown sugar
2 tsp. toasted sesame oil
¼ tsp. red pepper flakes
¼ red onion, coarsely chopped
½ cup chopped fresh cilantro
¼ cup chopped roasted peanuts
In a bowl, mix together the lime juice, fish sauce, brown sugar, sesame oil, and red pepper flakes.
Heat the oil in a large skillet over medium-high heat. Add the pork, garlic, and ginger and cook, stirring occasionally until the pork is browned and cooked through. Break up the pork into small lumps. If there is excessive fat in the pan, pour it off.
Add the bowl of seasonings and the red onion and cook, stirring frequently, until fragrant, about a minute. Mix well while stirring.
Remove from the heat and mix in the cilantro. Taste for seasoning. Serve in bowls garnished by the roasted peanuts.
Serve with lettuce and optional hot sauce.