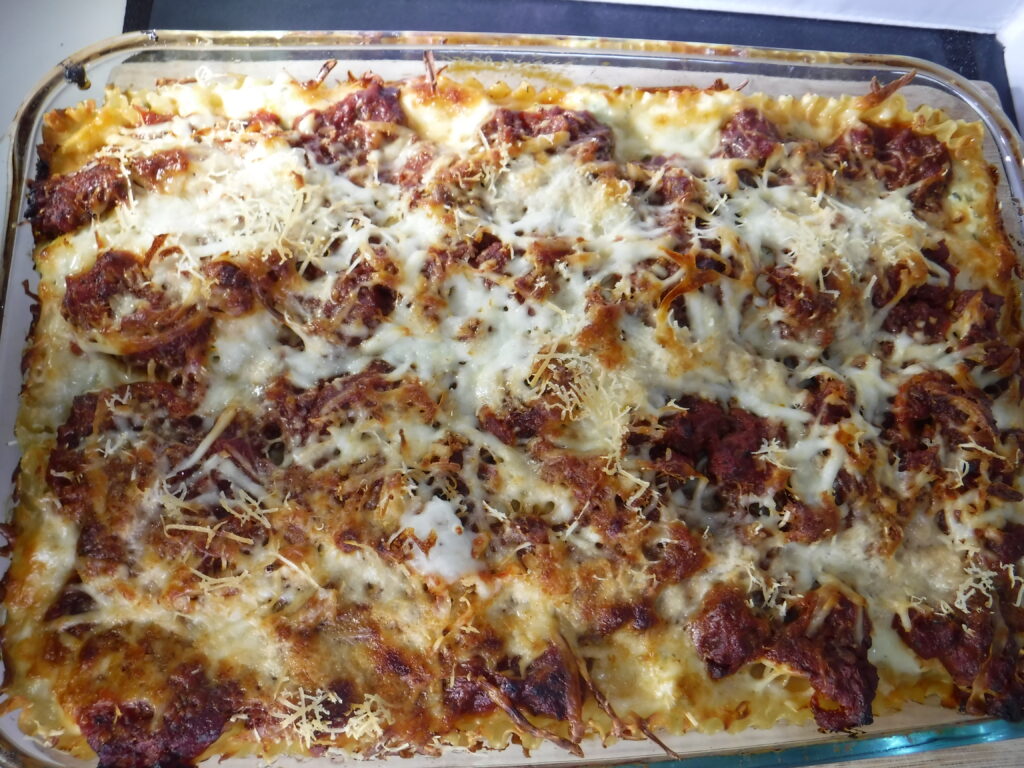 Thekitchn.com recently had an article in which they raved about allrecipies.com's "World's Best" lasagna. That was intriguing, so I had to make it. My adaptation turned out very well. Note that the amount of sauce made for the lasagna is more than is actually needed, so you will have a few cups to use as a pasta sauce. The best approach is to divide this over two days, first making the sauce, and then assembling and baking the lasagna. This makes 12 servings.
2 Tbs. olive oil
1 lb. sweet Italian sausage, bulk or out of casing
¾ lb. lean ground beef
½ large onion, chopped
3 cloves garlic, chopped
28 oz. can crushed tomatoes
2 (6 oz.) cans tomato paste
2 (8 oz.) cans tomato sauce
½ cup water
2 Tbs. sugar
1-1/2 tsp. dried basil leaves
½ tsp. fennel seeds
1 tsp. Italian seasoning
1-1/2 tsp. salt, divided
¼ tsp. freshly ground black pepper
4 Tbs. chopped parsley, divided
12 oz. (12 pieces) lasagna noodles
16 oz. whole milk ricotta
1 egg
¾ lb. coarsely grated low moisture mozzarella
¾ cup grated Parmesan
To make the sauce, heat the olive oil in a large pot. Add the sausage, ground beef, onion and garlic and cook over medium heat until the meat is well browned and the onions are translucent. Break up the meat into small pieces. Stir in the tomatoes, paste, sauce, water, sugar, spices, 1 tsp. of the salt, and 2 Tbs. of the parsley. Deglaze the bottom of the pan. Bring to a boil and reduce to a simmer. Cover and cook, stirring occasionally, for 1-1/2 hours. The sauce can be made a day in advance.
Preheat the oven to 375 degrees.
Cook the lasagna noodles per the package instructions. Drain them and spread them on cookie sheets so that they do not stick together.
In a bowl mix together the ricotta, egg, ½ tsp. of salt, and 2 Tbs. of parsley.
In a 9 x 13 baking dish assemble the lasagna. First layer in 1.5 cups of sauce. Then add 6 of the noodles. Top the noodles with half of the ricotta and a third of the mozzarella and Parmesan and top with another 1.5 cups of sauce. Add the last 6 noodles. Top them with the remaining half of the ricotta, another 1/3 of the mozarella and with 2 cups of sauce. Cover the sauce with the rest of the mozzarella and Parmesan. Coat a sheet of aluminum foil with cooking spray and cover the baking dish.
Bake covered for 25 minutes and then uncovered for 25 minutes. Allow to rest for 15 minutes before cutting into 12 pieces to serve.