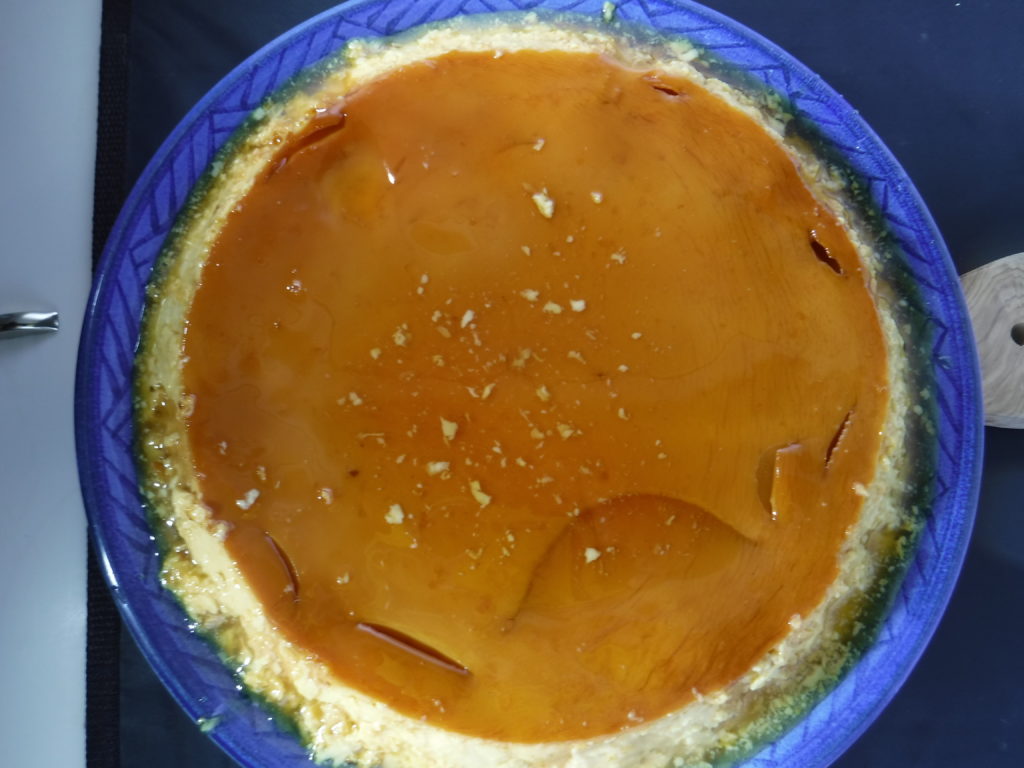 This Filipino version of the Spanish classic is adapted from Food52. It uses a high number of egg yolks, which makes for a very firm flan. Carol saw this as a drawback. The photo shows ragged edges and some flecks of flan floating in the caramel, which I think would have been avoided if I had first coated the pie pan with cooking spray. (I had some trouble getting the flan out of the pan.) This will serve 8 people.
12 egg yolks
12 oz. can evaporated milk
14 oz. can sweetened condensed milk
1 tsp. vanilla extract
¾ cup sugar
2 Tbs. water
Preheat the oven to 350 degrees.
In a bowl, whisk together the egg yolks, and then mix in sequence the evaporated milk, condensed milk, and vanilla. Do not mix too vigorously since you do not want to create air bubbles.
In a small saucepan, combine the sugar and water. Stir to start the sugar dissolving, but do not stir while the mixture is heating. Over medium heat, cook the sugar and water until the sugar is completely dissolved and the liquid changes to a brown caramel color. Shake the pan periodically, but do not stir. When the mixture is dark enough, coat the bottom of a 9 inch pie or cake pan with the caramel. Tilt the pan to cover all of the bottom. Allow the caramel to cool for a few minutes to harden, and then pour in the egg and milk mixture.
Put the flan pan in a larger pan deep enough to hold an inch of water. Put the pans in the oven and add to the larger pan about an inch of boiling water. Bake for 50-60 minutes until a toothpick comes out clean.
Cool the cooked flan briefly on the counter and then wrap in plastic wrap and chill thoroughly in the refrigerator. Invert the chilled flan onto a deep plate to serve, trying to get as much caramel as possible off of the pan.