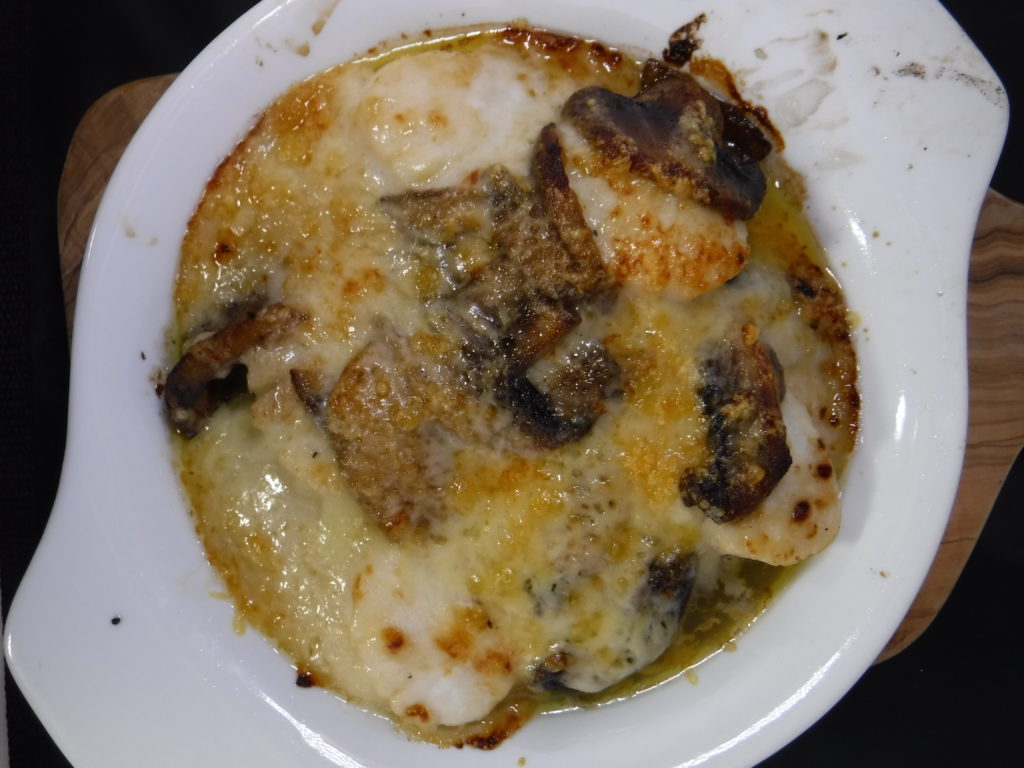 Coquilles St. Jacques is a French classic which I used to make with some regularity, but had not recently. I spotted a recipe in Saveur magazine which included mushrooms as well as scallops, and since Carol is quite fond of sautéed mushrooms, I thought it would be a nice welcome back dinner after her visit to our son Nick's family. It was tasty and relatively easy to make, and went well with a nice Chablis and some fresh bread. This made 4 large servings. (I was thinking of making 6 servings, but I could only find 5 individual baking dishes.)
¾ cup dry vermouth
1 bay leaf
1 large shallot, peeled and quartered
½ tsp. kosher salt
1-1/2 lbs. sea scallops
8 Tbs. unsalted butter, divided
16 oz. white mushrooms, washed and sliced
3 Tbs. flour
½ cup heavy cream
½ tsp. fresh lemon juice
1-1/2 cups grated Gruyere (about 4-5 oz.)
Kosher salt and pepper to taste
In a large saucepan, combine the vermouth, ½ cup of water, the bay leaf, shallot, kosher salt, and pepper. Bring to a boil and reduce to medium heat. Add the scallops, and cook 1-2 minutes until just cooked. Remove the scallops with a slotted spoon to a bowl. Reduce the liquid in the pan to about ¾ cup, and then strain it into a bowl.
In a large skillet, melt 4 Tbs. of butter and saute the mushrooms until nicely browned. Remove the mushrooms to a bowl.
Add the remaining butter to the skillet and whisk in the flour. Cook over medium heat for a couple of minutes until the flour has lost its rawness, and then stir in the reserved stock, cream, and lemon juice. Remove from the heat. Test for seasonings.
Divide the scallops and mushrooms over the individual baking dishes and top with the white sauce. Lastly, sprinkle the cheese on top.
Broil until the cheese is golden brown, about 4 minutes. Serve with fresh bread.