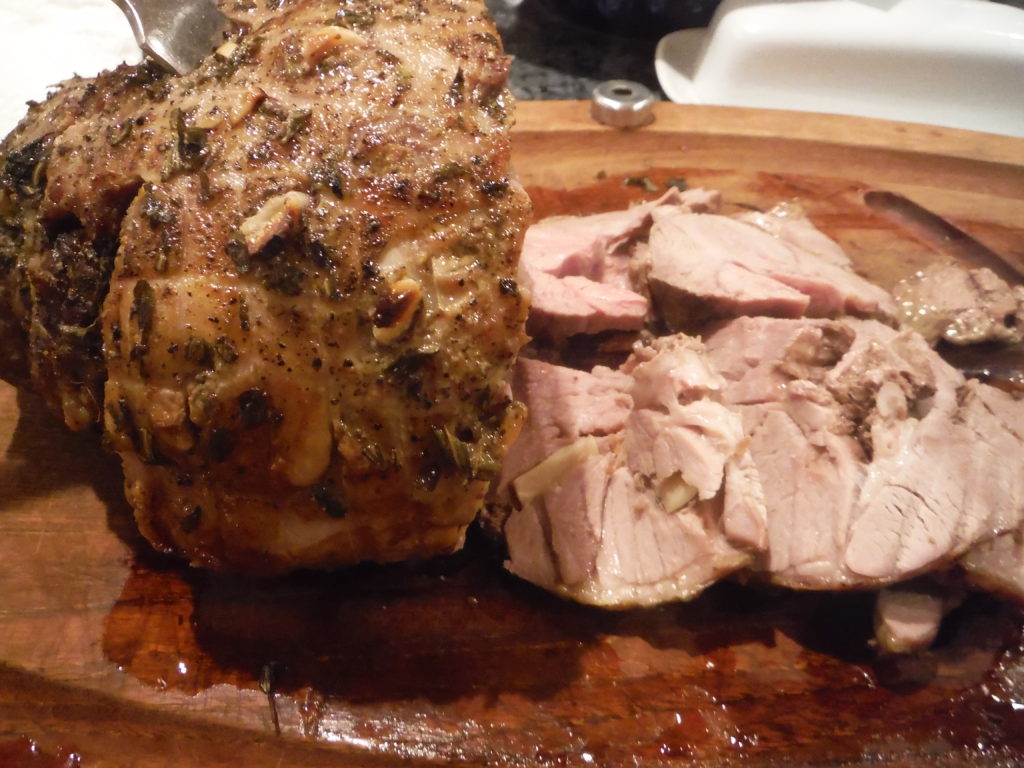 One of the first cookbooks we acquired was Mireille Johnston's The Cuisine of the Sun about Provencal cooking. This posting is an adaptation of a recipe from this book which we have made over and over again over the years. One of the key ideas in the recipe is to cut slits in the lamb and insert slivers of garlic and anchovy. The anchovy serves as a secret ingredient which melts away into the lamb so that anchovy haters are unlikely to know it is there. (Anchovies are one of the secret ingredients in Worcestershire sauce.) Costco is a good place to get boneless legs of lamb
1 boneless leg of lamb
6 garlic cloves, slivered
½ can of anchovies cut into pieces the size of a garlic sliver
3 Tbs. olive oil, divided
1 tsp. fresh rosemary, chopped
1 tsp. fresh oregano, chopped
Kosher salt
Freshly ground pepper
12 cloves garlic, peeled
½ cup dry white wine
2 Tbs. chopped parsley or mint
Cut slits into the lamb with a small knife and put a sliver of garlic and a piece of anchovy in each slit. Sprinkle the lamb with kosher salt, and rub in the pepper, rosemary, oregano, and 2 Tbs. olive oil. Allow to marinade at room temperature for 1-2 hours.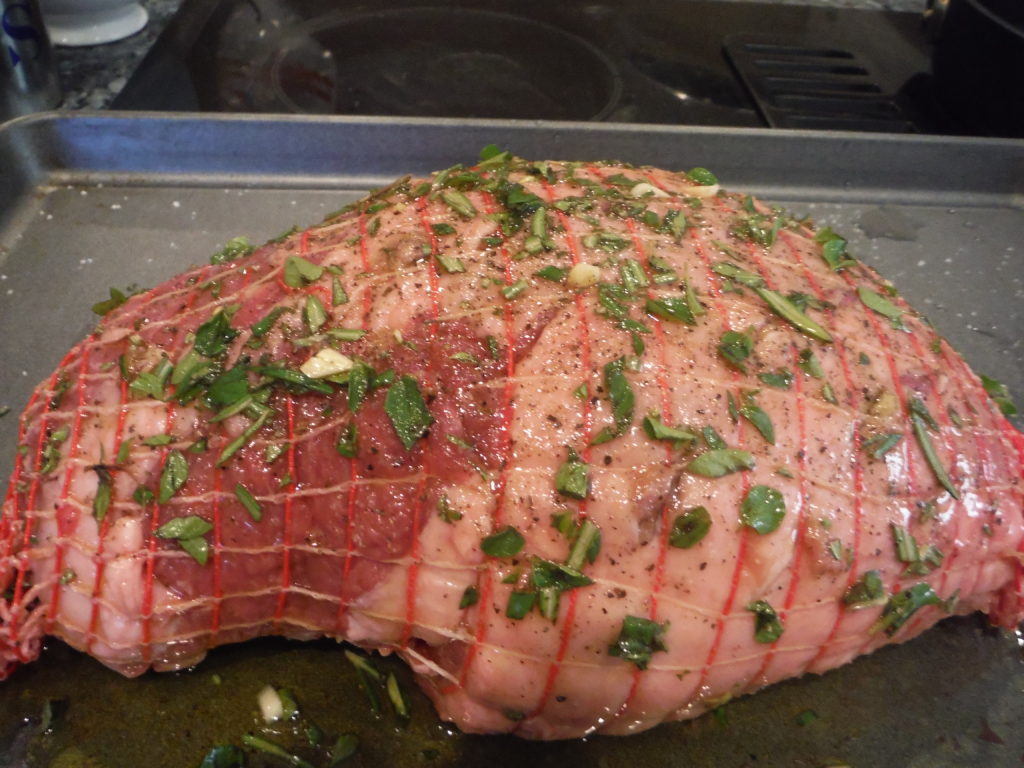 Preheat the oven to 425 degrees. Put the lamb in a roasting rack in a pan and roast for 20 minutes. Then reduce the heat to 350 degrees and cook 40-45 minutes for medium-rare lamb (140 degrees).
While the lamb is roasting, heat up a frying pan, add 1 Tbs. of olive oil and the 12 cloves of garlic. Cook gently until the garlic is soft (but not browned. Put the cloves in a small bowl.
When the lamb is done, remove it from the oven and tent it with aluminum foil for 5-10 minutes to rest. Pour the liquids from the roasting pan into a vertical heat-proof container.  Discard the fat and put the juices back into the roasting pan.  Put the roasting pan on a burner, deglaze with the wine, and reduce the liquid. Put the reduced liquid in the bowl with the garlic, and mash the garlic into a paste. Add salt and pepper to taste, and add the chopped parsley or mint. Serve as a sauce with the lamb.