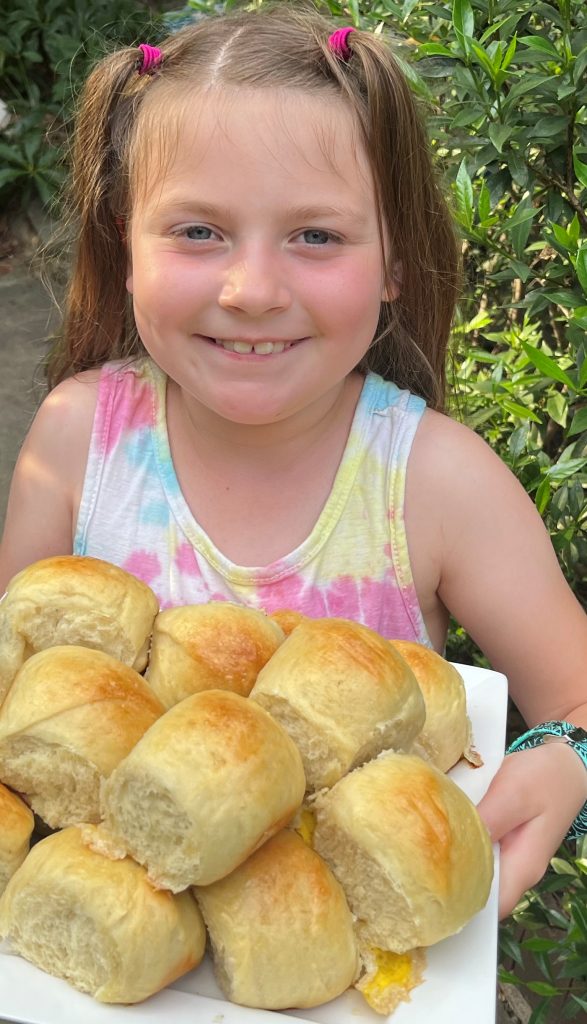 My granddaughter Lina and I made some kid-pleasing dinner rolls based on a recipe in an America's Test Kitchen cookbook for young bakers. We made a double recipe which we baked in a 13 x 9 inch pan. These could be made in about 4 hours on one day, or they could be made over two days with an overnight second rising in the refrigerator.
A future idea is to replace 10-20 percent of the all-purpose flour with whole wheat.
12.5 oz (2.5 cups) all-purpose flour
2.25 tsp. (one packet) yeast
1 tsp. salt
0.75 cup (6 oz) whole milk at room temperature
4 Tbs. (1/2 stick) unsalted butter, melted
2 Tbs. honey
1 large egg yolk
Cooking spray
1 large egg, lightly beaten with a fork (for an egg wash)
In the bowl of a stand mixer, add the flour, yeast, and salt. Mix with a dough whisk.
In a medium bowl, mix together the milk, butter, honey and egg yolk.
Add the liquid ingredients to the dry ingredients and mix with a dough whisk until fully incorporated. Using the dough hook, knead the dough in the stand mixer on a low setting for about 8 minutes to form a smooth dough. At the halfway point, check that all the flour is incorporated into the dough and scrape down the sides of the bowl if necessary.
Put the dough in a clean doubling container, coat lightly with cooking spray, cover and allow to rise until doubled, about 1.5 hours.
Grease an 8 x 8 inch baking pan. Put the risen dough on a lightly floured work surface and cut into 8 equal pieces. Form each piece into a ball with the smoothest side up. Cover, and allow to rise on the counter for about an hour, or overnight in the refrigerator.
Preheat the oven to 350 degrees. Brush the egg wash on the top of the rolls and bake until golden brown and firm to the touch, about 25 minutes. Allow to cool for at least 30 minutes before serving.