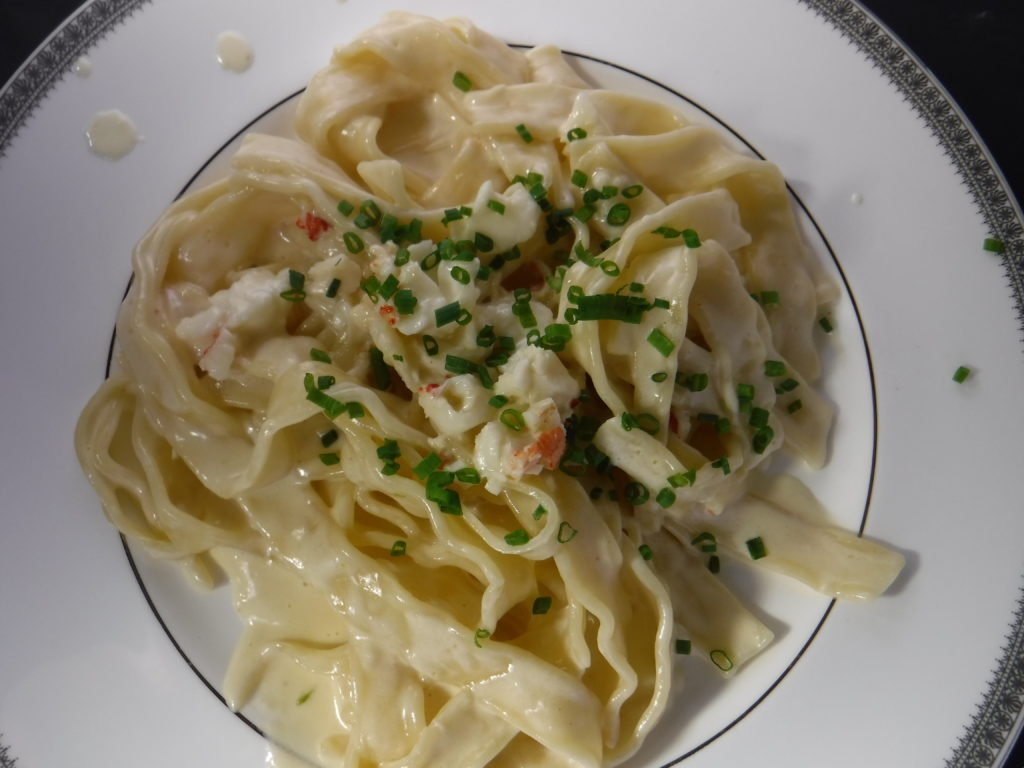 This splurge dish was the main course for Alyssa's birthday dinner. The original idea came from Bon Appetit, but we made a couple of changes. We simplified the preparation by using lobster tails (readily available frozen from Wegman's) and we used mafaldine as the pasta. (Mafaldine looks a lot like a half-inch wide lasagna noodle.) The amounts shown are for 4 large servings. The lobster and sauce can be prepared in advance and stored in the refrigerator.
4 lobster tails
1 medium onion, chopped
2 celery stalks, chopped
3 garlic cloves, finely chopped
2 sprigs tarragon (or basil)
4 cups heavy cream
½ tsp. crushed red pepper flakes (optional)
1 lb. long pasta (mafaldine, spaghetti, bucatini)
1 Tbs. unsalted butter
3 oz. Parmesan, grated, plus additional Parmesan for serving
3 Tbs. chopped chives
Freshly ground black pepper
Kosher salt
Put some cold water in the base of a steamer pot and heavily salt it. Bring to a boil, and add the lobster tails to the steamer basket and cover the lid. Steam the lobster tails for about 8 minutes until the shells are bright red. (It is OK to slightly undercook the lobster since it will be reheated with the pasta and sauce.)
Remove the cooked lobster to a cutting board and allow to cool. When cool enough to handle, remove the lobster meat, and finely chop it. Break the lobster shells into large pieces.
In a large pot put the lobster shells, onions, celery, garlic, tarragon, cream, and crushed red pepper (if using). Bring to a boil and then reduce to a simmer. Cook for 45 minutes uncovered, stirring occasionally, until the cream is reduced in half. Strain out the lobster shells and vegetables. (At this point the cream sauce could be put in a container and stored in the refrigerator.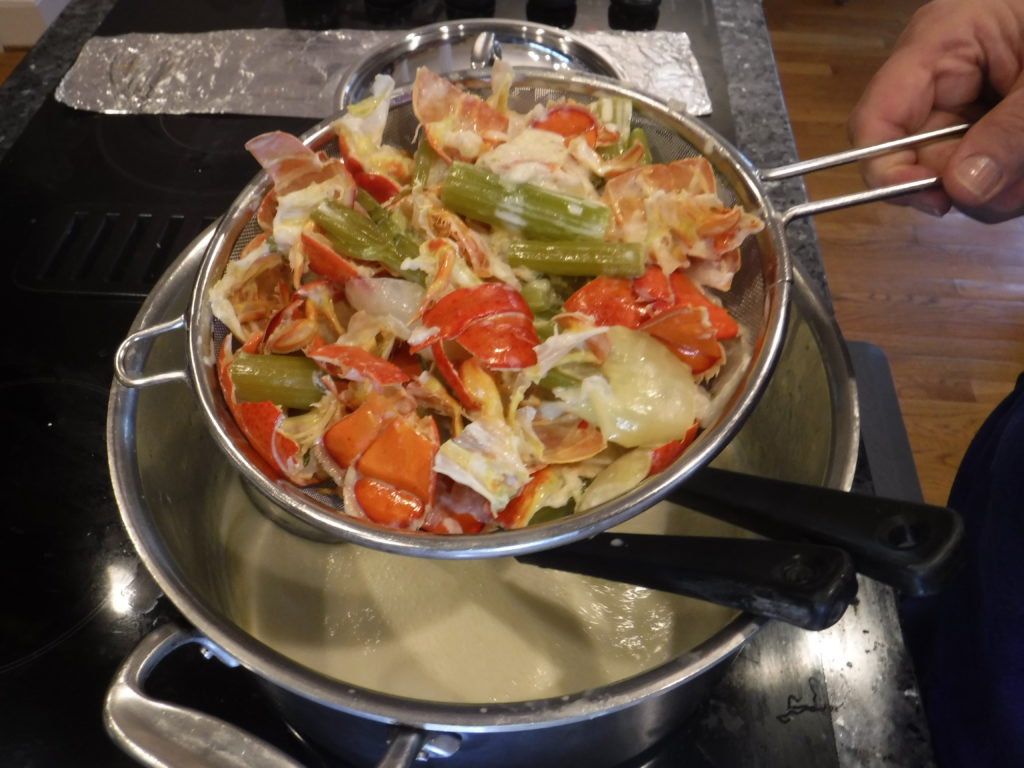 Cook the pasta in salted water until it is al dente.  Drain the pasta, reserving one cup of the pasta water.  Put the cream sauce, butter, and lobster meat into a large pot or skillet and add the cooked pasta, heating the pan over medium heat.  Add the 3 oz. of Parmesan and mix in gently.  If the sauce looks too thick, add a little of the pasta water.
Plate the lobster pasta and garnish it with the chives and some freshly ground black pepper.