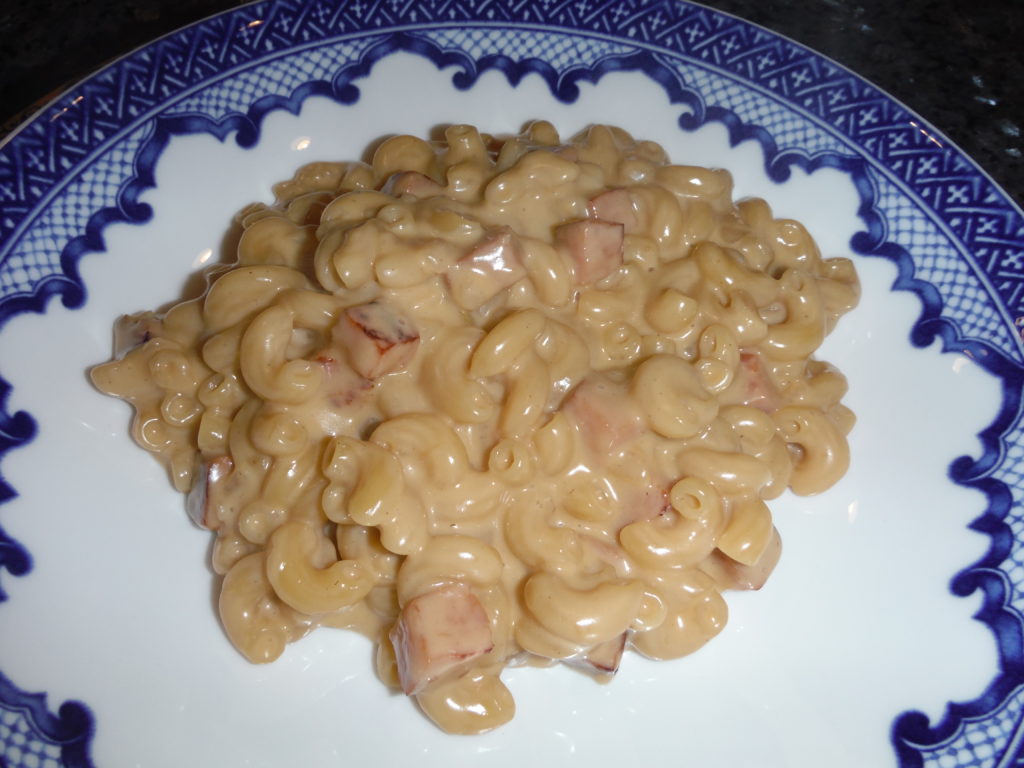 Since kids love mac and cheese, I have been looking for a simple way to make mac and cheese on a Boy Scout camping trip, and here it is. There are two basic tricks to this version which was inspired by Serious Eats:
First, cook the macaroni in just enough water to hydrate them and keep them from burning, but no more, so that no liquid needs to be poured out. This is convenient for "leave no trace" camping, and has the advantage of leaving in the pan a very starch-heavy pasta water which will help thicken the cheese sauce.
Second, add the milk late in the process in a concentrated form. I have now made this with evaporated milk (the original idea from Serious Eats) and with powdered whole milk (like Nestle's Nido), made twice as strong as usual.  Adding the milk late in the process in a concentrated form provides a lot of dairy content without the risk of scorching.
The core of the recipe is a 1-1-1 ratio of macaroni, concentrated milk, and melting cheese.
Here is how I made mac and cheese into an complete main course for two adults eating at home. Portions should be increased for active boys and hungry appetites after a physically demanding day. The butter, ham, and onion could be omitted if the goal is straight mac and cheese.
1 Tbs. butter
½ onion, chopped
4 oz. ham steak, cubed
4 oz. macaroni
4 oz. evaporated milk (or enough powdered whole milk for a cup of milk, but only dissolved in 4 oz. of water.  For Nestle's Nido this means 1/4 cup of powder in 1/2 cup of water)
4 oz. shredded melting cheese (cheddar, Mexican blend, etc.)
Cook in a saucepan sized for the number of servings. You want it to be small enough that the macaroni can be covered by a minimal amount of water.
In the saucepan, melt the butter, and saute the onion and cubed ham until the onion is translucent and the ham is browned. Add the macaroni and enough water to barely cover it. Cook over high heat for around 6 minutes stirring frequently, until the macaroni is just short of al dente. Add small amounts of water from time to time as necessary to keep the macaroni from sticking to the pan. Add the concentrated milk, bring it to a boil, and cook for a couple of minutes, stirring constantly. Turn down the heat to medium, add the cheese and stir constantly until the cheese forms a sauce. Serve immediately.