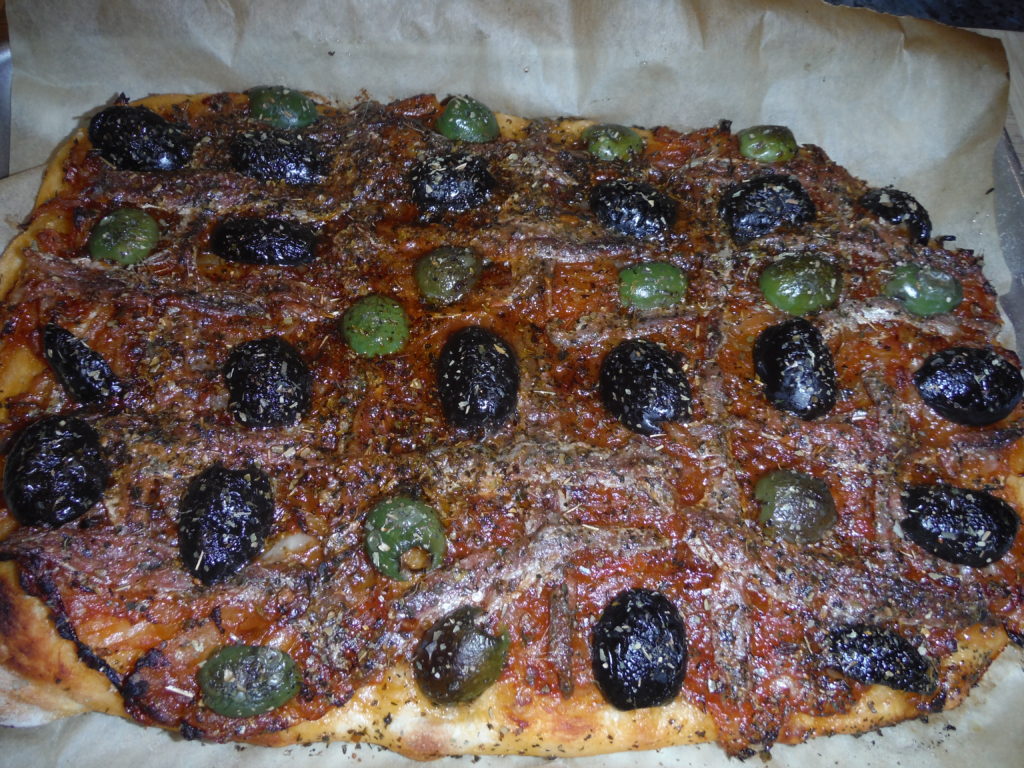 This is one of my favorite pizzas. I made this a bit more Italian-style than Provencal, since I had a half cup of tomato sauce in my refrigerator to use up. Here is how we made it for 2 persons last night
Pizza dough for two people (from Pizza for One or for Many )
Olive oil
1-1/2 large onions, thinly sliced
½ cup tomato sauce (optional, but tasty)
2 cans (2 oz.) anchovies
Pitted Mediterranean olives, halved
Italian herbs (or just thyme if you want to be Provencal)
Make the dough. Heat the oven to 475 degrees.
Put 1-2 Tbs. of olive oil in a large frying pan and cook the onions over medium heat until they are well cooked and partly caramelized. Stir in the tomato sauce, and remove the pan from the heat so that it can cool before being added to the pizza dough.
Spread the dough over a quarter sheet pan lined with baking parchment. Spread the cooled onion-tomato mixture evenly over the dough. Add the anchovies in an artistic arrangement and then add the halved olives artistically. Sprinkle the top with Italian herbs.
Bake for 15-20 minutes until the bread is fully cooked. It will take longer if the dough is thicker. Cut and serve.
Note: I did not dust this version with grated parmesan or romano, but that would also have been good.