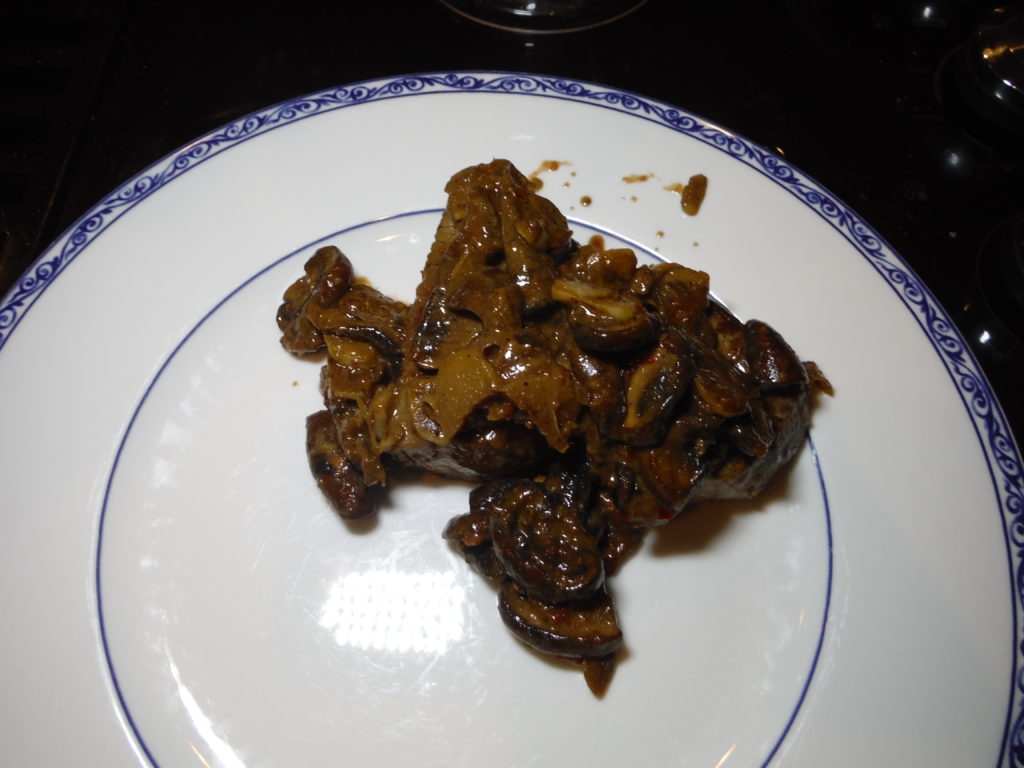 This Eurasian dish was the signature dish of the Miss Macau Restaurant in Macau. It was the favorite dish of Miss Macau 1993, who was the daughter of the restauranteur. (As of this writing, the restaurant still exists on Taipa Island. There is a recent recommendation of it in the South China Morning Post Taipa Island Dining .) The Eurasian features of this dish are that it is a pan-fried steak with a sauce with a lot of Asian ingredients, but also heavy cream and butter.
I became interested in European – Asian food interactions during my 3 years living in Bangkok and 8 years living in Japan. When I lived in Thailand in the early 1980s, there were definitely cases where to make some American dishes local substitutions were necessary. In those days, apples were very hard to get, so the expat way of making an apple pie was to substitute green mangoes for the apples. I also remember from those days hearing about a legendary (and possibly imaginary) book entitled "How to Survive in Karachi", which included recipes for things like ketchup which were unavailable locally.
I have also been interested in Macau since the early 1980s. While living in Bangkok, I had an idea of visiting Macau and had the good fortune to call up their local tourist office in Bangkok. I spoke to an American woman working there who sold me on visiting Macau, and especially on staying in the Pousada de Sao Tiago, a small hotel built into the ruins of an old fortress. I visited Macau three times in the 1980s and 1990s, exclusively eating Portuguese food. For me, Macau was an opportunity to visit Europe while still staying in Asia. I remember one of those trips when the children were young. We found an ice skating rink in a mall at the northern end of Macau. The kids skated and then enjoyed dinner at a McDonald's. We returned to the hotel, and then Carol and I enjoyed a Portuguese dinner. Win-win!
This recipe is an adaptation from Martin Yan's Chinatown Cooking, which is essentially a book on Chinese/Western fusion cooking. After all, what sells to the customers in Chinatown, and what is cost-effective to make in Chinatown, is not exactly what would have been prepared in China itself.
4 steaks (~6 oz. and 1 inch thick)
Salt and pepper
1 Tbs. vegetable oil
2 Tbs. heavy cream
1 Tbs. oyster-flavored sauce
1 Tbs. chili garlic sauce
2 tsp. mustard powder
1 Tbs. butter
8 garlic cloves, chopped
¼ cup fresh ginger, chopped
8 oz. mixed mushrooms (I used portobellos and shitakes)
1/3 cup Chinese rice wine, sake, or dry sherry
About 30 minutes before starting, salt and pepper the steaks and rest them on a kitchen counter.
While the steaks are resting, mix together in a small bowl the cream, oyster sauce, chili garlic sauce, and mustard powder.
Heat a large cast iron skillet over medium high heat. Add the vegetable oil, and swirl to coat the pan. Cook the steaks for around 7 minutes to medium done, flipping them every minute so that they cook through more evenly. Put the steaks on a plate, cover with aluminum foil, and put them in a warm (not hot) oven to keep warm while the sauce is prepared.
Add the butter to the pan. Saute the garlic and ginger until fragrant. Add the mushrooms and saute them until they have released their liquid, adding more butter if necessary. Add the wine and deglaze the pan. Return the steaks to the pan with their juices, stir together, and mix in the sauce ingredients. Stir until well mixed and heated through.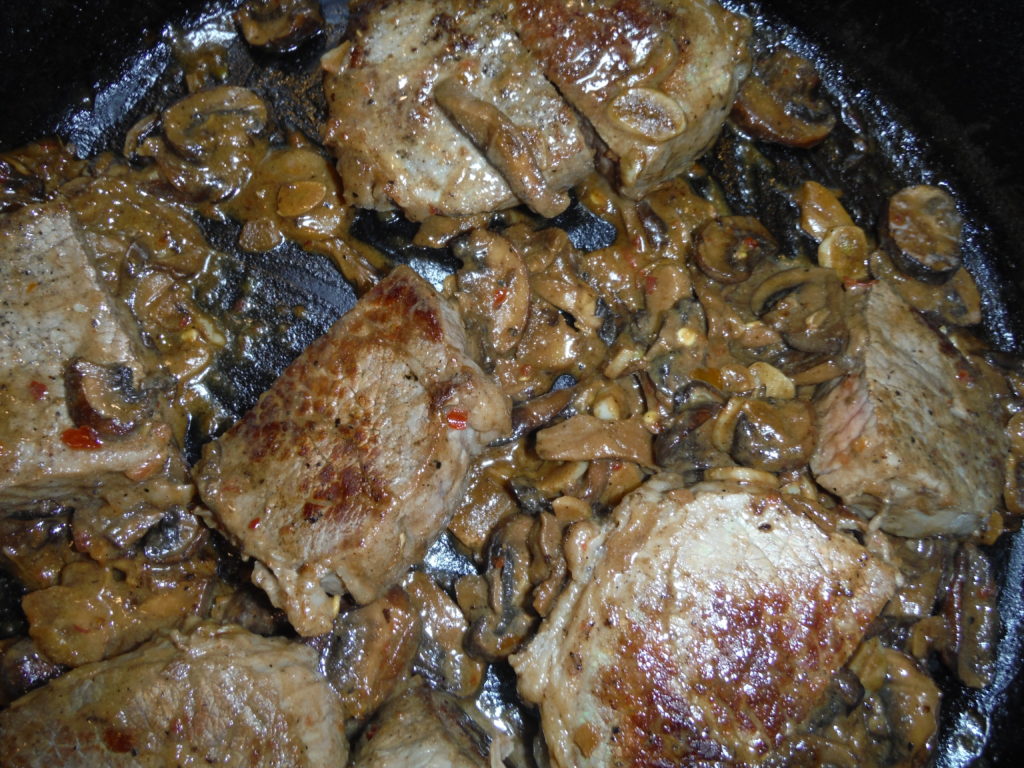 Serve with steamed rice.