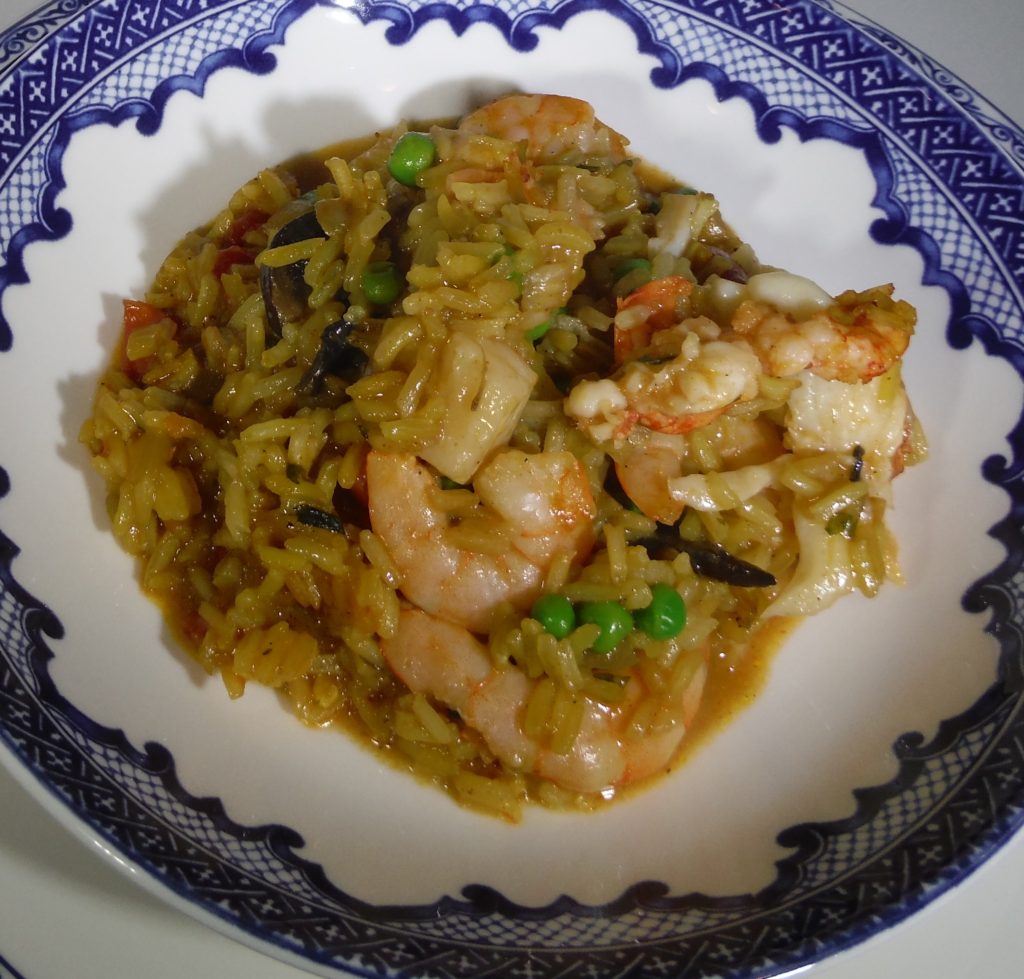 This is paella's soupier Portuguese cousin.  One reason it really appeals to me is that with paella it can be hard to get all of the rice to be fully cooked: the rice grains on the top are sometimes crunchy, rather than fully hydrated.  By cooking the rice in a greater volume of liquid, this problem is solved.  This recipe is a special occasion dinner, since it involves 3/4 lb. each of lobster, shrimp, and scallops, and is an adaptation from Ana Patuleia Ortins' Portuguese Homestyle Cooking.  It makes 6 ample servings.  This posting is the first one with new lighting equipment from Nick and Anna, and I think it really made a positive difference versus my previous photos.  Thanks again.
¾ lb. lobster tail
¾ lb. scallops
¾ lb. smallish shrimp in shells
3-1/2 cups water
¼ cup olive oil
1 small onion, finely chopped
1 clove garlic, finely chopped
½ cup sliced mushrooms
1 cup canned diced tomatoes
1-1/2 Tbs. tomato paste
2 tsp. kosher salt
1 cup long grain rice
2 Tbs. chopped cilantro or parsley
1 tsp. SriRacha or other hot sauce
¼ tsp. saffron, crushed and softened in a little water
½ tsp. turmeric
½ cup frozen peas
1 Tbs. butter
Preheat the oven to 350 degrees.
Remove the lobster meat from the shell, and cut it into one inch pieces. Place the shell in a large saucepan. Peel and devein the shrimp, placing the shells in the saucepan with the lobster shells. Add the water to the pot. Bring to a boil and then simmer for 15 minutes. Strain out the shells and reserve the broth. You will want 3-1/2 cups to add later to the rice. Add additional water if necessary.
If the scallops are large, cut them into smaller pieces.
In a large pot, heat the olive oil and saute the onions. After a couple of minutes, add the garlic. When the onions are translucent, add the mushrooms, and saute until they have released their liquid. Add the canned tomatoes, tomato paste, salt, rice, cilantro or parsley, hot sauce, saffron, turmeric, and the 3-1/2 cups of broth. Stir well. Bring to a boil, then reduce to a simmer and cover. Cook for 15-20 minutes, until the rice is softened.
Butter a 9 x 13 lasagna pan.
Mix the lobster, scallops, shrimp, and peas into the rice. Simmer for one minute, and then transfer the seafood rice to the buttered lasagna pan. Bake for about 20 minutes until all of the liquid is absorbed and the seafood is cooked.  Here is the pan straight from the oven.