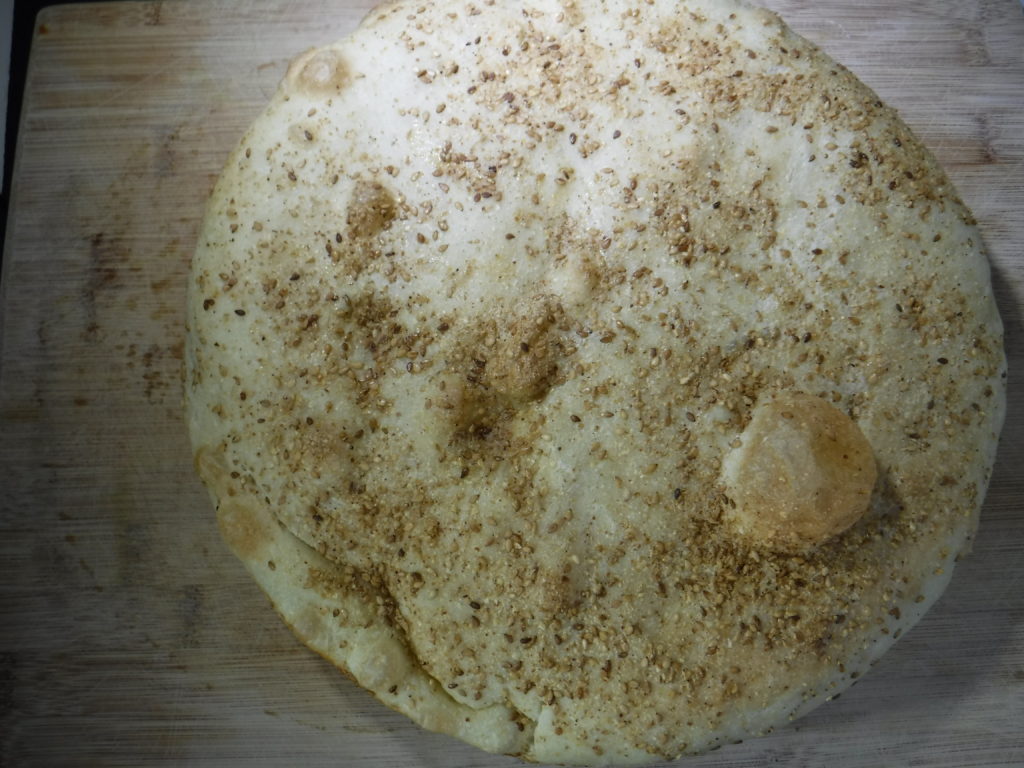 A muffaletta is a famous sandwich from New Orleans which was invented by the Central Market, an Italian grocery store near Jackson Square, in 1906. I have enjoyed a muffaletta at Central Market, and from other places, such as Jason's Deli, which although a chain, started near Louisiana in Beaumont, TX.
The bread for muffaletta is a large flat round loaf, which is cut into wedges for individual servings. This particular bread was adapted from a recipe on boingboing.net by Jason Weisberger and was baked in a 10 inch springform pan. Although Jason's instructions refer to making a ball of dough, I found this to be such a wet dough that it could not be formed into a ball, which really did not matter. I was able to handle it and it baked up nicely.
This is a 36 hour recipe, although that involves little active worktime. For lunch on Wednesday, I started the bread on Monday evening.
Preferment
1 cup (4.33 oz.) bread flour
1 cup warm water
1/8 tsp. yeast
Dough
3.5 cups (15.1 oz.) bread flour
2 Tbs. shortening
1.5 tsp. salt
1 cup warm water
¼ tsp. yeast
Egg Wash and Sesame Topping
1 egg
½ cup water
Sesame seeds to sprinkle
Start the preferment by mixing together bread flour, water and yeast in a medium bowl. Cover the bowl and let it ferment on the kitchen counter overnight.
The next day, add the dough ingredients and the preferment to the bowl of a stand mixer. With a dough hook and a rubber spatula, mix and knead the dough until it is smooth, with the shortening and all the flour well incorporated. It will be a very wet dough. Cover and let it rise for an hour. Deflate the dough, sprinkle with flour, and using a flexible spatula or other tool, lift, stretch, and fold the dough a few times to further develop the gluten. Shape into as much of a ball as possible, cover, and allow it to ferment on the kitchen counter for another 2-3 hours.
Take a 10-inch springform pan, and coat it with kitchen spray. Add the risen dough to the pan and coat the top with kitchen spray. With your hands, press and stretch the dough until it evenly covers the bottom of the pan as a flat disk. Cover the pan with plastic wrap, and place in the refrigerator overnight.
The next day, preheat the oven to 350 degrees, and remove the pan of dough from the refrigerator to warm on the kitchen counter. In a small bowl, mix together the egg and water to form an egg wash. Using a brush, gently coat the top with the egg wash. (You will use only a small fraction of it.) Sprinkle to top with sesame seeds and bake for 30-35 minutes until browned and cooked through. Remove from the oven and place on a wire rack. After 5 minutes remove the bread from the pan and allow it to fully cool for around 3 hours on the rack before using it to make a muffaletta.