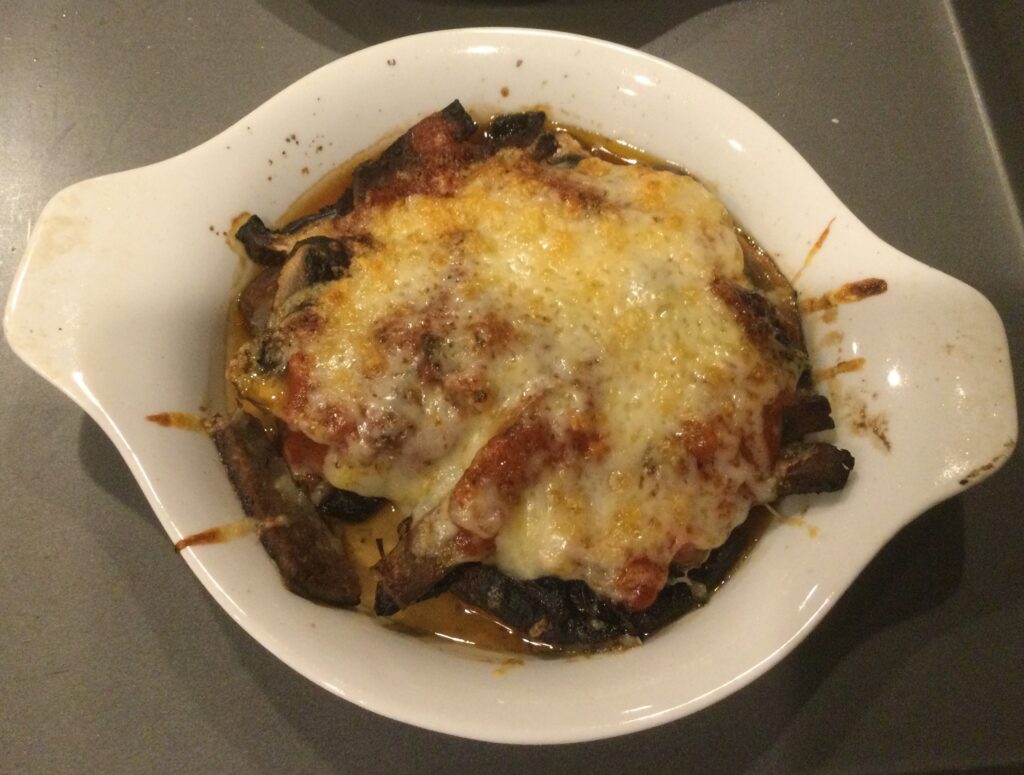 Stella's is a well-known Greek restaurant in Richmond. When we had dinner there, the best dish we had was a mushroom saganaki appetizer. A search of the internet has shown that this is not a common dish so to attempt to recreate it, I had to start more or less from scratch. This was my first attempt. To make it a more complete meal, I added 4 slices of Greek-American Gyros which I sliced and pan-fried. They could obviously be omitted.
Carol suggested next time omitting the Italian dressing marinade, since she thought too much of its taste came through the final product..
These quantities would make 3 dinner servings
4 portobello mushrooms
Italian salad dressing (such as Kraft Zesty Italian)
2 Tbs. olive oil
3 Tbs. diced onions
2 cloves garlic, finely chopped
½ tsp. Italian seasoning
3 Tbs. marsala, white port, or sweet vermouth
1 cup tomato sauce
4 slices gyros meat
4 oz. grated Gruyere or similar cheese
Marinade the mushrooms in the Italian dressing and then grill them. When done, allow to cool and then slice
Make the tomato sauce by heating the olive oil in a small skillet. Saute the onions and garlic. Add the Italian seasoning, marsala, and tomato sauce. Simmer for about 15 minutes into a nice sauce.
If adding the gyros, cut the meat into strips and saute until nicely browned.
Preheat the broiler.
Put the mushrooms and gyros meat into individual baking dishes. Cover with the tomato sauce and then top with the grated cheese. Broil until the cheese is browned and the dish is bubbling. Serve with a good bread. We served it with Grilled Chickpea Flatbread .