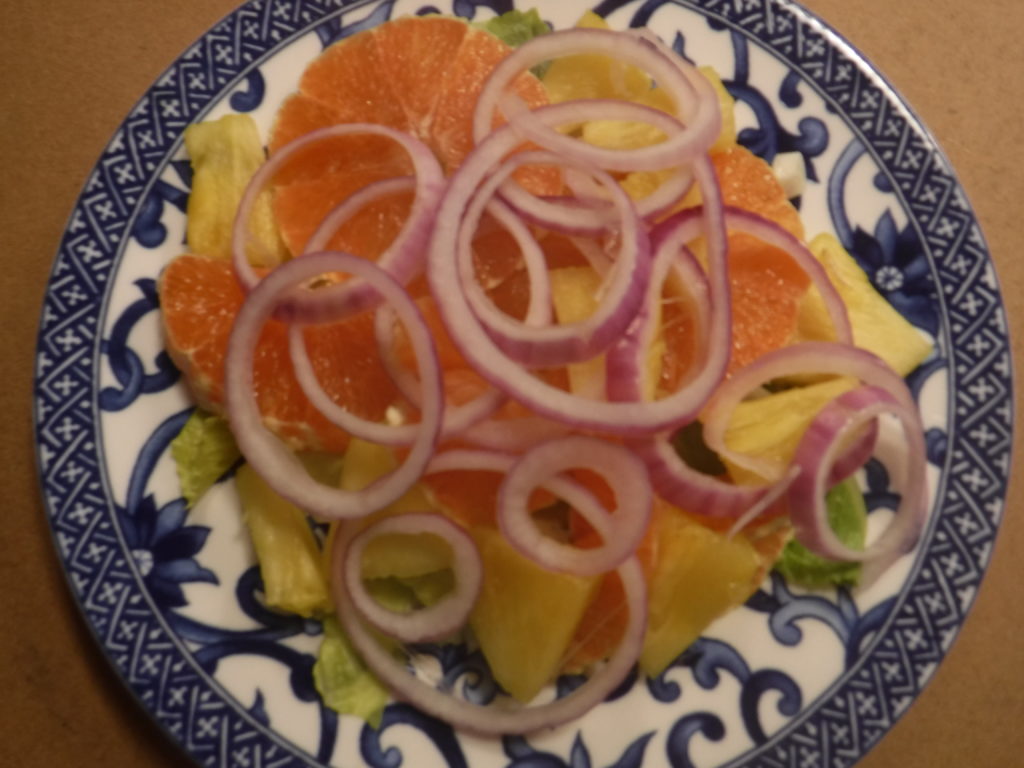 This colorful composed salad is especially good in the winter when salad vegetables are not at their best. This recipe is adapted from one of my favorite cookbooks, Anne Lindsay Greer's Cuisine of the American Southwest. There are similar orange-based salads from southern Italy.
The photograph shows an individual serving of the composed salad before adding the orange vinaigrette. Quantities below will serve 6-8 persons.
Salad:
4 seedless oranges, peeled and sliced
¼ fresh pineapple, cut into small pieces
1 red onion, thinly sliced
Romaine lettuce
Dressing:
1 clove garlic, peeled
1 Tbs. fresh orange juice
3 Tbs. red or white wine vinegar
½ cup safflower oil
¼ tsp. chili powder
1/8 tsp. dry mustard
Fresh mint as garnish (optional)
To compose the salad:
Blanche the red onion slices briefly in hot water and instantly drain, soak in cold water, and then drain to dry.
Compose the salad by making a bed of romaine lettuce and then layering the orange slices, pineapple pieces, and red onions into an attractive salad.
To make the dressing:
In a food processor, chop the garlic clove. Add the remaining dressing ingredients to the bowl of the processor and pulse until well mixed.
Apply the dressing just before serving. Add the optional fresh mint garnish.