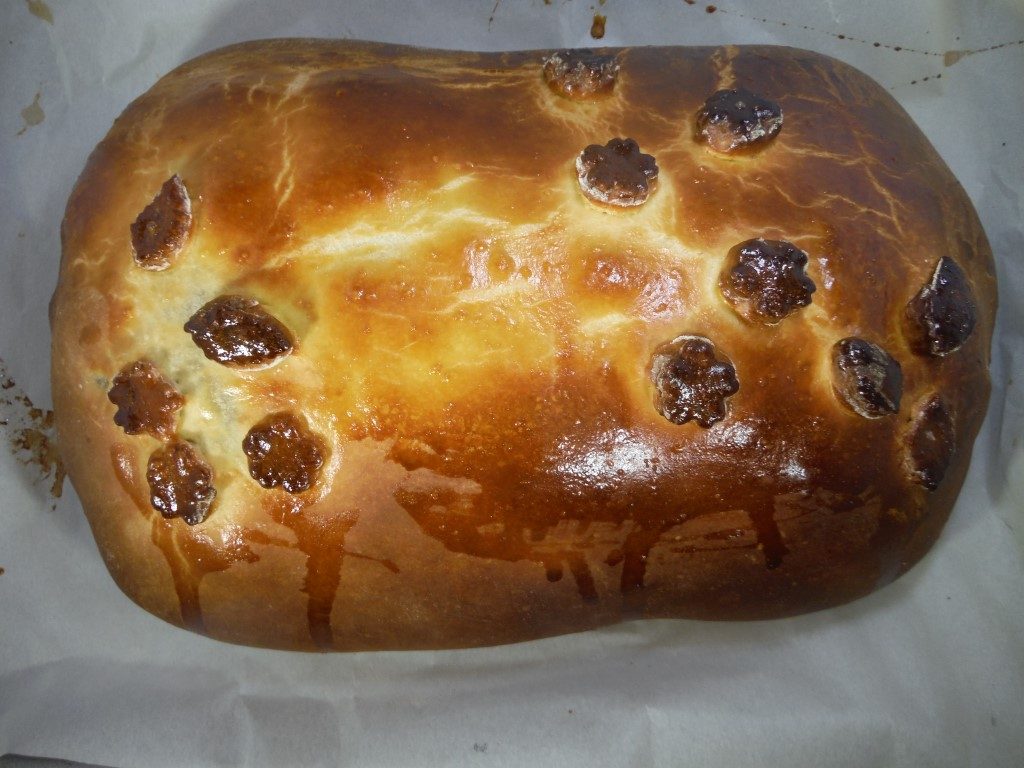 This enriched bread is a recipe from Julia Child's Mastering the Art of French Cooking, and is less rich than her true brioche, which has three times the butter. We have used this dough instead of puff pastry for Beef Wellingtons, including at this year's Christmas dinner. It is very eggy, and Julie recommends it for toast and for encasing sausages, etc. I have reduced the salt from what was used in Julia's original recipe.
This recipe is for enough dough to encase 5 lbs. of beef tenderloin, i.e. twice what is needed for the Beef Wellington recipe on the blog.  It can be scaled down easily.
2 tsp. yeast
¼ cup warm water
1-1/2 tsp. salt
2 Tbs. sugar, divided
¼ cup warm milk
3-1/2 cups (16 oz.) all purpose flour
4 eggs, at room temperature
½ cup (1 stick) chilled butter
In a small bowl add the yeast, warm water, and 1 tsp. of the sugar. Mix and allow to proof for a few minutes. Put the salt, sugar, warm milk, eggs, and proofed yeast into the bowl of a stand mixture, and mix together. Add the flour, and mix to form a dough. Knead for a few minutes with the dough hook or paddle until the mixture has become a smooth dough. While continuing to knead the dough, work the butter into the dough 1 Tbs. at a time until it has been fully incorporated. Put the dough into a greased container to double.
So far I have only used this dough to encase the beef slices and mushroom mixture in a Beef Wellington. If used for another purpose, I would punch it down, form it into a loaf and then allow it to double a second time before baking it at 425 degrees.