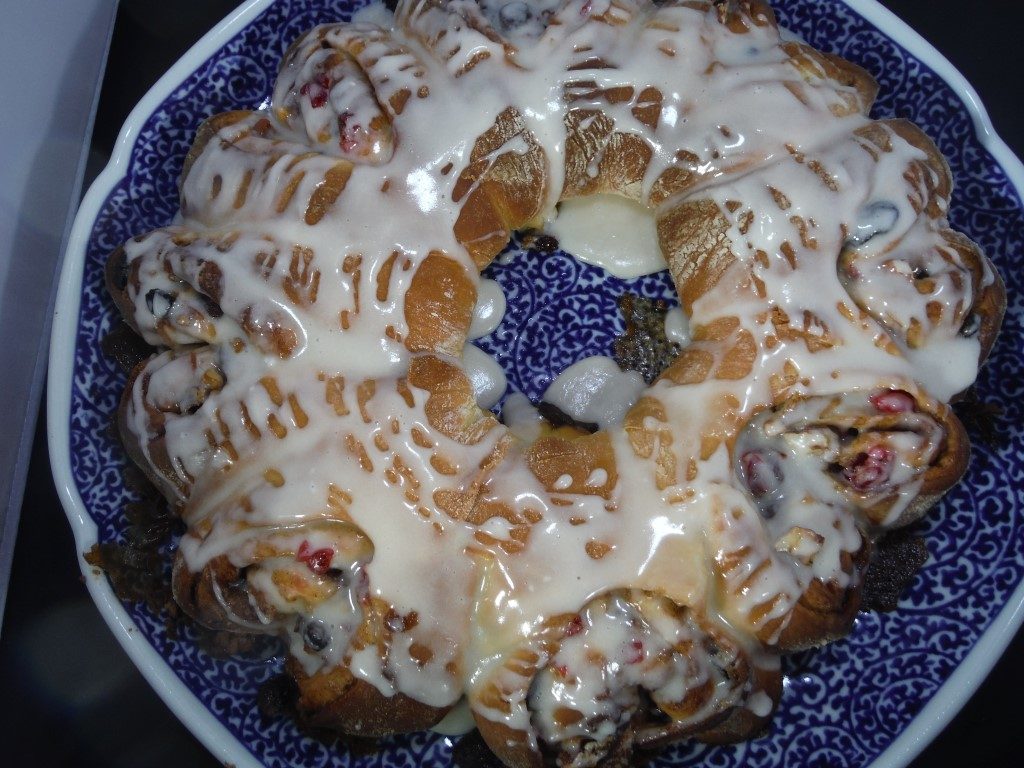 This is what I made for brunch on Christmas Day this year, as a change of pace from my usual Sticky Buns. This coffee cake is adapted from Mary Meade's Country Cookbook, which was published in the 1960s by Ruth Ellen Church, the long-time food editor of the Chicago Tribune. This is a good example of old school Midwestern cooking, which when well done, and with good ingredients, is very fine eating.
We could not find candied cherries at our local supermarket, and successfully improvised by buying a small jar of maraschino cherries and putting them in a dehydrator for a couple of hours. (An alternative would have been to dry them out in a slow oven (~200 degrees).
Dough
2 tsp. Yeast (1 packet)
¼ cup warm water
½ cup scalded milk, cooled to warm
¼ cup sugar, divided
½ tsp. salt
1 egg, beaten
¼ cup butter, softened
2-3/4 cups all purpose flour
Filling
¼ cup melted butter
½ cup packed brown sugar
2 tsp. cinnamon
½ cup raisins
½ cup chopped candied cherries
¼ cup chopped pecans (or walnuts)
Glaze
1 cup powdered sugar
1 tsp. vanilla
2-3 Tbs. milk
Put the yeast, warm water, and about 1 tsp. of the sugar in a small bowl. Mix and allow to proof for a few minutes. Mix the scalded milk, the rest of the sugar, the salt, egg, and butter in the mixing bowl of a stand mixer. Add the proofed yeast. Mix again. Add the flour and knead to form a soft dough, adding more water (if the dough is too stiff) or flour (if too loose). Place in a greased bowl, and allow to double.
Mix together the brown sugar and cinnamon in a small bowl.
On a floured pastry cloth, roll out the dough to a large rectangle, about 24 x 18 inches. Spread with the melted butter and then sprinkle evenly the brown sugar and cinnamon, and the fruit and nuts. Roll up like a jelly roll along the long side. Form into a circle on a sheet of baking parchment or a silicon mat. With a pair of scissors, cut the dough about 2/3 through in one inch intervals. Turn one of the cut pieces to the right and the next one to the left so that it looks like there are a number of hearts. See the picture below.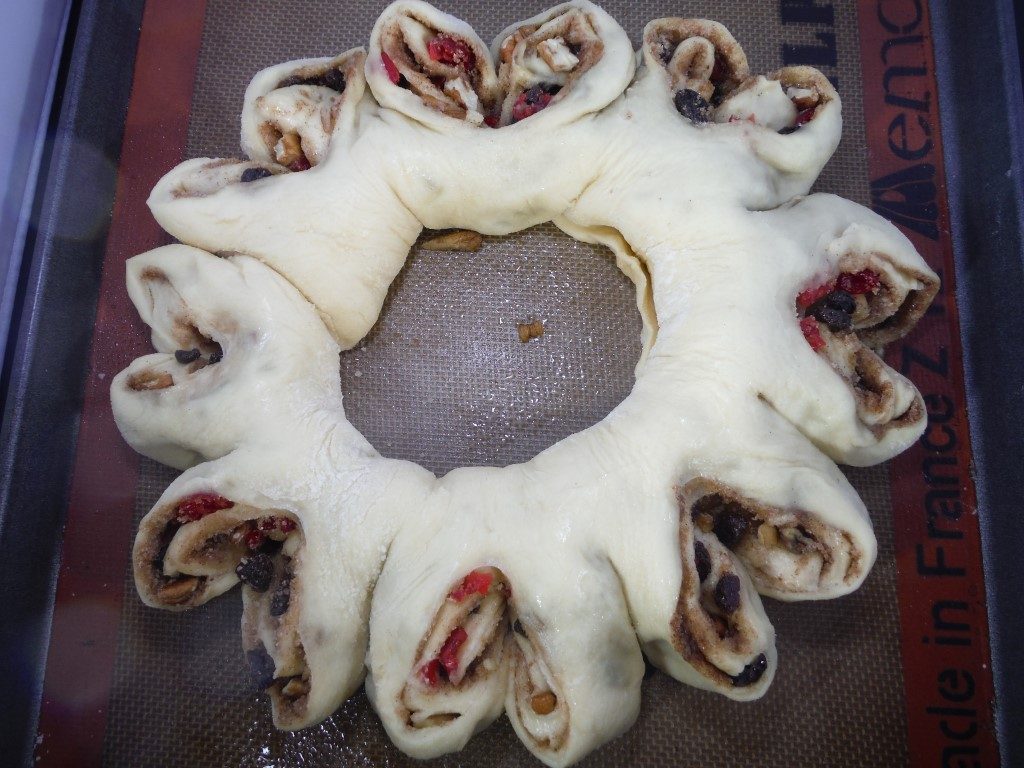 Mist the dough with cooking spray, and allow to rise a second time until doubled. I usually refrigerate it at this stage so that the second rising can be done slowly in the refrigerator and the tea ring can be baked just in time to be eaten.
Preheat the oven to 375 degrees.
Bake for 25-30 minutes, until browned and cooked through.
While the tea ring is cooling, mix together the glaze. Add enough milk to have a thick liquid which can be spooned over the tea ring. Wait until the tea ring has cooled from hot to warm before spooning the glaze so that it will not all run off.