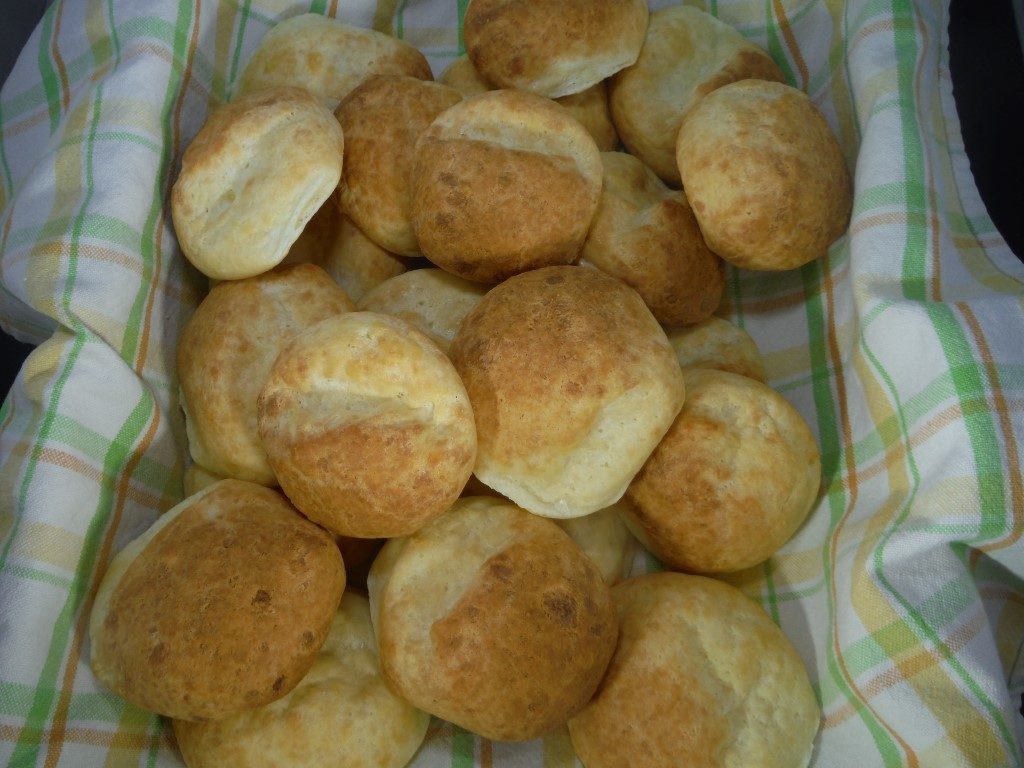 A few weeks ago, I was in the mood to make Brazilian Cheese Bread (Pao de Queso).  Grand Mart had Goya yucca flour (and from Brazil), but only the sweet type vs. the sour type I was looking for.  I bought the sweet yucca flour and decided to make cheese bread using the recipe on the bag, which uses fresh cheese.  The end product was similar to Brazilian cheese bread, except a bit less tangy.  I noticed that the little breads deflated a bit after I took them from the oven.  I think the next time, I will bake them until the outer surface is more brown and hard, which I think will help them keep their shape better.  I also think that these may be at their best straight out of the oven.
Note that yucca flour is very different from wheat flour.  It has a consistency like corn starch, and will not naturally form a dough without being pressed and kneaded.
1 cup sweet yucca flour
1 tsp. baking powder
1 lb. fresh white cheese, crumbled
1 egg, lightly beaten
1-4 Tbs. water, depending on what is needed to make a workable dough.
Preheat the oven to 375 degrees.
 In a large mixing bowl, mix together the yucca flour and baking powder.  Mix in the cheese and egg.  Knead the dough.  Depending on how wet the cheese you will need to add differing amounts of water to make a smooth dough.  Last night I needed 3 Tbs.
 Divide the dough into about 20 little balls, and place them on a cookie sheet with a silicon mat or baking parchment.  Bake until golden, about 20-25 minutes.  Serve warm.