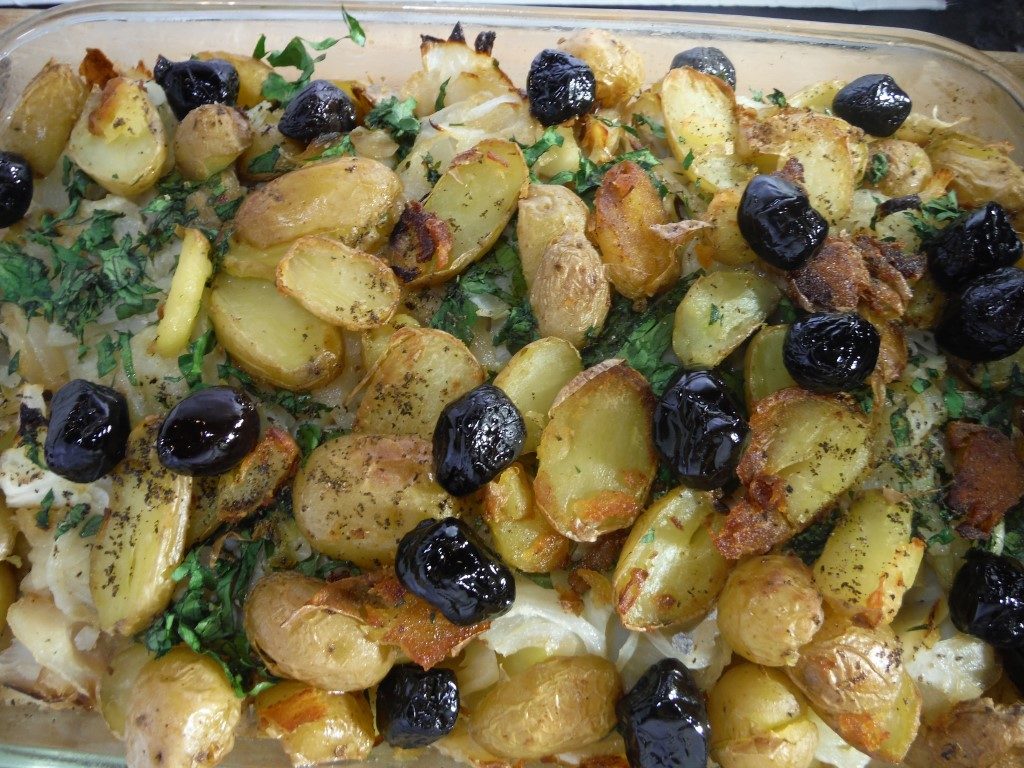 This combination of dried salt cod, potatoes, and onions is a Portuguese classic.  I have seen it presented many different ways.  In the Pestana Hotel in Curitiba, Brazil, it was in a ramekin and the potatoes were mashed.  This version is from Jean Anderson's The Food of Portugal.  I cooked it a bit differently from her recipe because of the potatoes I used, which were small new potatoes, and were too small to peel.  I think she had in mind larger waxy potatoes which could be peeled and cut into slices.  In any event, it is a good combination of flavors.  This made 6 servings for us.
1 lb. dried salt cod
6 cups boiling water
1 Tbs. unsalted butter
3 Tbs. olive oil, divided
1 large onion, thinly sliced
2 lbs. waxy potatoes
1/3 cup minced parsley
¼ tsp. freshly ground black peppers
12 oil cured olives, for garnish
The day before cooking the bacalhau, rinse the salt cod and put it in a non-reactive container full of water in the refrigerator.  Cover the container with a lid or plastic wrap to avoid smelling up the refrigerator.  Over the next 24 hours change the water at least twice, until the water is not too salty.  The objective is a balance – cod which has the right level of salt for the finished dish.
Boil the potatoes until fork tender, and drain.  If large, peel and cut into slices.  If small (as in the picture) cut at least in half and in more pieces for the larger potatoes.
Drain and rinse the cod one last time.  Put it in a large pot and pour in the 6 cups of boiling water.  Cook over medium heat for 10-12 minutes until the cod flakes easily.  Then drain the cod, let it cool, and flake it into a bowl.
 Preheat the oven to 350 degrees.
 In a skillet, heat the butter and 1 Tbs. of the olive oil over medium heat.  When hot, add the onion separated into rings, and saute 8-10 minutes until the onion is limp and golden colored.  Remove the cooked onion to a second bowl.
 Add the remaining olive oil to the skillet and fry the potatoes over medium heat until golden, around 5 minutes.  Remove the potatoes from the heat.
 Liberally butter a shallow 2 quart baking dish.  Layer half of the potatoes.  Sprinkle some parsley.  Add one third of the onion and half of the cod, more parsley, and some pepper.  Repeat the layering so that there is onion on the top.  Add more parsley (reserving 1 Tbs. as a garnish) and any remaining pepper.
 Bake uncovered for 35-40 minutes until hot and browned on top.  Garnish with the oil cured olives and the remaining parsley.