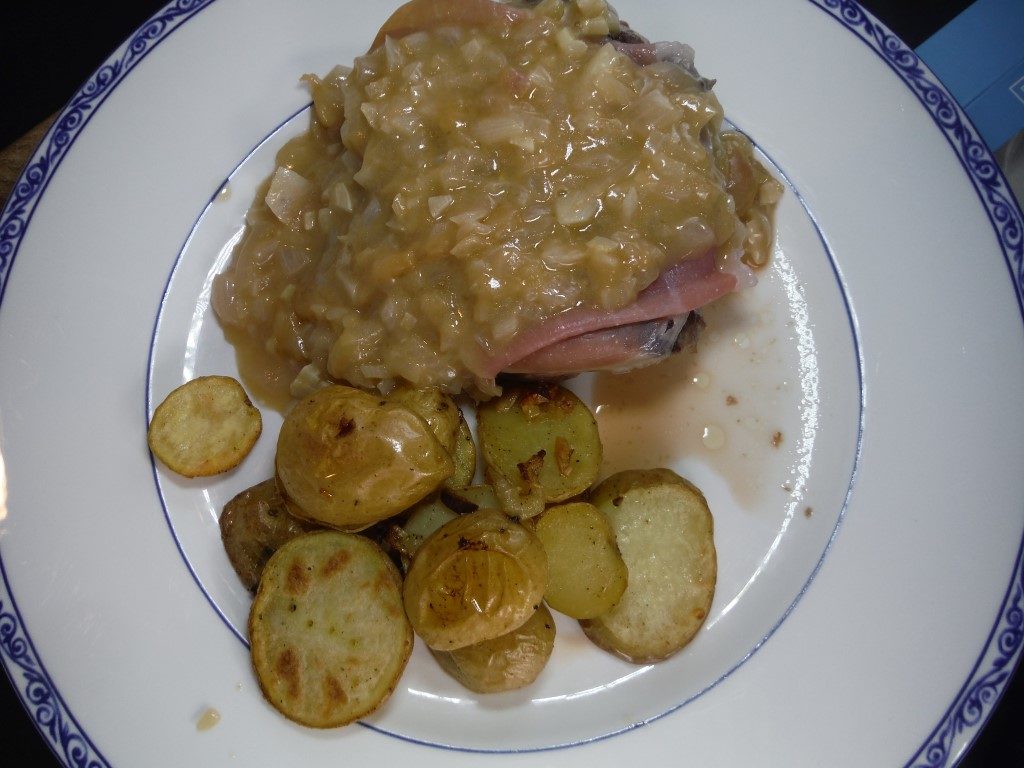 I have been in a Portuguese mood lately, since Carol and I are currently planning to walk the Portuguese route on the Camino de Santiago from Porto in May. This recipe is adapted from the first Portuguese cookbook I got more than 30 years ago, Jean Anderson's The Food of Portugal, which is a classic which I have used many times. It is a pan-fried steak with prosciutto and a gravy made with bay leaves, garlic, shallots, and vinegar. This will make 4 servings.
4 small steaks, about ¾ inch thick
½ tsp. freshly ground black pepper
¼ tsp. salt
4 Tbs. unsalted butter, divided
2 Tbs. flour
1 cup beef broth, low sodium
1 cup chicken broth, low sodium
3 Tbs. dry white wine
2 Tbs. distilled white vinegar
3 garlic cloves, chopped
2 shallots, chopped
4 bay leaves, left whole
2 Tbs. olive oil
8 thin slices of prosciutto, about 3 oz.
Put the steaks on a plate on the counter to come to room temperature while preparing the sauce. Salt and pepper them.
Melt 2 Tbs. of the butter in a skillet. Whisk in the flour and cook briefly. Whisk in the beef broth, and cook over medium heat for 3-5 minutes until there is a smooth and thick gravy. Add the chicken broth, white wine, vinegar, garlic, shallots, and bay leaves, and stir well. Bring to a boil and reduce to a simmer. Cook about 20-25 minutes, stirring occasionally until the sauce is reduced to the consistency of a thin gravy. Taste for seasoning. Whisk in the remaining 2 Tbs. of butter.
Heat the olive oil in a heavy skillet over medium-high heat. Add the steaks, cook for about 3 minutes on the first side, and then flip them to cook the other side for 3 minutes. Top the first cooked side with the slices of prosciutto, folded over to fit the size of the steaks. Serve the steaks with the sauce and with baked or fried potatoes. In the photograph, the potatoes were tossed with olive oil, salt, garlic, and onions and roasted in a 400 degree oven until cooked through.
The text above is how I did it, following Jean Anderson's recipe. I think it would be easier eating to cut the prosciutto into strips and to add it to the sauce, and that it would be better looking to put the sauce first on the plate and then to top it with the steaks.