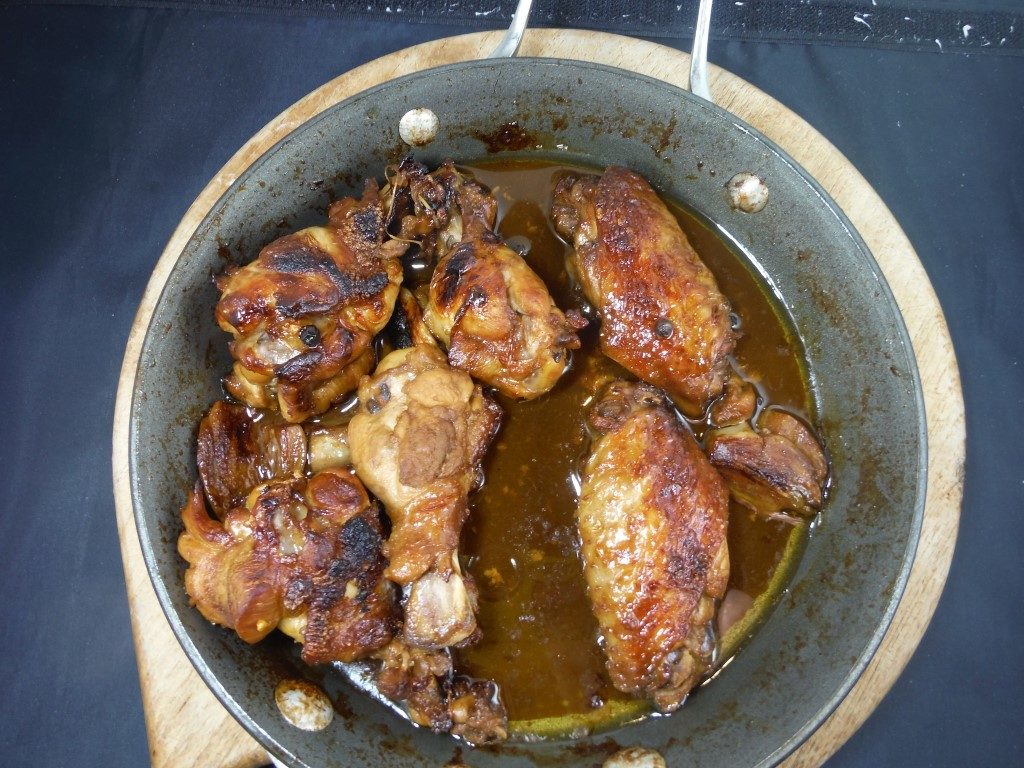 I served this as an appetizer at our Super Bowl party this year, as an alternative to Buffalo wings.
6 whole chicken wings (or 12 half wings, about 2 lbs.)
1 Tbs. butter
1 Tbs. vegetable oil
½ cup soy sauce
½ cup cane or rice vinegar
4 cloves garlic, smashed
2 bay leaves
1 tsp. black peppercorns
Cut the whole chicken wings into three sections, discarding the tip sections (or keeping them for making stock). Place the chicken wings in a gallon ziplock baggie and add the soy sauce, rice vinegar, garlic, bay, and peppercorns. Marinade for at least several hours and up to overnight.
Preheat the oven to 500 degrees. Drain the chicken wings, reserving the marinade.
When the oven is heated, put the skillet on the stove, heat over medium high, adding the butter and oil. When hot, add the chicken wing pieces and stir. Add some of the reserved marinade to coat them and mix.
Put the skillet in the oven. Cook the wings for two minutes. Open the oven, and stir and flip the wing pieces and coat with additional marinade. Repeat every two minutes for about 20 minutes total, or until the wings are fully cooked and crispy.