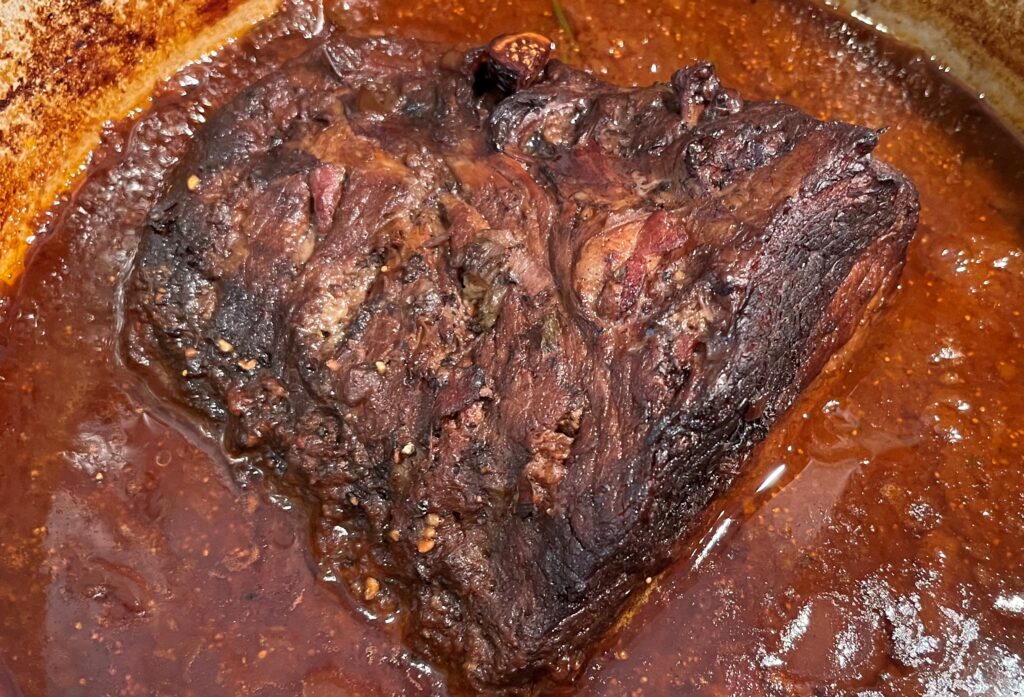 A popular dish on the Dalmatian coast of Croatia is Pašticada, which a beef pot roast in a flavorful sauce. We enjoyed it with gnocchi at Trogir during a recent trip. I made this version last night based on a recipe in chasingthedonkey.com, which was adapted for ingredients available in an American kitchen. We started it the night before to marinade the meat, and served it with a Slovak potato dumpling called Halusky. Like gnocchi, it is a potato/flour dish, but Halusky is made with grated raw potatoes instead of cooked potato. This will make 8 servings
4.5 lb. beef chuck roast or something similar
3 slices bacon, cut into lardons
2 Tbs. mustard
½ cup apple cider vinegar
¾ cup olive oil, divided
7 oz. onions (2 medium-large), diced
1 large stalk celery, diced
5 oz. carrots (about 3 medium), diced
2 cloves garlic, chopped
1-1/4 cup dry red wine
2 Tbs. tomato paste
10 prunes, sliced
6 dried figs, sliced
1 large Granny Smith apple, peeled and roughly chopped
3 bay leaves
Small bunch thyme
Rosemary sprig
2 Tbs. chocolate chips
Salt and pepper
The night before cooking, trim the roast of excess fats and cut deep slits into it. Insert the bacon lardons into the slits. Salt and pepper the meat. Rub the roast all over with the mustard and put it into a gallon ziplock baggie. Add the apple cider vinegar and ½ cup of olive oil to the baggie. Squish out air from the baggie. Marinade the meat for a minimum of several hours and preferably overnight in the refrigerator, flipping it occasionally.
The next day, drain the meat. Heat a Dutch oven over medium-high heat and add ¼ cup of olive oil. When hot, add the meat and brown it on all the sides. When the meat is browned, remove it to a bowl and add the onions, celery, carrots, and garlic to the pan. Reduce the heat to medium-low, and cook until the onions are translucent, scrapping the browned bits from the bottom of the pan. Deglaze the pan with the wine, and return the meat to the pan. Bring to a boil and reduce to a simmer. Cook covered for 2 hours. If the liquid becomes low, add additional wine or water.
After two hours, add the tomato paste, fruits, herbs, and chocolate. Cook covered until the meat is tender. Remove the herbs. Using an immersion blender, puree the fruits and vegetables into a thick sauce. Check the seasoning. Defat the sauce. Slice the meat and serve it with the sauce on a suitable starch, such as gnocchi, halusky, egg noodles, etc.