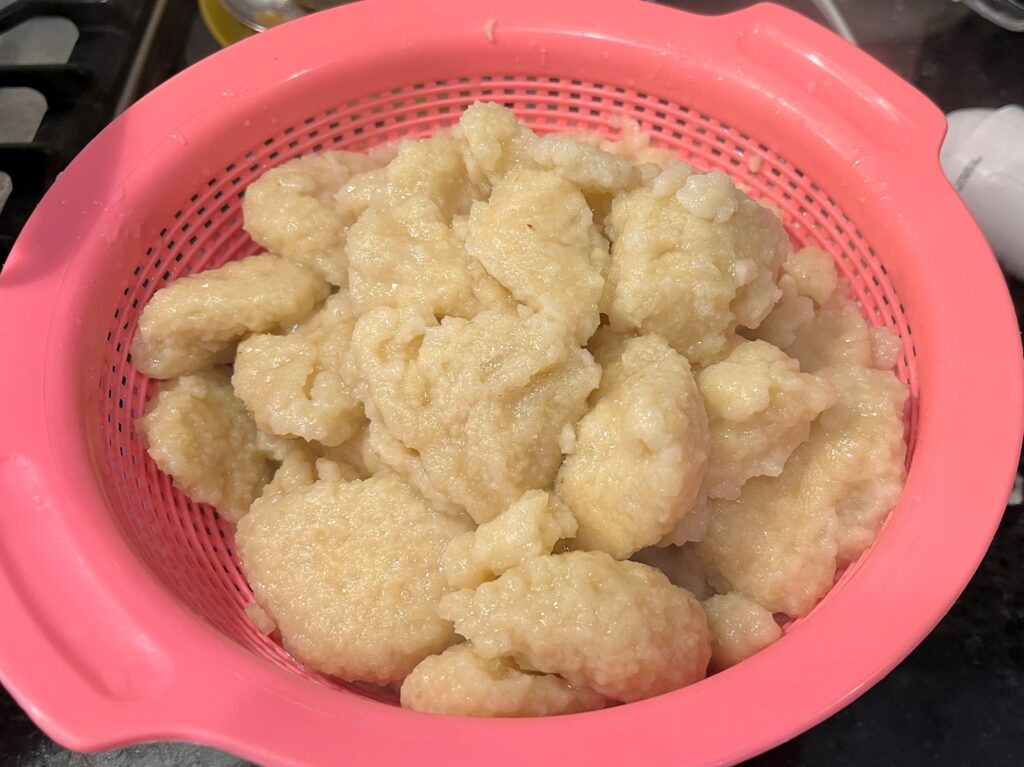 Slovak Halusky dumplings are a potato/flour mixture, rather like gnocchi except made with raw potato and as a thick batter. We made some last night to go with Pasticada, based on a recipe in The Spruce Eats. Since this was our first effort, we experimented a bit on the amount of flour to get the right consistency for the batter, how best to portion the batter into dumplings of the right size, and how long to cook the dumplings. What we produced tasted fine although they were larger than they should be and do not look like much. I plan to rework this posting after some more experimentation.
5 large russet potatoes, peeled and chopped
2 tsp. salt
2-1/2 to 3 cups all-purpose flour
Put a large pot of sated water on the stove to boil.
Put the chopped potatoes in the bowl of a food processor and process into a puree. Add the salt and about 2 cups of flour, and process into a batter. Check the consistency by trying to stand a spoon upright in the batter. If it is too thin for the upright spoon test, add more flour and process a bit more until the batter is thick enough.
In Slovakia, the batter would be portioned by rubbing it through a board with large holes. The Spruce Eats recommended putting a third at a time on a cutting board and using a knife to divide each third into about 15 pieces which are pushed off the board one by one into the boiling liquid. We also tried using a container with a hole on the bottom which is used to portion pancake batter into pancakes. We need to do more work on this. Boil the dumplings in batches until cooked through, which is sometime after they start floating. Remove the cooked dumplings to a bowl while the remaining batches are cooked. Each batch will take only a few minutes.
Serve as the starch to accompany a stew, or with sauteed bacon and onions.