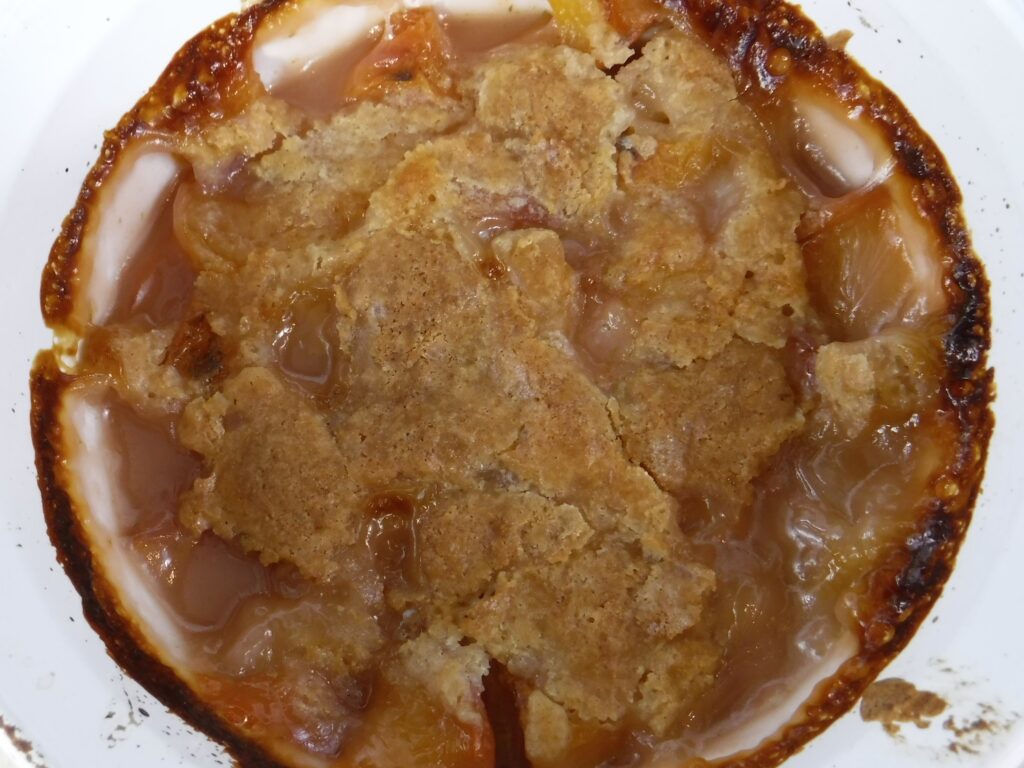 I spotted a recipe on epicurious.com which was celebrated because a special technique (sprinkling the top with sugar and then with hot water) created a crackly crust. I cut the recipe down for 2 people and made it using some of the peaches now in season. It did turn out very well. A 6-inch diameter baking dish is the right size for 2 people. Obviously, this can be scaled up for more people. (The original recipe was for 8 servings in a 9 x 13 inch pan.)
1 lb. ripe peaches (about 2 large), unpeeled and cut into 1-inch chunks
Zest and juice of ¼ lemon
2 Tbs. unsalted butter, softened, plus butter to grease the dish
½ cup sugar, divided into two bowls (6 Tbs. and 2 Tbs.)
48 g. all-purpose flour (about 3 fl. Oz.)
½ tsp. baking powder
¼ tsp. kosher salt
3 Tbs. whole milk
2 Tbs. hot tap water
Cream or ice cream for serving (optional)
Preheat the oven to 350 degrees.
Grease the baking dish. Put the cut peaches in it in an even layer. Sprinkle on top of the peaches the lemon juice and zest.
In a bowl, mix together the butter and 6 Tbs. of the sugar. Then mix in the flour, baking powder, salt, and milk to form a dough. Drop spoonfulls of the dough on top of the peaches, trying to cover most of the surface. Sprinkle the top with the remaining 2 Tbs. of sugar and then with the hot water.
Bake the cobbler for 70-80 minutes until the top is browned and a toothpick shows that the dough is cooked through. Allow to cool at least half an hour before serving, either plain, with whipped cream, or with vanilla ice cream.