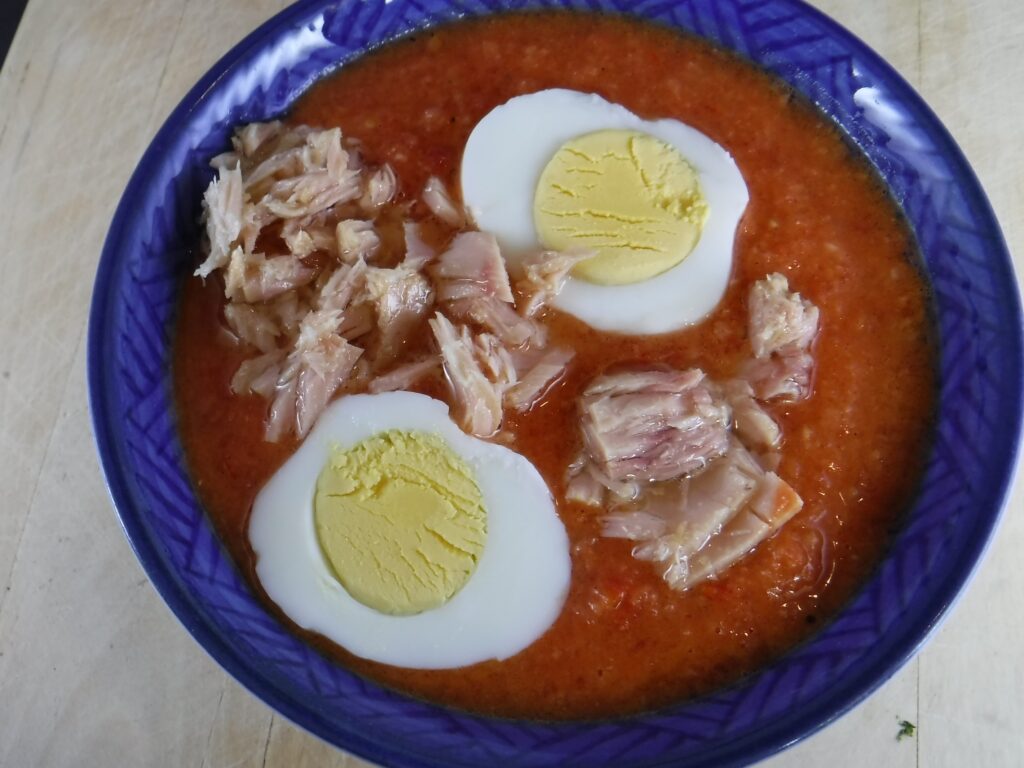 This cold Spanish tomato soup is an alternative to gazpacho. The main differences are that it does not include cucumber, peppers, or parsley, and is therefore less like a liquefied salad, and it does include tuna and hard-boiled egg. This recipe is adapted from the Wall St. Journal. The original article thinks this would make 4 servings, but those would be very large servings. I think it makes 6 or 8 more normal sized servings.
5 inches of baguette, cut into 5 1-inch rounds
½ cup olive oil plus more for brushing
4 large beefsteak tomatoes, cored and roughly chopped (about 4 lbs.)
½ large yellow onion, roughly chopped
4 cloves, garlic, chopped
3 Tbs. sherry vinegar
Kosher salt (~1.5 tsp. seemed about right)
1 tsp. honey
Garnishes per serving
1 hard-boiled egg, cut in half
.75 oz. oil packed tuna
Heat the oven to 350 degrees. Brush both sides of the bread slices with olive oil. Bake 5-10 minutes until crispy.
Put the olive oil, tomatoes, onion, garlic, and sherry vinegar into a large boil. Add the toasted bread slices and toss the ingredients together. Let it sit for 15 minutes to soften the bread. Move the ingredients into the bowl of a food processor and puree until smooth. Add the honey and some kosher salt and pulse to mix. Season with more vinegar, salt, and oil to taste if necessary. Chill thoroughly in the refrigerator.
When serving, garnish with the hard-boiled egg and oil-packed tuna.