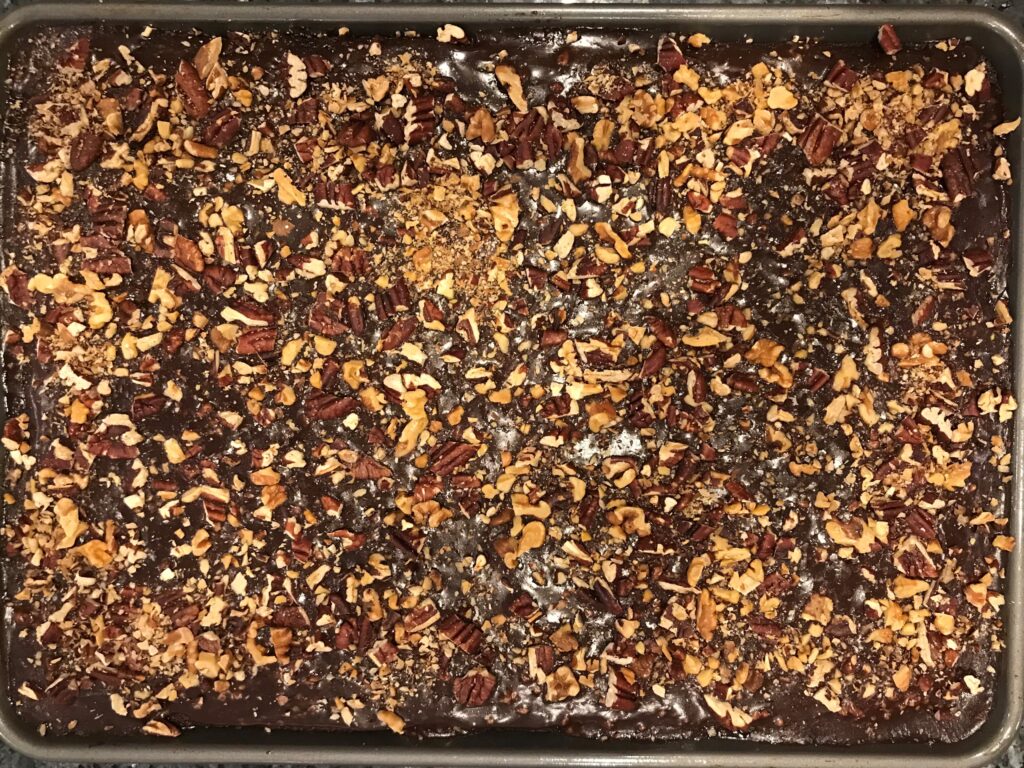 This recipe makes a half-sheet (13 x 18 inches) cake which is about 1 inch thick, like a brownie. It will serve a large crowd. We served it the first night at the beach to 5 adults and 2 children, and even serving very large pieces, we still had about half of the cake left. This is adapted from a recipe in the NY Times on 7/23/21.
Pecan garnish
2 cups (215 g.) chopped pecans
Cake
1 cup (227 g.) unsalted butter, plus more for greasing the pan
2 cups (255 g.) all-purpose flour
2 cups (400 g.) sugar
1 tsp. baking soda
½ tsp. salt
1/3 cup (40 g.) unsweetened cocoa powder
1 cup hot coffee (I used instant)
½ cup (115 g.) sour cream
2 large eggs, beaten
1 tsp. vanilla extract
Icing
¾ cup (17- g.) unsalted butter
1/3 cup (40 g.) unsweetened cocoa powder
¼ cup (60 g.) whole milk
1 tsp. vanilla extract
2-1/2 cups (360 g.) confectioner's sugar
Preheat the oven to 350 degrees.
Spread the pecans on a half sheet pan and bake until lightly toasted, about 7-9 minutes. Remove from the heat and cool to room temperature.
Put a silicon mat or baking parchment on a second half-sheet pan and grease the sides with butter.
In a large bowl combine the flour, sugar, baking soda, and salt. Make a well in the center of the flour mixture.
In a medium saucepan, melt the butter over medium heat, stirring so it will not brown. Stir in the cocoa powder and then the hot coffee. Boil the mixture for 30 seconds, stirring frequently. Pour the mixture into the well in the middle of the flour and fold to mix the wet and dry ingredients. Do not wash the saucepan since it will be used for the icing.
Whisk together in a bowl the sour cream, eggs, and vanilla. Fold this mixture into the cake batter. Pour the batter into the prepared half sheet pan and spread it out evenly. Bake until a toothpick comes out clean, about 18-20 minutes. Put on a wire rack to cool.
While the cake is cooling, immediately make the icing. Melt the butter in the used saucepan, stirring frequently. Add the cocoa and stir until bubbling and smooth. Remove from the heat and stir in the milk, vanilla, and confectioner's sugar. Stir until smooth, although small lumps are OK.
Pour the icing over the cake and smooth it out.  While hot, spread the toasted pecans over the cake and gently press them into the icing.  Cool the cake completely before serving.