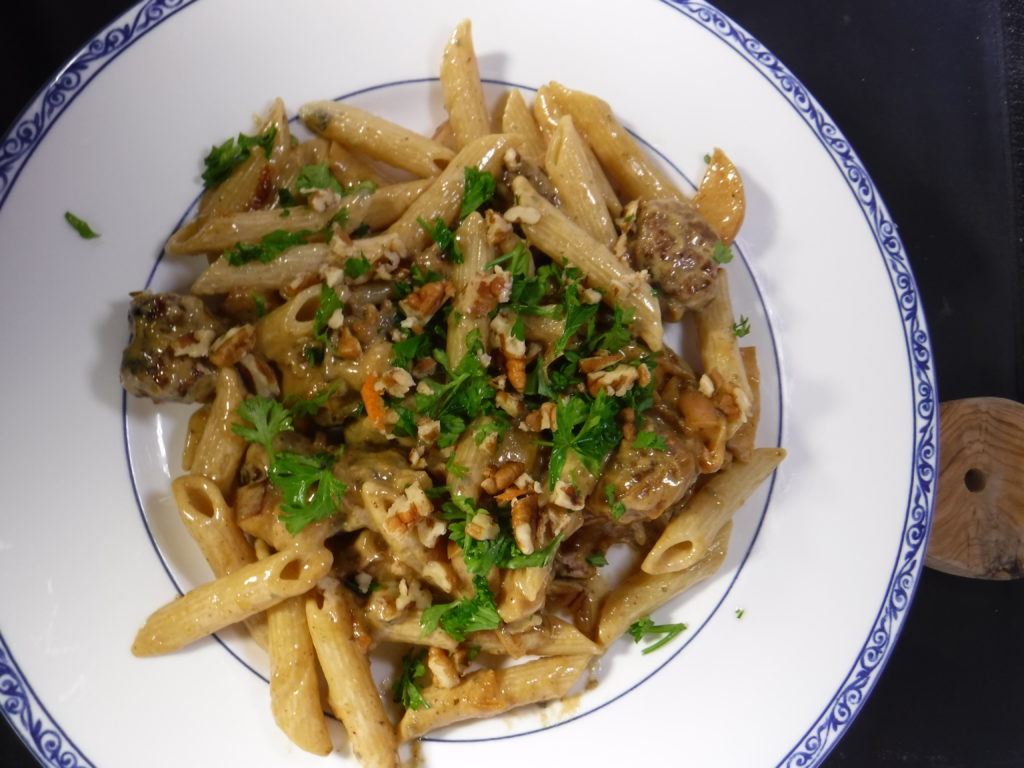 This tasty and easy to prepare pasta dish was adapted from an article in the Richmond Times-Dispatch about a recipe from food52.com. These quantities are for 2 servings:
4 oz. penne pasta
1 Tbs. olive oil
7 oz. Italian sausage (2 links), cut into one inch pieces
½ large onion, sliced
½ large cooking apple, diced
1 cup half-and-half
½ cup blue cheese
½ cup grated Parmesan cheese
2 Tbs. chopped walnuts or pecans
2 Tbs. fresh parsley, chopped
Salt and pepper to taste
Cook the penne in a large pot of salted water.
To prepare the sauce, heat the olive oil in a large skillet. Add the sausage and onions, and cook over medium heat until the sausage is nicely browned and cooked through. Add the apples, and cook another 2 minutes until the apples are soft. Push the sausage, onions, and apples to the side of the skillet, and add the half-and-half and blue cheese. Mash the blue cheese into the half-and-half until it dissolves into a sauce. Add the Parmesan, and also dissolve it into the sauce. Mix together all the ingredients in the skillet and add the cooked pasta. Toss until the pasta is fully coated by the sauce. Check the seasoning. Serve with a garnish of walnuts or pecans and parsley.