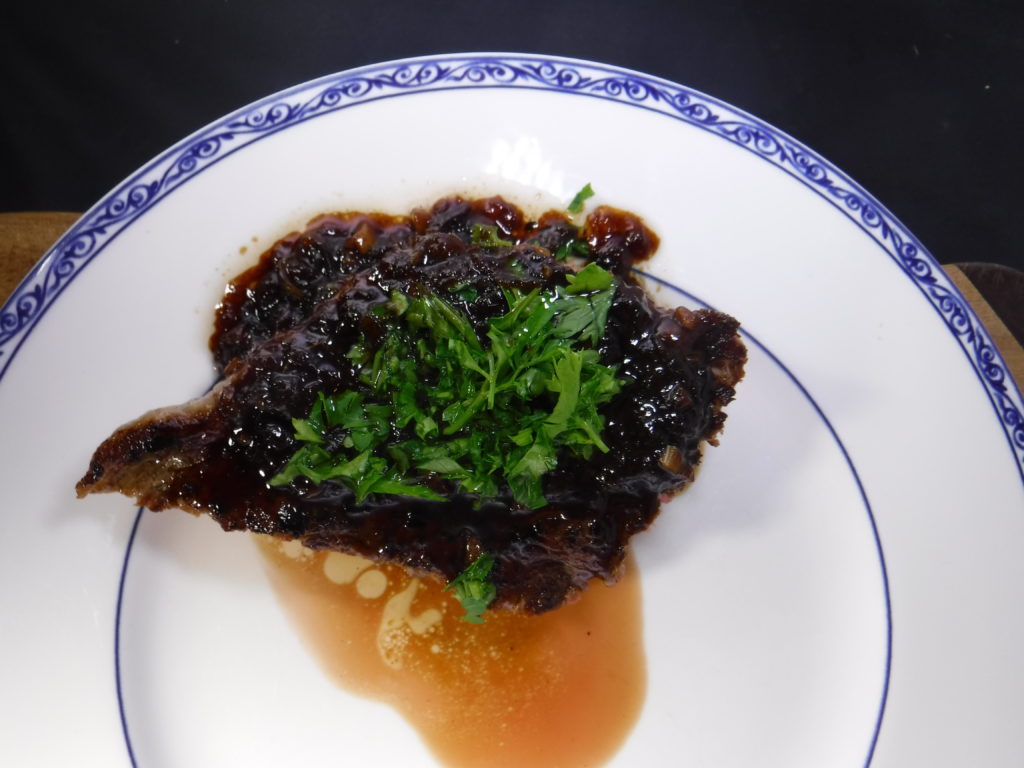 "Yoshuku" is the Japanese word for Japanese adaptations of Western cuisine.  This "yoshoku steak" illustrates that meaning since a pan-fried steak with a sauce is a Western idea, but in this case the sauce is made with such Japanese ingredients as soy sauce, mirin, and rice vinegar.  This recipe made enough sauce for 2 lbs. of steak.  We actually used it with a 20 oz. porterhouse steak on sale at Kroger which we cut up into 2+ servings.  It was very tasty and fairly quick.  This is an adaptation from a recipe in Tadashi Ono's Japanese Soul Cooking.
Steaks for pan-frying
Salt and freshly ground black pepper
3 Tbs. butter, divided
1 large onion, finely chopped (~6 oz.)
2 cloves garlic, finely chopped
Pinch of sugar
Pinch of baking soda
¼ cup mirin
¼ cup soy sauce
1 tsp. rice vinegar
1 Tbs. vegetable oil
2 Tbs. chopped parsley
Salt and pepper the steaks.
Melt 2 Tbs. of the butter in a large skillet. Add the onion, garlic, sugar, and baking soda, and cook over medium heat, stirring ocassionally, until nicely caramelized, about 8 minutes. Add the mirin and soy sauce, and cook over high heat for about a minute until reduced, stirring constantly. Add the rice vinegar and cook for another 30 seconds, stirring constantly. Remove the pan from the heat and put the sauce in a small bowl.
Wipe out the frying pan. Heat the pan over medium-high heat with the remaining 1 Tbs. of butter and with the oil. Cook the steaks, flipping them every minute, until done (about 130 degrees in the center for medium. Put the steaks on a plate to rest for a minute. Pour off any excess fat from the pan. Return the sauce to the pan and stir to incorporate any browned bits remaining in the pan. Also add to the sauce any juices released by the steaks as they rest.
To serve the steak, spoon the sauce on the steaks and top them with the chopped parsley.