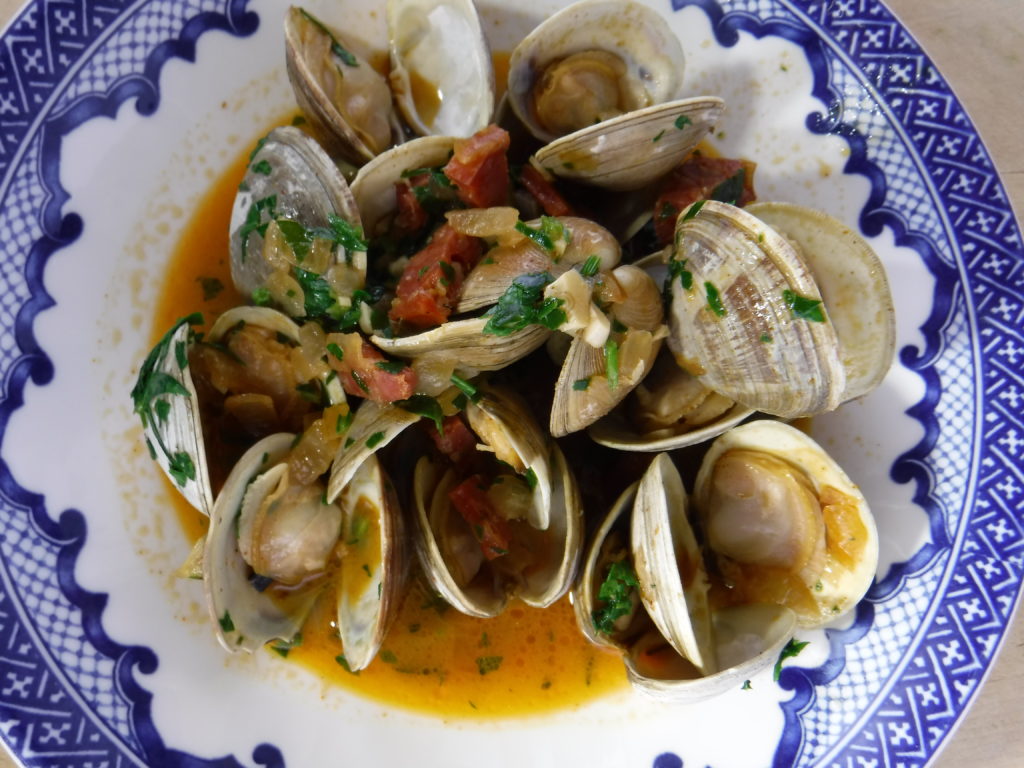 When we lived in Japan, fresh clams were easily available, and this was one of my favorite dishes, served with a good crusty bread, salad, and white wine. In the US, fresh clams are harder to get, but our local Wegmans sells good quality clams in 50 count bags. In Portugal these are cooked in a cataplana, a frying pan with a tightly fitting lid. I cooked them in a large cast iron frying pan and a lid, which worked fine. This is how I did the dish last night. This is really a guideline, and can be modified for what you have on hand. It was enough to serve 4.
50 medium clams
2 Tbs. cornmeal
3 Tbs. extra virgin olive oil
3 oz. chorizo, cut into small pieces
½ cup chopped onion
3 cloves garlic, finely chopped
½ tsp. paprika
1/3 cup dry white wine
1 tsp. fish sauce
1 tsp. SriRacha or other hot sauce
¼ cup finely chopped parsley
Thoroughly wash the clams to make sure their shells are free from sand and beard, and discard any dead clams. Soak them in cold water for about an hour with a couple of tablespoons of cornmeal to clean out their digestive tracks, and then rinse again. Having the clams completely free from grit is important.
Heat the olive oil in a large frying pan over medium heat. Add the chorizo and onion, and cook until the onion is soft. Add the garlic and paprika and cook for another minute, until fragrant. Add the clams, wine, fish sauce, and hot sauce, stir, and cover. Cook until the clams have all opened, about 15 minutes. Sprinkle with the parsley and serve with a crusty bread to mop up the juices.