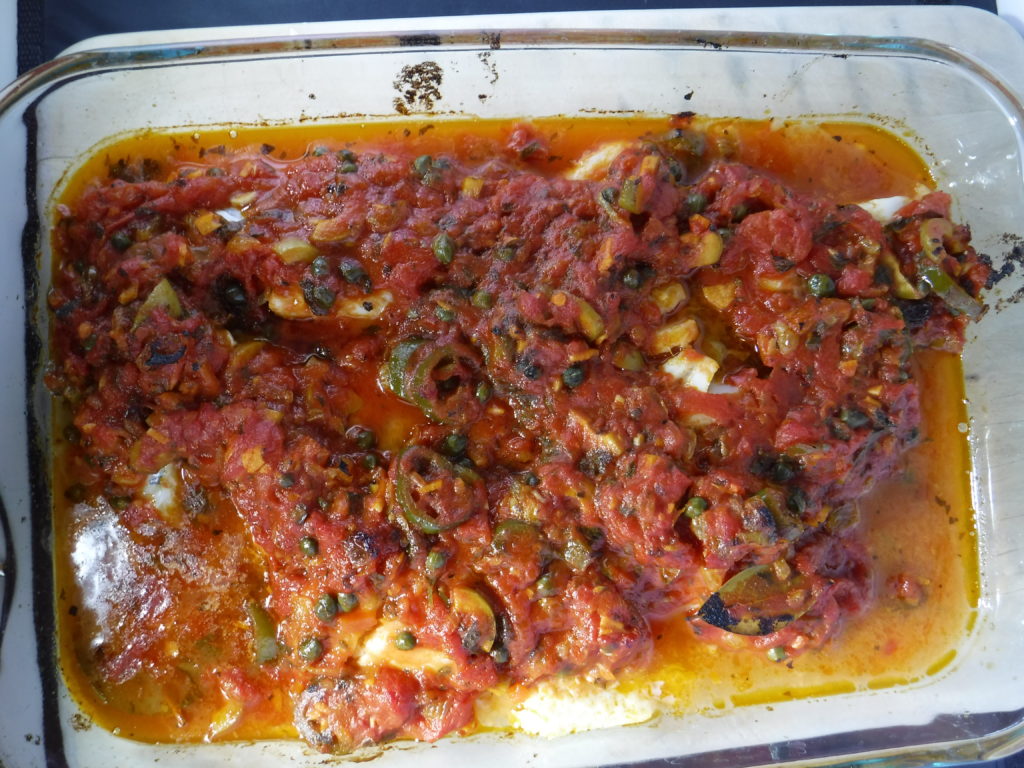 This is a Mexican classic, traditionally made with red snapper, which is easy to get on the Gulf of Mexico. In Richmond, it is not as common, so I used cod loins, which turned out well.
This is one of those dishes which can be as spicy or mild as you like. I used about ¼ cup of pickled jalapenos, and Carol thought it was on the edge of too hot. This version is a little unusual, since it has raisins, which add to the complexity of the sauce. This version is adapted from a recipe in Bon Appetit in May 2003. The sauce can be made ahead.
1-1/2 lbs. fish fillets (red snapper, cod, etc.)
¼ cup extra virgin olive oil
28 oz. can whole tomatoes in juice
¼ cup finely chopped white onion
3 large garlic cloves, finely chopped
3 small bay leaves
2 Tbs. chopped fresh parsley
1 tsp. dried Mexican oregano
¼ cup green olives stuffed with pimentos, chopped
2 Tbs. raisins, chopped
2 Tbs. capers, drained
¼ cup pickled jalapenos, chopped
Salt and pepper
Preheat the oven to 425 degrees.
Open the can of tomatoes in a sieve over a bowl. By hand break the tomatoes into small pieces.
Heat the olive oil in a large skillet.  Add the onion, and cook for a minutes.  Add the garlic, and cook for a minute.  Add the broken up and drained tomato pieces and cook for a minute.  Add ¼ cup of the tomato juices plus the bay leaves, parsley and oregano.  Stir and cook for a few minutes until the sauce thickens.  Add the olives, raisins, capers, pickled jalapenos, and the rest of the tomato juice and cook for about 8 minutes until thickened, stirring occasionally. Taste for seasoning.
Take a lasagna pan, and put a few tablespoons of the sauce on the bottom.  Spread out the fish fillets, sprinkle them with a little salt and pepper, and then top them with the remaining sauce.  Bake about 18 minutes, until the fish flakes easily.  Serve over white rice.