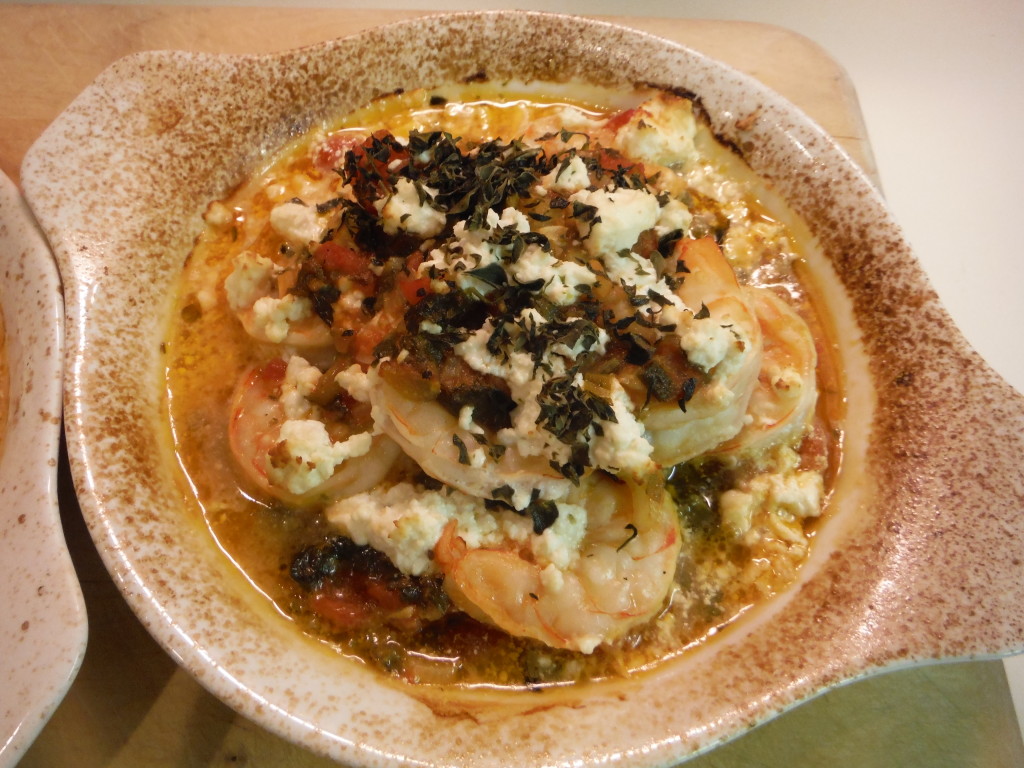 This is a variation of the classic Greek dish Garides Santorini (Baked Shrimp and Feta Santorini style) , adapted for Richard, a pescetarian who does not like celery. The adaptations were to replace the celery with chopped onion, and to make a shrimp-shell broth to replace the chicken broth.
This trick of making a broth out of the shrimp shells can be generally used to enhance seafood dishes, such as seafood rice, paella, etc.
Four Servings
1-1/2 lbs. shrimp
3 Tbs. lemon juice
¼ cup extra virgin olive oil
1 cup sliced scallions
½ cup chopped onion
½ cup chopped parsley
2 cloves garlic, crushed
2 cups (1 small can) petite diced tomatoes
½ cup shrimp-shell broth* (recipe below)
½ cup white wine
½ tsp dried oregano
1 cup crumbled feta cheese
Salt and pepper to taste
Preheat the oven to 400 degrees.
Wash, peel, and devein the shrimp, and save the shells to make a broth. Dry the shrimp with a paper towel and place in a bowl. Sprinkle with the lemon juice and mix.
To make the shrimp-shell broth, put a little olive oil in a large saucepan. Heat over medium heat until the oil is hot, and then add the shells with 2 cloves of garlic (chopped) and some sliced onion. Saute for a few minutes until the shrimp shells have largely turned pink. Add about a cup of water, stir well, and simmer for 10 minutes. Strain the broth, and add fish sauce to taste (between ½ tsp. and 1 tsp.)
Put the olive oil in a saute pan and saute the scallions, onion, parsley, and garlic until the scallions are tender. Add the tomatoes, bring to a boil, and then simmer for 20 minutes. Add the shrimp-shell broth and white wine. Stir well and simmer another 5 minutes. Check for seasoning.
Place half of the sauce in the bottom of a shallow baking dish. Add the shrimp. Add the other half of the sauce. Sprinkle with the oregano and then with the feta cheese. Bake for 15 minutes, or until the cheese melts.
Serve with crusty bread, a salad, and white wine.