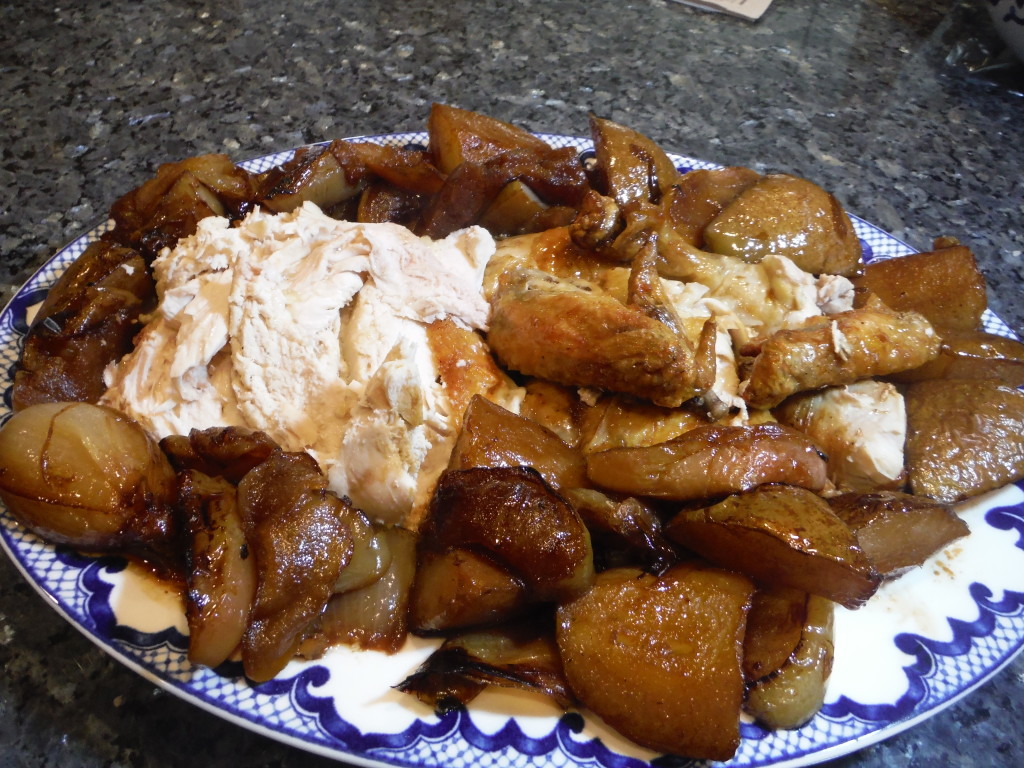 This is an example of French home cooking. It produces a very tasty dinner with no exotic techniques or ingredients. This posting is adopted from a Wall St. Journal article on March 26 about a cooking instructor, Susan Hermann Loomis, who emphasizes in her classes that French food does not have to be fussy or hard to prepare.
1 (3.5-4 lb.) roasting chicken
2 onions, each cut into 8 wedges
3 bay leaves
¾ cup apple cider (or dry white wine or water)
2 Tbs. unsalted butter at room temperature
Salt and black pepper
½ lemon
2 large slightly tart apples (Honey Crisp, etc.) peeled, cored, and cut into 6 wedges each
2 pears peeled, cored, and cut into 4 wedges each
Preheat the oven to 425 degrees.
Put the onions, two of the bay leaves, and the apple cider into a roasting pan.
Rub the chicken inside and out with the butter. Season with salt and pepper. Put the remaining bay leaf and the half lemon in the cavity. Truss the chicken with kitchen twine and place it in a roasting rack in the roasting pan
Roast the chicken for 15 minutes, season again, and roast for another 10 minutes. Flip the chicken on its side and roast for 15 minutes. Flip the chicken on the other side and roast for another 15 minutes. As the chicken roasts, check that there is still a liquid in the bottom of the pan so that the onions do not burn. If necessary, add more cider (or wine or water) to the bottom of the pan.
Add the apples and pears to the roasting pan, trying to mix them in with the liquids. Continue roasting until the chicken is done and the juices run clear when the breast is poked with a knife.
Remove the chicken from the roasting pan, and put it on a cutting board, breast side down, cover it with aluminum foil, and allow it to rest for 20 minutes. Meanwhile return the pan with the fruit and onions to the oven and continue roasting them. Occasionally stir them and add liquids if the pan is getting too dry.
Carve the chicken and put the pieces on a serving platter surrounded by the fruit, onions, and pan sauce. Remove the lemon half from the center of the chicken and squeeze the juice over the chicken being careful not to squeeze out the seeds.