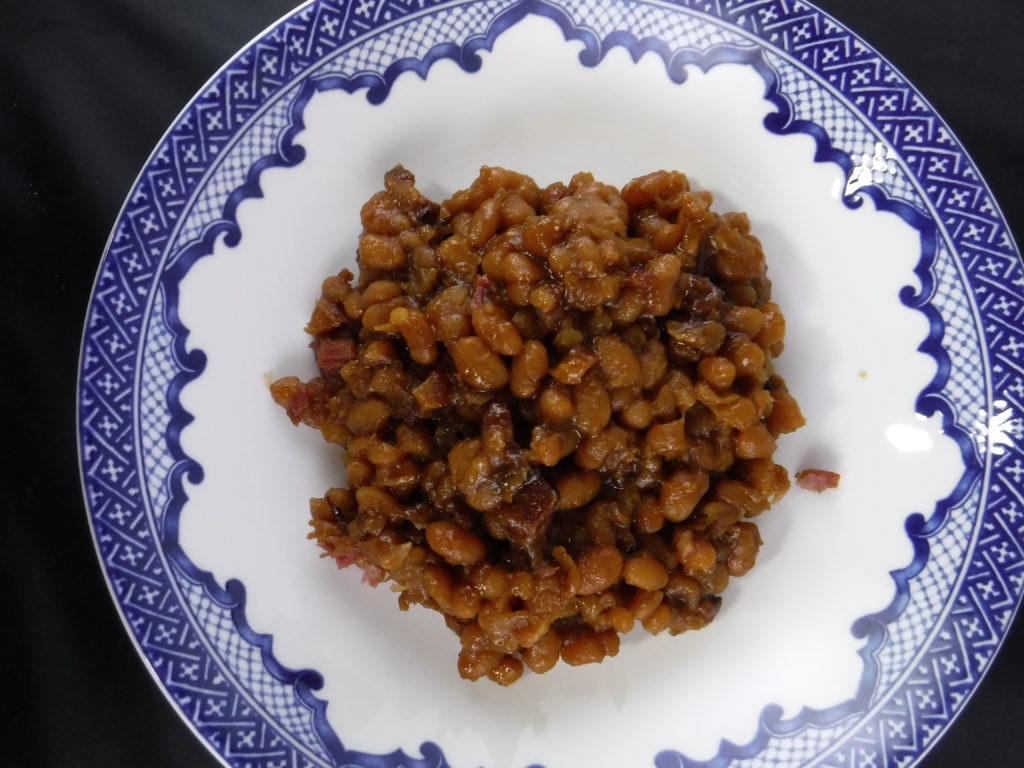 This is a version of the classic Boston baked beans, which can be made in about 3 hours elapsed time vs. the much longer time of the traditional method.   The key innovation is a quick boil/simmer of the dried beans with baking soda (for alkalinity) to speed up softening the beans.  This version is an adaptation of a recipe in Cook's Country Eats Local.  Since I had a left over ham bone from Thanksgiving, I used that to enrich the beans, although I have not added that to the recipe below.
1 lb. (2-1/2 cups) dried navy beans
1 Tbs. baking soda
6 oz. salt pork, cut into lardons
1 onion, chopped fine
5 Tbs. packed dark brown sugar, divided
5 Tbs. molasses
2 Tbs. Worcestershire sauce
4 tsp. Dijon mustard, divided
2 tsp. cider vinegar
Salt and pepper to taste
Position the oven racks to fit a Dutch oven with a lid.  Preheat the oven to 350 degrees.
Rinse the beans and check them for any rocks.  Put the rinsed beans in a Dutch oven with 3 quarts of water and the baking soda.  Bring to a boil and reduce to a lively simmer for 20 minutes.  Drain the beans, and rinse them and the pot to remove the baking soda.  Leave the beans for now in a colander or bowl.
Mix together in a small bowl ¼ cup of brown sugar, the molasses, Worcestershire sauce, 1 Tbs. of mustard, the cider vinegar, and ¼ tsp. of black pepper.
Put the Dutch oven on the stove and heat to medium  Add the salt pork and fry until browned, around 10 minutes.  Add the onion, and saute until softened, about 5 minutes more.  Add the beans, the sauce mixture, and 3 cups of water.  Bring to a boil, and then cover and place in the oven for 1-1/2 hours.  Remove the lid, and cook until the beans are fully cooked and the liquid is absorbed into the beans, about another 30 minutes, adding additional water if necessary while the beans soften.  Add the reserved 1 Tbs. of brown sugar and the reserved 1 tsp. of mustard, and salt and pepper to taste.