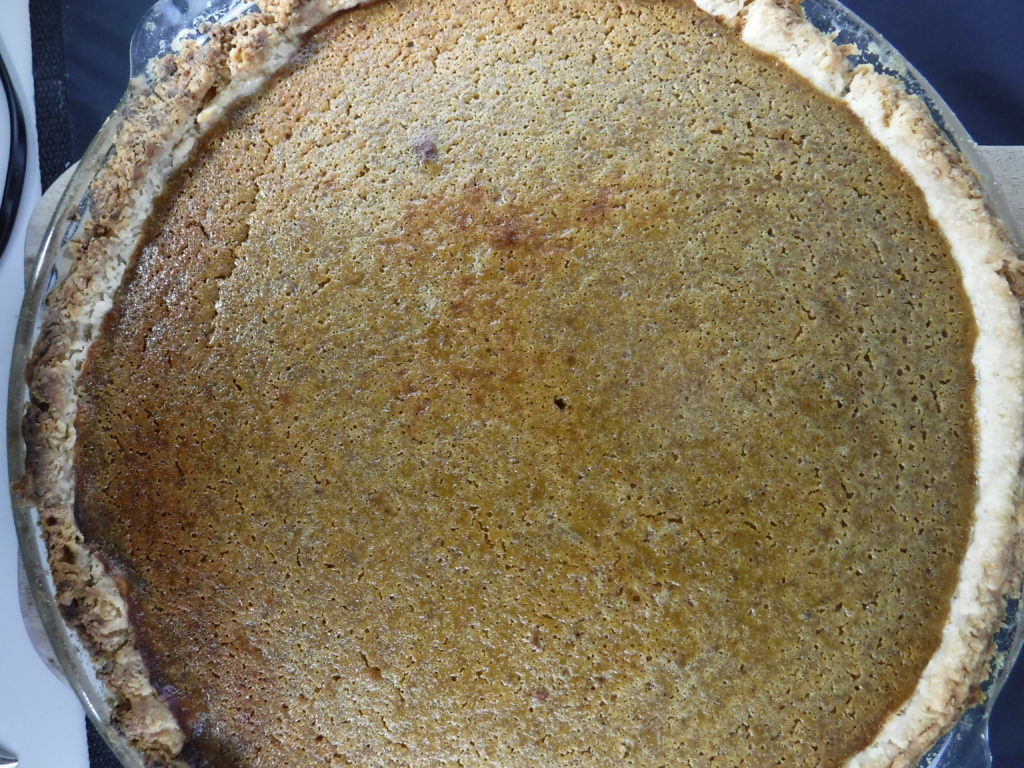 We had some pie pumpkins on hand, which were used for decoration at Thanksgiving, so I decided to make pumpkin pie out of them. This could have been made with canned pumpkin. The recipe is adapted from The King Arthur Flour Baker's Companion.
The first step using pie pumpkins was preheating the oven to 350 degrees, piecing the pumpkins with a sharp knife to prevent any possible explosions in the oven, and roasting them for an hour until they were completely soft when pierced by a knife. When the roasted pumpkins are out of the oven and cool enough to touch, separate the pumpkin flesh just under the skin from the skin, seeds, and stringy fibers.  Although I did not do it, since I was in a hurry, a good next step would be to dry the pumpkin a bit in a colander or with paper towels.
A 9-inch pie crust (a half recipe from Flaky Pie Crust )
15 oz. pumpkin puree (from a roasted pumpkin or from a can)
3 large eggs
¾ cup dark brown sugar
½ tsp. salt
1=1/2 tsp. cinnamon
1 tsp. ground ginger
¼ tsp. ground cloves (or allspice)
¼ tsp. nutmeg
1-1/2 cups light cream (I used ¾ cup heavy whipping cream and ½ cup whole milk.  Another alternative is to use 1-1/2 cups of evaporated milk)
Preheat the oven to 425 degrees.  Put the pie pan and unbaked pie crust on a baking sheet covered in aluminum foil, baking parchment, or a baking mat, in case of spills.
In a large bowl, mix the pumpkin thoroughly with the eggs,ensuring that the pumpkin is not in clumps. Add the remaining ingredients and mix well.  Pour the pie mixture into the pie crust.  Bake for 15 minutes at 425 degrees, and then reduce the temperature to 350 degrees and bake another 35-40 minutes until the filling is firm and a cake taster comes out clean.  Cool on a rack.  Serve warm or at room temperature with vanilla ice cream and/or whipped cream