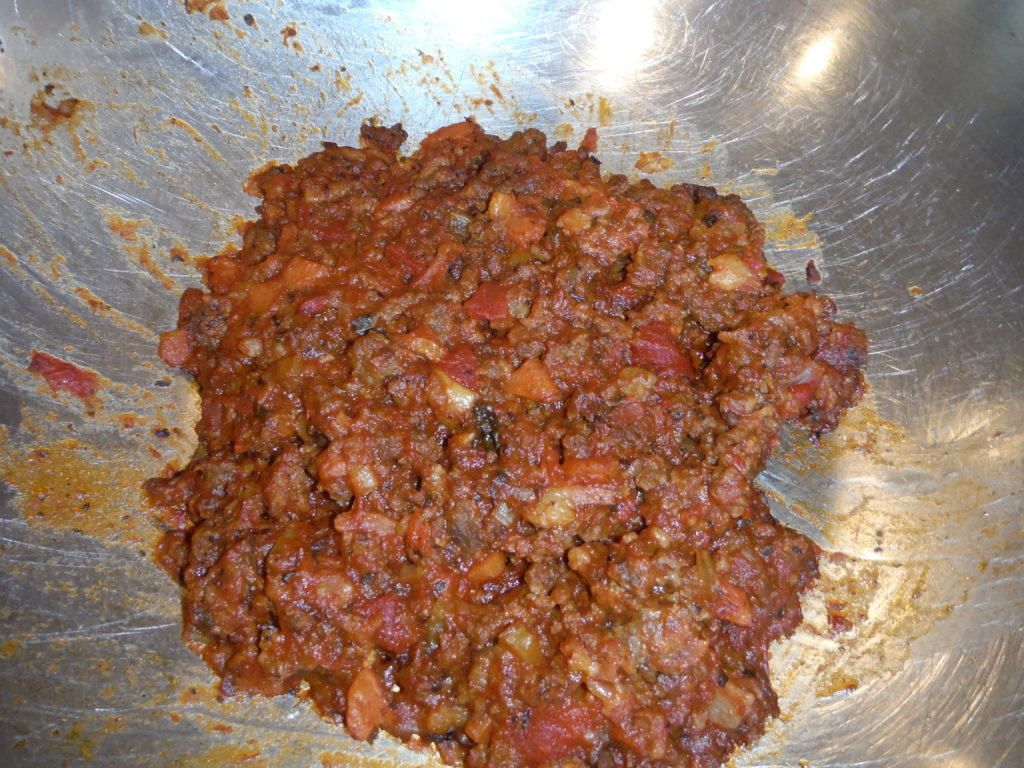 As a souvenir of her year in grad school in Bologna, our daughter Amanda gave me a local cookbook, Luigi Lepri's Recipes from Bologna: The traditional food from the Capital of Italian cuisine.   This is an adaptation of the recipe in that book, adjusted for the ingredients which I could easily find at my local Kroger. Although throughout the world this dish is often described as Spaghetti Bolognese, in Bologna the Ragu Bolognese is never served with spaghetti. Instead the standard pasta is the wider egg-noodle tagliatelle, with strichetti (farfalle) or maccheroni as alternatives.
The key thing to remember about Ragu Bolognese is that it is really a very straightforward meat sauce. This version, for example, has no garlic or herbs. The amount of tomato in the ragu can vary with your preference, but keep in mind that this is not a southern Italian red sauce with meat.   Amanda thought this version was very tasty, but with a bit more tomato than she would have found in the restaurants of Bologna.
Per the recipe in Lepri's book, most measurements are given by weight.
4 oz. pork side meat, cut into lardons (The original called for lard, but I did not see good lard at the supermarket)
2 oz. celery, diced
2 oz. carrots, diced
2 oz. onions, diced
½ lb. 80/20 ground beef
½ lb. bulk sweet Italian sausage (The original used ground pork)
1 bottle dry white wine
1 cup bottled spaghetti sauce (since I had an open jar in the refrigerator. Otherwise use tomato sauce)
Salt and pepper to taste
Over medium heat, brown the pork side meat, rendering the fat. Add the diced vegetables, and saute them in the fat until translucent. Push the vegetables to the side of the pan and add the ground beef and Italian sausage to the middle of the pan. Cook until well browned. Tilt the pan and spoon off the accumulated fat. Add the bottle of white wine. Bring to a boil and then turn down to simmer until the wine has mostly evaporated away. Add the spaghetti sauce (or tomato sauce) and stir well. Simmer for up to four hours, stirring occasionally, and adding a bit of water from time to time if it gets too thick. Adjust the seasoning and serve with your favorite pasta. Tagliatelle would be used in Bologna.