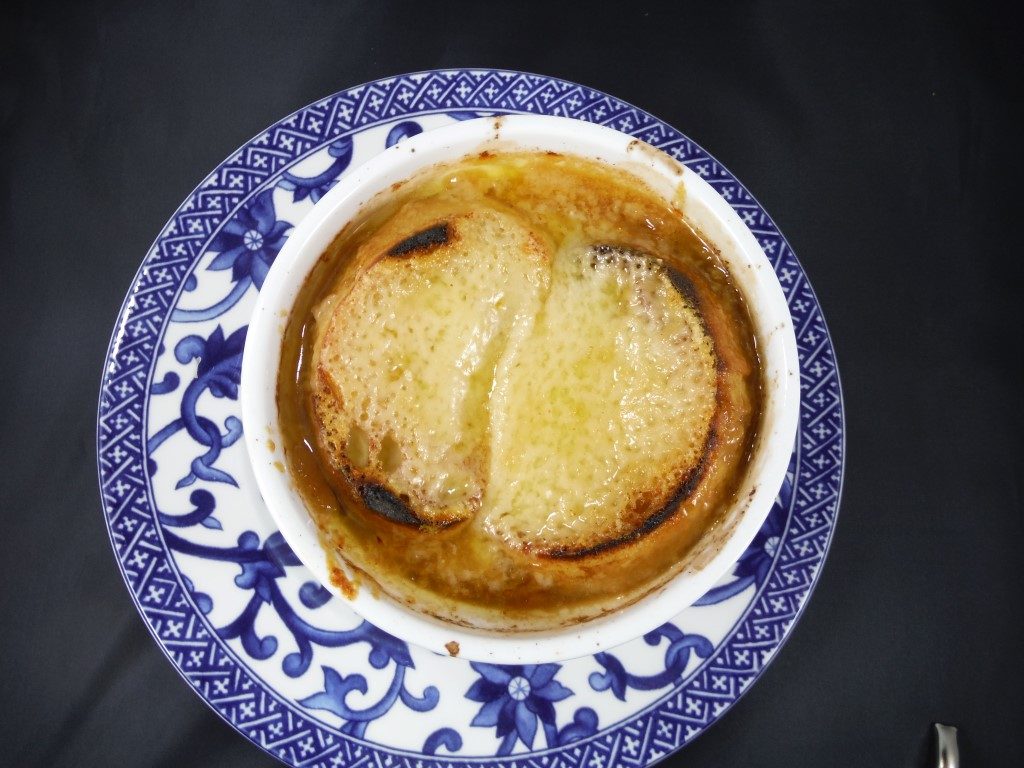 Yesterday turned cold with wet snow falling heavily, and Carol thought she would like French onion soup for dinner. This would be a warm bowl of comfort food and would use up some of the excess onions we bought for Thanksgiving. It took a while to actually start cooking since first we had to buy some soup ramekins which could be used under the broiler, so I abandoned my first idea of trying out a slow cooker recipe that I had seen, and instead I was looking for a way to speed up making the soup. This recipe is an adaptation from J. Kenji Lopez-Alt's excellent book The Food Lab: Better Home Cooking Through Science, and it uses a couple of tricks to get the onions nicely caramelized relatively quickly, first caramelizing some sugar, and adding some baking powder to increase alkalinity, which also promotes browning. The result was a very satisfying soup in about an hour – not fast, but a lot faster than it would be without these tricks.
This makes enough for about 4 entrée servings
1 Tbs. sugar
5 lbs. yellow onions, thinly sliced
2 Tbs. unsalted butter
¼ tsp. baking soda
2 tsp. kosher salt
¼ cup dry sherry
6 cups homemade or low sodium canned chicken broth
2 bay leaves
6 sprigs fresh thyme
Salt and pepper to taste
Baguette, cut into ½ thick slices and toasted
Gruyere or Swiss cheese, coarsely grated, about ½ cup per person
Add the sugar to a large Dutch oven. Over high heat melt and caramelize the sugar, being careful not to let it burn. When the sugar is a golden caramel, quickly add the sliced onions and mix them around thoroughly to coat them with the caramel. Add the butter, baking soda, and salt, and stir well. Cook for around 20 minutes, stirring every 3 minutes or so. At the beginning, the mixture will be very wet and there will not be much caramelization. Eventually, a brown goo will start to form on the bottom, which needs to be dissolved and stirred back into the onion mixture. Also eventually, the mixture will become very dry, and when this happens a couple of tablespoons of water should be added to dissolve the brown goo back into the onion mixture. Continue adding water, stirring, and cooking until the whole mixture is a nice brown color.
Add the sherry, chicken broth, bay leaves, and thyme, and stir well. Cook over medium heat for about 15 minutes until the soup is well flavored and slightly reduced. Turn off the heat, remove the bay leaves and thyme and add salt and pepper to taste.
Preheat the broiler.
For each person, put the soup in a broiler-proof ramekin.
Put on top of the soup 2 slices of toasted bread, and cover with about ½ cup of grated cheese.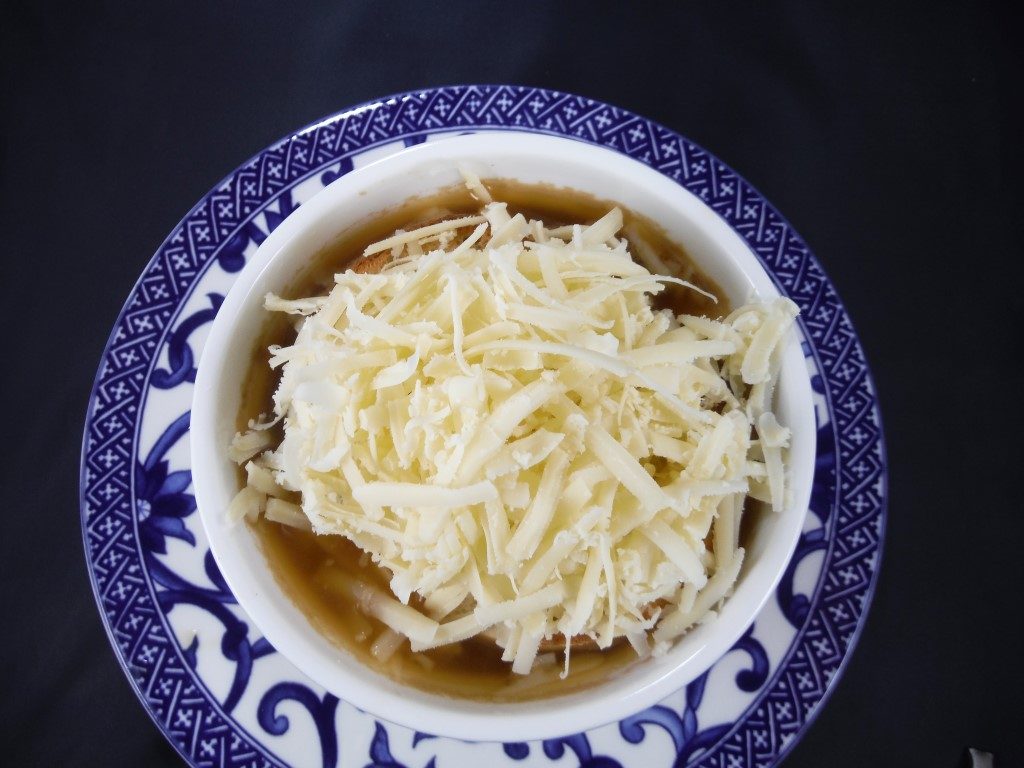 Place under the broiler for about 2 minutes until the cheese is nicely browned.