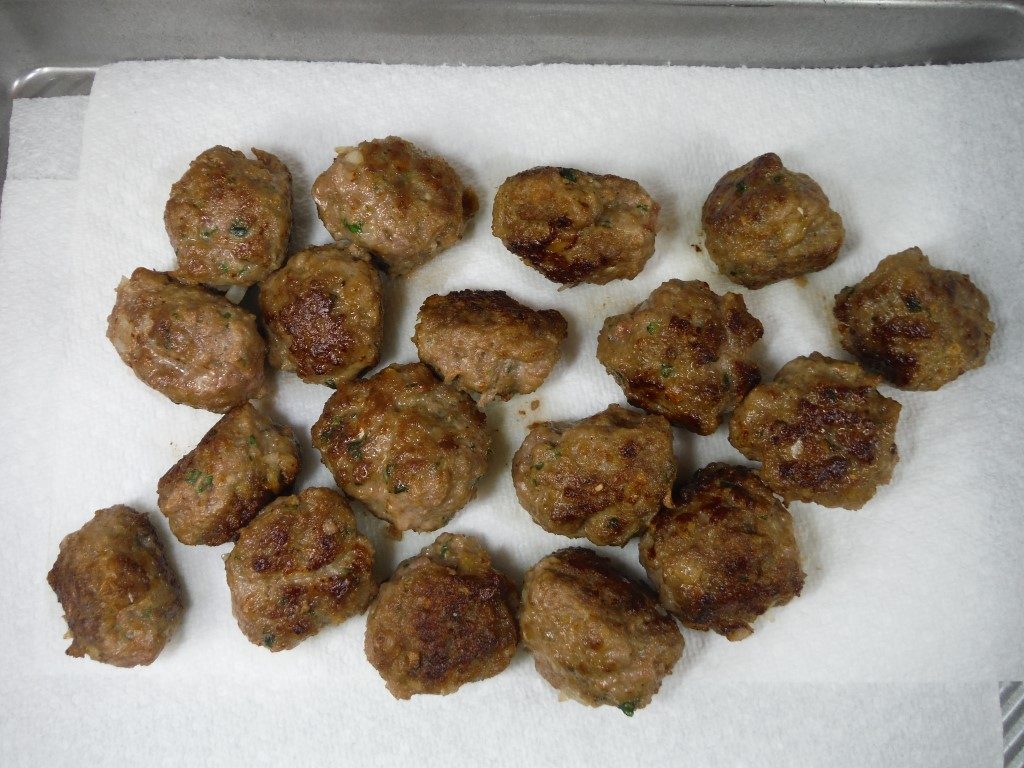 These are tasty old-school Italian-American meatballs, adapted from Henry Hill's The Wise Guy Cookbook: My Favorite Recipes from My Life as a Goodfella to Cooking on the Run.   I made them to be used in Sunday Gravy . I used a 50/50 beef pork mixture, but it would have been good to use a beef/pork/veal mixture if I could have found it at the grocery store. Sometimes this mixture is sold as meatloaf mix.
1 lb. ground beef
1 lb. ground pork
2 eggs
1 Tbs. chopped fresh parsley
1 Tbs. chopped fresh basil
¼ cup finely chopped onion
3 cloves garlic, chopped fine
¼ cup grated Parmesan or Romano cheese
½ cup bread crumbs
¾ tsp. salt
½ tsp. pepper
3 Tbs. olive oil.
Mix together the two meats in a large bowl with your hands. Add the eggs, one at a time, mixing well with your hands. Add the parsley, basil, onions, garlic, bread crumbs, cheese, salt, and pepper and mix well. Take a small piece and cook it in the microwave to test seasoning. Adjust as needed.
Form the meat mixture into one inch meatballs.  An ice cream scoop of the right size makes it easy to pick off the right amount of meat prior to rolling them by hand.  Put the formed meatballs on a plate or cookie sheet until
Heat the olive oil in a large frying pan.  When hot fry the meatballs in batches, browning them on all sides and cooking them through. Drain on paper towels.