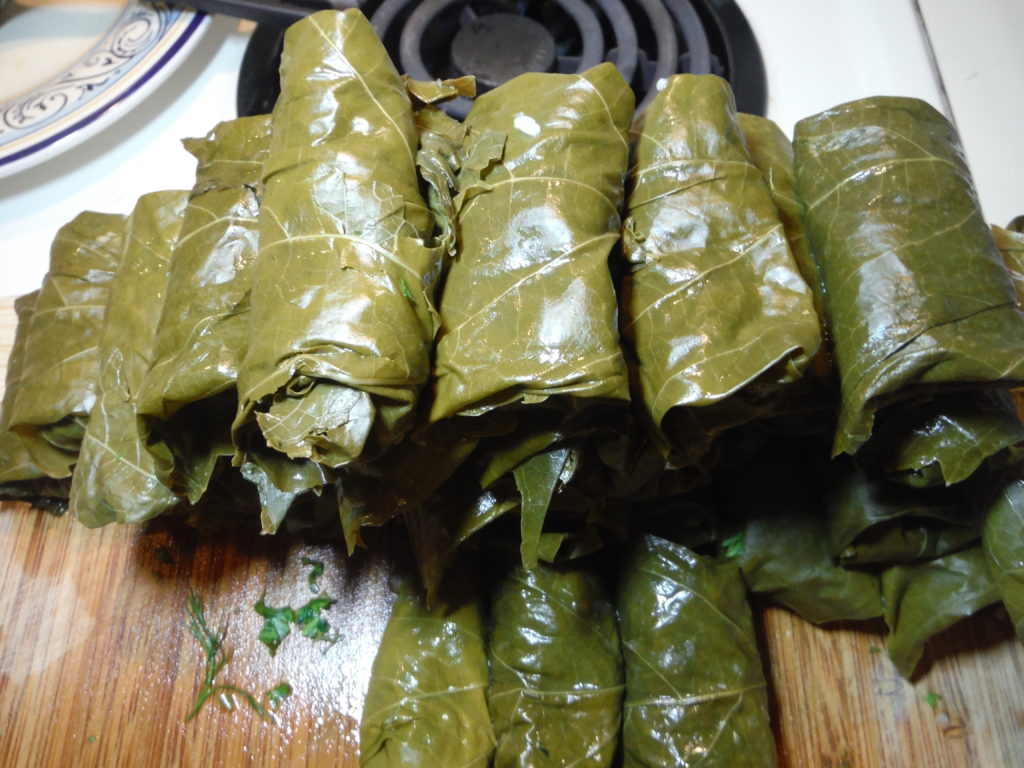 These dolmas are exceptionally good because of the high ratio of onions, scallions, and herbs to rice in the filling. Commercial dolmas are usually the opposite. This posting is adapted from a recipe in what I think is the greatest community cookbook of all time "The Complete Book of Greek Cooking" by The Recipe Club of Saint Paul's Greek Orthodox Cathedral on Long Island. A crucial thing is to use the right amount of water, just enough to hydrate and cook the rice filling. Too much water dilutes the dressing formed by the oil and lemon.
2 cups chopped onions
2 tsp. salt, divided
2/3 cup long grain rice
3/4 cup olive oil, divided
3 cups chopped scallions, including green portion
6 Tbs. fresh lemon juice, divided
½ cup chopped fresh parsley leaves (save the stems to line the pot)
½ cup chopped fresh dill leaves, (save the stems to line the pot)
1 tsp. freshly ground black pepper
1 jar grape leaves preserved in brine (15 oz.)
1 cup boiling water
Lemon slices to garnish.
Sweat the onion in a frying pan with 1 tsp. of salt over low heat for 10 minutes, until wilted. Increase the heat and add the rice, ½ cup of the olive oil, and 1-1/2 Tbs. of the lemon juice. Saute for 2 minutes. Add the scallions, parsley, dill, 1 tsp. of salt, black pepper and saute for another 4 minutes. Set aside and allow to cool fully.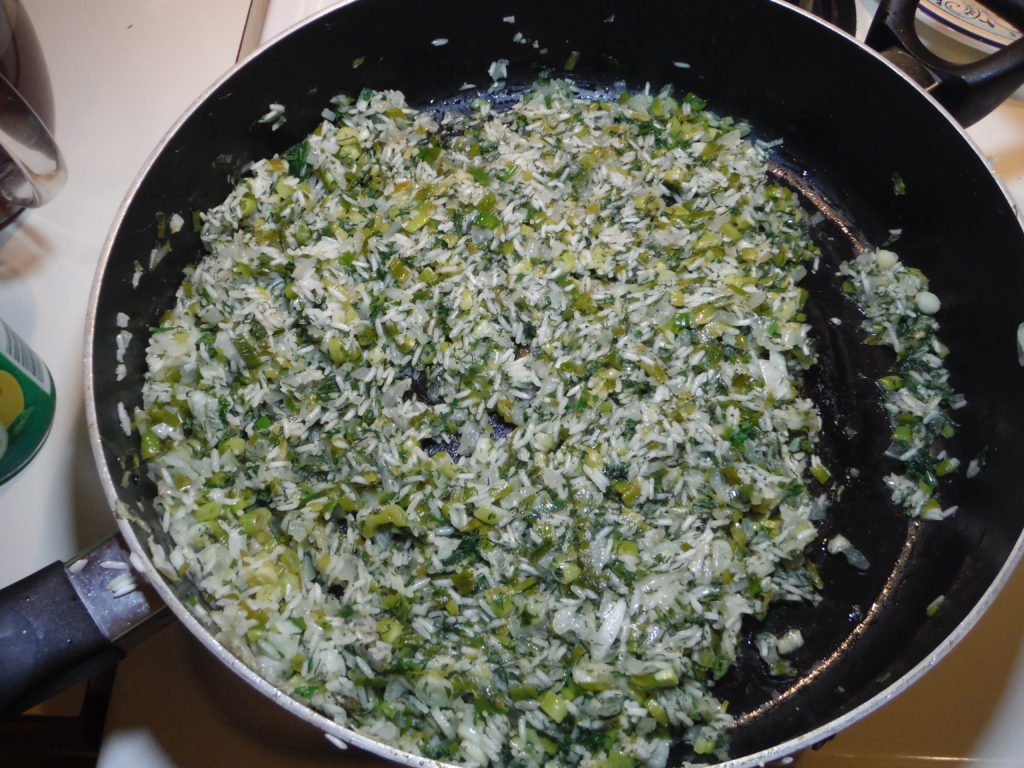 Fill a bowl with cool water. Carefully pull the grape leaves out of the jar, separate them, and rinse them in the water. Remove them from the water, and put them on a corner of your workspace.
Put the parsley and dill stems in the bottom of a large saucepan.
To stuff the grape leaves, position them on your workspace with the dull underside of the leave upwards. Cut off the stem and add it to the bottom of the saucepan. Put about 1 tablespoon of filling on the grape leave right above the stem. (Use less filling for smaller leaves.)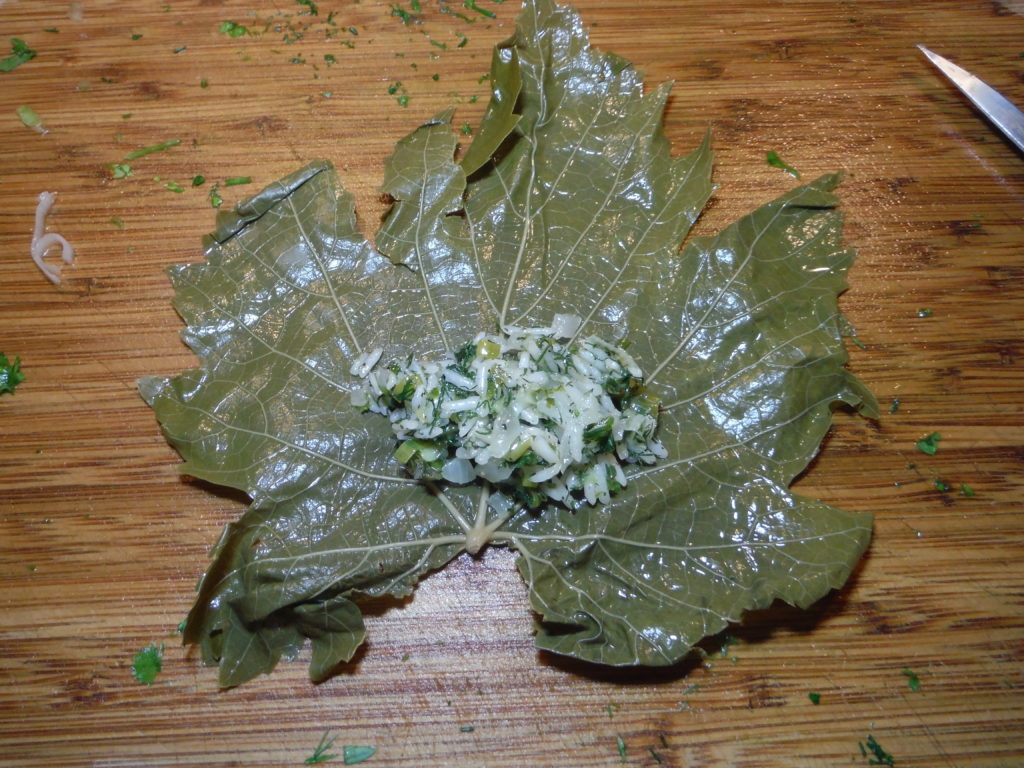 Fold the bottom parts of the leaf over the filling.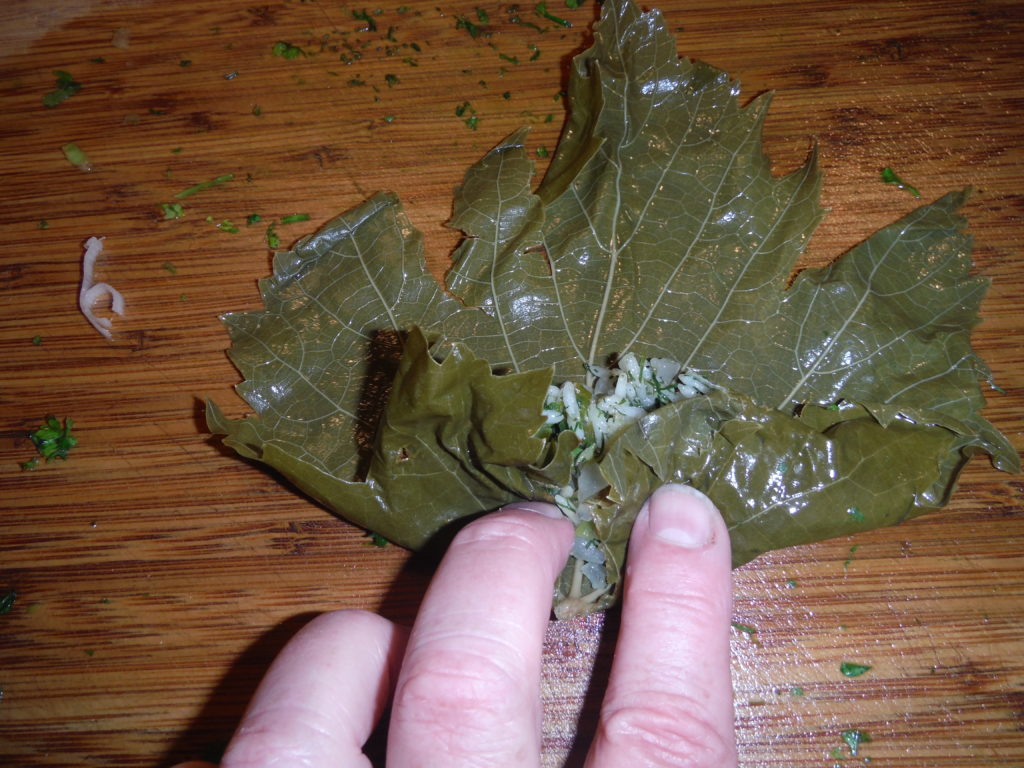 Then fold the sides over the filling.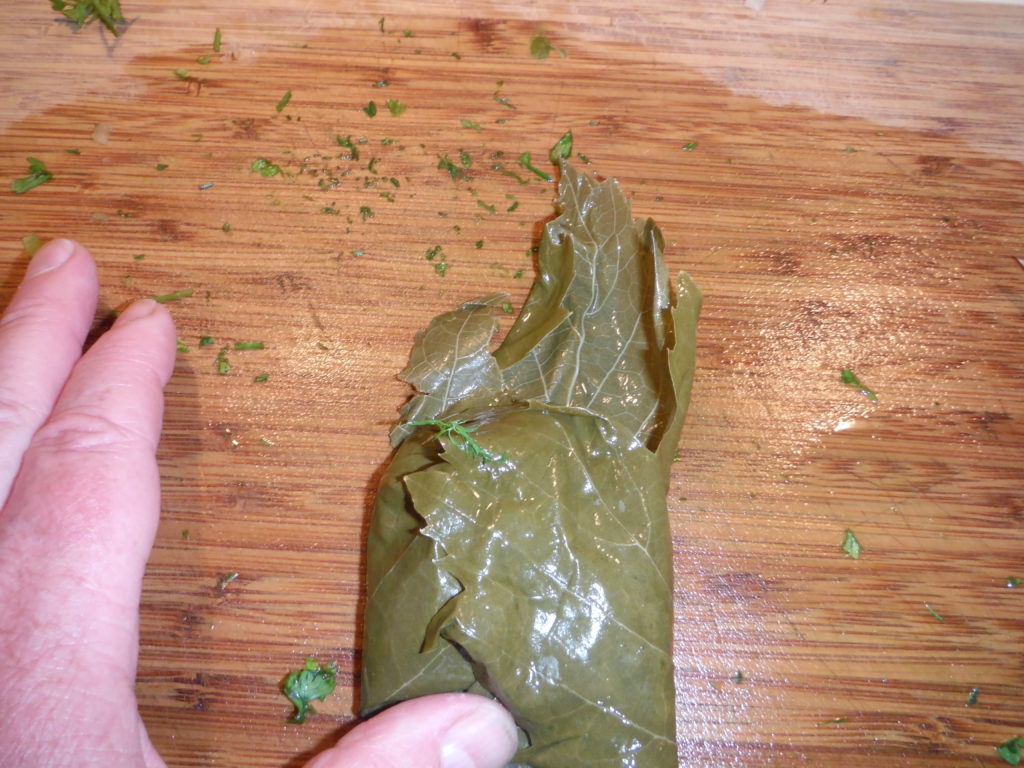 Last roll the filling toward the top to form a cylinder.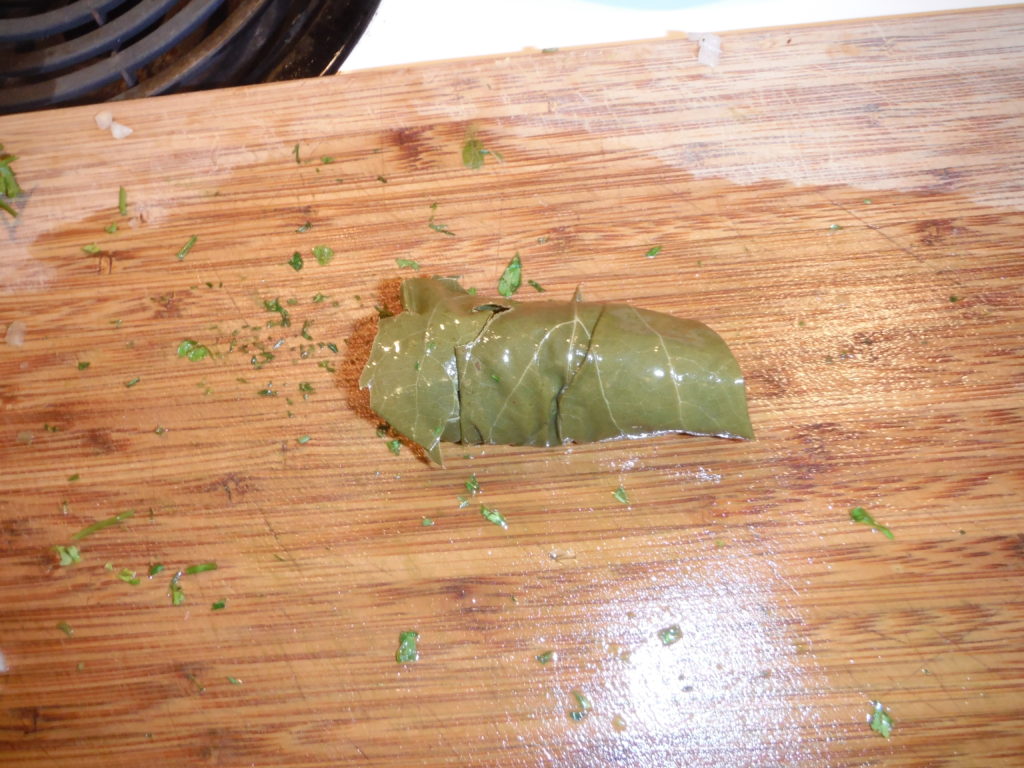 When all the leaves are stuffed, put them in layers in the pan on top of the stems and any extra grape leaves. Add the remaining ¼ cup of olive oil and 1-1/2 Tbs. of lemon juice. Add the cup of boiling water to barely cover the grape leaves. (Add more if necessary.) Weigh down with one or two plates. Bring the pan to a boil and then turn down to simmer slowly for 45 minutes, until the water is absorbed and the rice is cooked. Remove the plates, and sprinkle with the remaining 3 Tbs. of lemon juice. Allow to fully cool in the pan. Serve with lemon wedges.