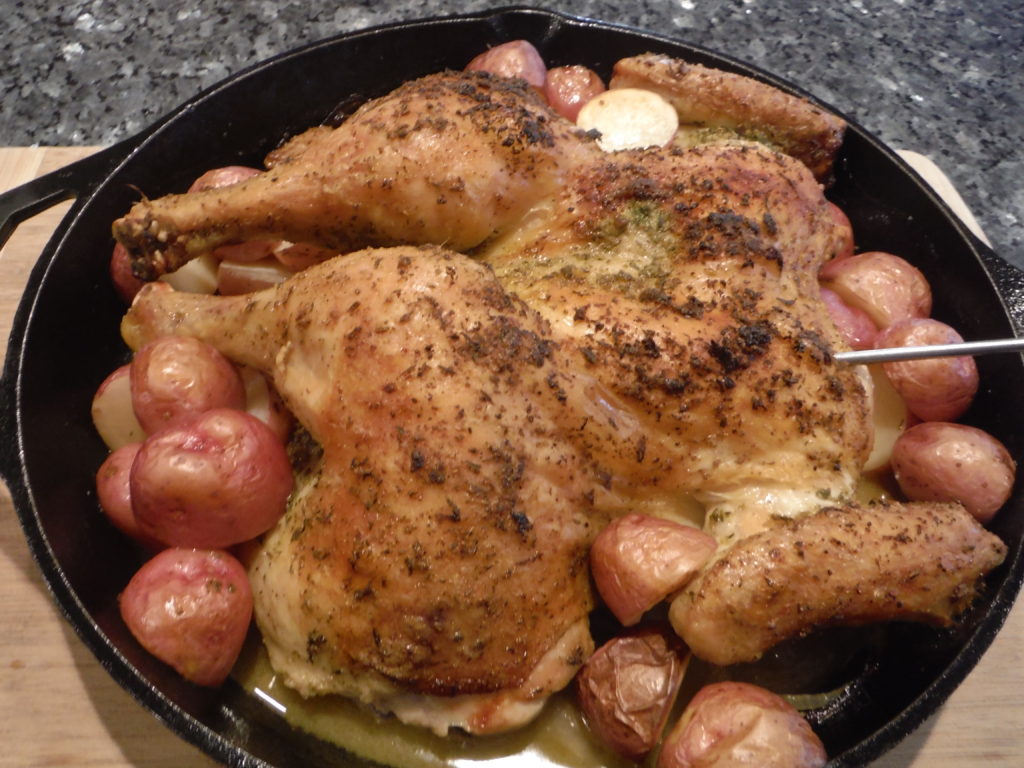 Carol was in the mood for roast chicken (i.e. comfort food) and I had seen an Ina Garten recipe circulating on the internet, and this is our version of it. The chicken can be gotten ready in the pan in advance and stored in the refrigerator until you are ready to cook it, which makes this doable for a mid-week dinner. The lemon and onion slices under the chicken make a tasty sauce to spoon over the chicken at the end.
2 tsp. fresh thyme
1 tsp. fennel seeds
1 Tbs. kosher salt
1 tsp. freshly ground black pepper
1/3 cup olive oil
1-1/2 lemosn, ends removed and then sliced
1 large onion, peeled, halved, and sliced
2 cloves garlic, thinly sliced
1 (4 lb.) chicken, backbone removed and flattened
½ cup dry white wine
1-1/2 lbs. small potatoes, cleaned and cut in half, and sprinkled with olive oil
Preheat the oven to 450 degrees.
Put the spices and salt in a spice mill or mini-food processor and reduce to a powder. Add to the olive oil in a small bowl and stir well.
Spread the lemon slices on the bottom of a Dutch oven or large skillet. Spread the onion and garlic slices on top. Place the chicken on top, skin side down, and brush with about half of the oil and herb mixture. Turn the chicken skin-side up, and brush with the remaining oil. Roast for 30 minutes. Add the wine to the side of the pan (not on the chicken, and insert the potato halves around the chicken. Return to the oven and roast for 10-15 more minutes until the breast reaches 155 degrees on a meat thermometer. Remove from the oven, cover with aluminum foil, and allow to rest for 10-15 minutes before cutting and serving. Spoon the pan juices and lemon and onion slices over the chicken when serving..